Matchup
The 2016 NBA Playoffs have finally arrived and the Pacers-Raptors first-round series will tip off before you know it. Game 1 of the best-of-seven series will be at 12:30 PM on Saturday afternoon in Toronto, the very first game on the NBA's entire postseason slate.
The Pacers head into the playoffs with some real momentum, having won six of their last seven regular season games. Yes, five of those wins came against lottery teams and the sixth was against a Cavaliers team that elected to rest four-time MVP LeBron James, but putting together a few weeks of solid play has to be a major boon for the Blue & Gold's confidence.
The lone blip over that stretch came last Friday in Toronto, where the Raptors rather easily handled the Pacers despite resting several key players, including All-Stars Kyle Lowry and DeMar DeRozan. Pacers players and coaches admitted after the game that they didn't play with the necessary effort and intensity to take care of business against the Raptors' young and hungry reserves, but there is no reason to think that effort will be an issue now that we're in the postseason.
Indiana's biggest concern in this series will be keeping the Raptors off the free throw line. Toronto won three of four games against the Pacers in the regular season and attempted at least eight more foul shots in all four of those contests. In total, the Raptors took 51 more free throws over the four meetings, an average advantage of 12.75 extra shots at the charity stripe per game.
DeRozan and Lowry both excel at getting to the line early and often. DeRozan attemped the third-most free throws in the NBA during the regular season while Lowry took the exact number of foul shots as LeBron James to tie for 11th in the league.
If you're looking for two potential X-factors in this series, Solomon Hill and DeMarre Carroll would seem to be prime candidates.
Hill has been a revelation for the Pacers over the last month, playing his way into a larger role as the team's new "small-ball" power forward off the bench. Hill is an excellent defender capable of guarding all five positions, but his offense has made major strides in recent weeks. The third-year forward out of Arizona scored in double figures in four of his past five games. Perhaps even more importantly, after struggling with his outside shot for most of the year, Hill shot 48.1 percent from 3-point range in April, including a 7-for-11 performance in Wednesday's regular season final in Milwaukee.
Carroll was the Raptors' marquee free agent acquisition over the summer, but his year has been hampered by injury. Carroll missed 41 games after undergoing right knee surgery in January, but has returned to the court in the last week. A versatile veteran who started for last year's Hawks team that reached the Eastern Conference Finals, Carroll's presence could be a significant boost to a Toronto core that has not yet advanced past the first round of the playoffs.
Projected Starters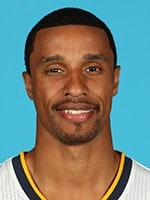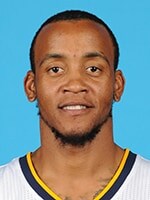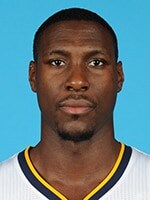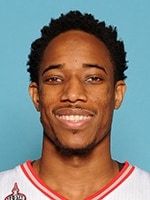 Pacers: PG - George Hill, SG - Monta Ellis, SF - Paul George, PF - Lavoy Allen, C - Ian Mahinmi
Raptors: PG - Kyle Lowry, SG - DeMar DeRozan, SF - Norman Powell, PF - Luis Scola, C - Jonas Valanciunas
Injury Report
Last Meeting
April 8, 2016: Rookies Norman Powell and Delon Wright had career nights to lead the Raptors to a 111-98 win over the Pacers at the Air Canada Centre. Powell had a career-high 27 points, six rebounds, and four assists while going 14-for-19 from the free throw line. Wright added a career-best 19 points off the bench.
The Raptors made five of their first six shots from 3-point range in the third quarter and put together a 13-3 run to stretch their lead to 16 a little over seven minutes into the second half. Toronto remained on cruise control in the fourth quarter, leading by as many as 19 and never letting Indiana back within single digits en route to a surprising victory, given that they were resting four starters.
"We didn't play well enough in any area," an honest Pacers head coach Frank Vogel said after the loss. "I don't think we respected the guys that were out there and we didn't bring it at a high enough level."
Monta Ellis led the Pacers with 17 points in the loss, going 7-for-14 from the field but 0-for-5 from 3-point range. Solomon Hill, fresh off a season-high 15-point performance in his last game, one-upped that figure, registering 16 and making 3-of-7 attempts from beyond the arc.
Noteworthy
The Pacers and Raptors have never met in the postseason.
Indiana has lost its past five road games at the Air Canada Centre. Their last win in Toronto came on March 1, 2013.
Pacers guard Monta Ellis has averaged 20.6 points and 5.1 assists in 20 career games against the Raptors, his second-highest scoring average against an Eastern Conference team.
Raptors starting forward Luis Scola spent the last two seasons with the Pacers and was a key contributor on the team that reached the 2014 Eastern Conference Finals.
Pacers All-Star Paul George has career averages of 16.5 points, 7.5 rebounds, and 3.4 assists against Toronto.
TV: ESPN - Mark Jones (play-by-play), Doris Burke (analyst), Israel Gutierrez (sideline reporter)
Radio: 93.5 FM/AM 1070 The Fan - Mark Boyle (play-by-play), Austin Croshere (analyst), Pat Boylan (studio host)
PLEASE NOTE: FOX Sports Indiana will air a special edition of the Pacers Live postgame show following nationally-televised games, giving fans a complete wrap-up and postgame reaction from a Pacers perspective. Saturday, following Game 1, FOX Sports Indiana's coverage will start at approximately 3:00 PM ET. Chris Denari hosts with Quinn Buckner from the FOX Sports Indiana set at Bankers Life Fieldhouse, with Jeremiah Johnson reporting from Toronto.
Tickets
The Pacers will host the Raptors on Thursday, April 21 and Saturday, April 23. Find out how to get playoff tickets at Pacers.com/Playoffs »
Away Game Night Special
Select Long Sleeve Tee - $15. Game Night Specials can be purchased online the day of each away game from 10:00 AM - Midnight. Order Online »