Last Updated: Dec. 18 at 10:55 AM
Matchup
The Pacers and Nets head into a Friday night matchup with the looks of two teams headed in different directions.
The Pacers (15-9) have bagged three wins in their last four games, holding opponents to 90 points or less in all three of the victories.
Conversely, the Nets (7-18) have dropped three straight, and five of their last seven, allowing opponents to top 100 points in all three of their latest losses.
Despite three losses to start the year and three losses on the tail end of a recent road trip, the Pacers have shown an impressive level of resiliency this season, especially on the defensive side of the ball. After allowing over 120 points in three straight games, Indiana has clamped down defensively, with the exception of a 22-point loss to Detroit on the road on the second night of a back-to-back.
But in the two games since then, against the Raptors and Mavericks — both of whom are near the top of their respective conferences — the Pacers have cruised to victory, winning each contest by 15 points or more.
The Nets, despite their pedestrian start to the season, still employ the services of Brook Lopez, one of the more difficult centers to guard in the NBA. Lopez is averaging 19.3 points per game thus far, and gets his buckets in a variety of ways, including deadeye shots from the top of the key. Lopez's ability to make long-distance shots helps the Nets space on offense, which pulls opposing centers like Ian Mahinmi out of the painted area.
However, on Friday, the Nets will likely be without one of their best rim slashers, Shane Larkin, their energetic backup point guard. Larkin sustained a concussion in practice on Tuesday, and is currently undergoing league protocol for concussion testing.
The Pacers currently sit just 1.5 games back of first place in the Eastern Conference, joined by two other teams. A win over the struggling Nets could help Indiana establish itself in the crowded East, especially with a menacing four-game stretch ahead that features three road games against bruising Western Conference opponents like the Spurs and Kings.
But before they get ahead of themselves, the Pacers will try to take care of business at home against a Nets team whose weaknesses, such as allowing teams to light it up from deep, play well to Indiana's strengths.
Projected Starters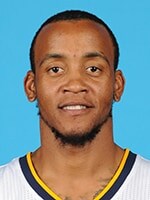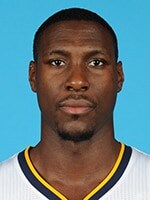 Pacers: PG - George Hill, SG - Monta Ellis, SF - Paul George, PF - C.J. Miles, C - Ian Mahinmi
Nets: PG - Jarrett Jack, PG - Bojan Bogdanovic, SF - Joe Johnson, PF - Thaddeus Young, C - Brook Lopez
Injury Report
Pacers: Myles Turner - out (chip fracture, left thumb), Monta Ellis - questionable (sore right knee)
Nets: Sergey Karasev - questionable (sore left ankle), Rondae Hollis-Jefferson - out (fractured right ankle), Chris McCullough - out (right knee rehab), Shane Larkin - questionable (concussion)
Last Meeting
March 31, 2015: In a road game at the Barclays Center last March, the Pacers fell 106-111 to the Brooklyn Nets; a critical blow for Indiana's playoff hopes late in the season.
The Nets were one of the several teams vying with the Pacers for a postseason spot, and the loss gave the tiebreaker to Brooklyn, who eventually snared the playoff berth.
Despite falling behind early, Indiana and its bench made a charge in the second quarter, scoring 39 points behind 3-pointers from Damjan Rudež and C.J. Watson.
Unfortunately, C.J. Miles rolled an ankle early on and had to exit for the remainder of the game, leaving the Pacers vulnerable offensively.
Noteworthy
The Pacers have lost their last two games to the Nets, who put a damper on Indiana's playoff hopes last season
Former Pacers point guard Donald Sloan is a member of the Nets, and has been getting minutes with reserve guard Shane Larkin shelved with a concussion
Indiana ranks second in the NBA in 3-point percentage, and Brooklyn ranks last. The Nets also give up the sixth-highest 3-point percentage in the NBA. Look for the Pacers to put up some shots from downtown
TV: FOX Sports Indiana - Chris Denari (play-by-play), Quinn Buckner (analyst), Jeremiah Johnson (sideline reporter/host)
Radio: 93.5 FM/AM 1070 The Fan - Mark Boyle (play-by-play), Slick Leonard (analyst), Pat Boylan (sideline reporter/host)
Please Note: Inside Bankers Life Fieldhouse, Pacers radio broadcasts can be heard on 1080 AM instead of 1070.
Tickets
Good seats still remain for Friday's game against Brook Lopez and the Nets. And, thanks to FOX Sports Indiana, any tickets purchased online between now and the end of December will include zero fees. Find Tickets »
Home Court Gift Shop Game Night Special
B-Ball Blanket - $30. Game Night Specials can be purchased in the Home Court Gift Shop or any of our souvenir stands located on all levels of Bankers Life Fieldhouse. The special is also available online at PacersGear.com until midnight.