Last Updated: Jan. 6 at 11:15 AM
Matchup
After an overtime loss in Miami on Monday night, the Pacers (19-15) will look to salvage a split in the state of Florida on Wednesday, when they take on the Magic (19-16) in Orlando.
The Blue & Gold let one slip away against the Heat, giving up an 18-point third quarter lead before falling in overtime. Indiana is now 0-3 on the year in overtime games, with all three of those losses coming on the road.
Still, Monday marked another milestone day for Paul George. The Pacers' All-Star forward topped 30 points for the third straight game and 12th time this season, a new personal best for 30-point games in a single season (with 48 games still to play). George had 32 points and knocked down 5-of-13 3-pointers, but he attempted just four free throws in 42 minutes after averaging 11.5 attempts from the charity stripe over his past two contests. The Pacers are at their best when George is aggressive offensively, so look for him to attack the rim more in Orlando.
As has seemingly been the case for the past couple weeks, the Pacers will travel to Orlando unsure if a couple key pieces will be able to play against the Magic. Starting point guard George Hill missed Monday's game with food poisoning and second-leading scorer C.J. Miles left in the first half with a sore shoulder. If one or neither can go in Orlando, then younger players like rookie guard Joe Young or second-year forward Glenn Robinson III will need to be ready to see minutes.
The Magic, one of the youngest teams in the NBA, are poised to make a playoff push after a few years in the lottery. Orlando has assembled a nice core of young talent and experienced a lot of growing pains over the past couple seasons, but they've enjoyed their first real taste of prolonged success this season under head coach Scott Skiles. The Magic went 9-6 in November and then 10-5 in December, the latter being the best record in the Eastern Conference over that stretch. Prior to this year, Orlando hadn't posted a winning record in a single month since March 2012, when Dwight Howard was still manning the paint.
Projected Starters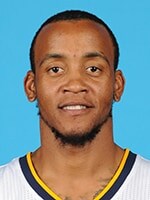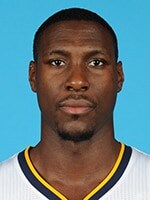 Pacers: PG - George Hill, SG - Monta Ellis, SF - Paul George, PF - Lavoy Allen, C - Ian Mahinmi
Magic: PG - Victor Oladipo, SG - Evan Fournier, SF - Tobias Harris, PF - Channing Frye, C - Nikola Vučević
Injury Report
Pacers: C.J. Miles - questionable (sore right shoulder)
Magic: Elfrid Payton - out (left ankle contusion), C.J. Watson – out (sore left calf)
Last Meeting
November 9, 2015: Paul George started strong and came through in the clutch in the Pacers' 97-84 win over the Magic at Bankers Life Fieldhouse. The All-Star forward scored 19 of Indiana's first 23 points, then scored or assisted on the first 10 points of Indiana's 12-0 run in the fourth quarter that turned a one-point deficit into an 11-point lead.
George finished the night with a game-high 27 points, four rebounds, and seven assists. George Hill added 23 points and seven boards, going 8-for-13 from the field and 4-for-6 from 3-point range.
Evan Fournier led Orlando with 21 points. Victor Oladipo added 15 points and seven rebounds, while Channing Frye contributed 14 points and eight boards off the bench.
Noteworthy
Indiana leads the all-time series with the Magic 51-45, though they are 19-28 in games played in Orlando.
The Pacers have won five straight games and nine of their last 10 against the Magic.
Pacers forward Paul George is 32 assists shy of reaching 1,000 in his career.
TV: FOX Sports Indiana - Chris Denari (play-by-play), Quinn Buckner (analyst), Jeremiah Johnson (sideline reporter/host)
Radio: 93.5 FM/AM 1070 The Fan - Mark Boyle (play-by-play), Pat Boylan (studio host)
Tickets
The Pacers return home on January 12 for a meeting with the Phoenix Suns. Good seats still remain Find Tickets »