Last Updated: Oct. 8 at 11:00 AM
Matchup
The Pacers return to Bankers Life Fieldhouse on Thursday night to host the Orlando Magic in what will be the third preseason game for both teams. Indiana is coming off a 115-112 win in Detroit on Tuesday, while the Magic defeated the Miami Heat in Louisville on Wednesday night on a late 3-pointer by Shabazz Napier.
While it has only been two (preseason) games, Pacers fans have to be pleased with Paul George's sizzling start to the 2015-16 campaign. George was absolutely unconscious on Tuesday night at the Palace of Auburn Hills, scoring 20 points in the first quarter and finishing the night with 32 points in just under 24 minutes. While George's playing position has been a point of contention at times in training camp, he's wreaked havoc on small forwards and power forwards alike, scoring a combined 50 points over the first two exhibitions.
While it's nowhere near the toll that plagued Indiana in the early part of last season, a few Pacers veterans are now dealing with minor injuries. Swingman Chase Budinger has missed the first two games with a sore hamstring and projected starting center Ian Mahinmi sat out Tuesday's contest with a sore knee. In addition, starting point guard George Hill left Tuesday's game after tweaking his right ankle and did not return.
There is no indication at this point that any of the three players mentioned above are in danger of missing any regular season games. In fact, the veterans' bumps and bruises open up more minutes for younger players to learn and adjust to the NBA game.
Hill's injury in particular allows for rookie point guard Joe Young to get more floor time. Young showed flashes of the player who led the Orlando Summer League in scoring on Tuesday, totaling 18 points and getting to the free throw line (where he went 7-for-7). Still, Young is experiencing some growing pains learning to run the point in the NBA, as he has accumulated four turnovers in each of his first two contests.
Projected Starters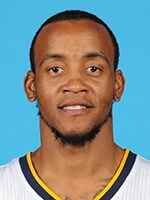 Pacers: PG - George Hill, SG - Monta Ellis, SF - C.J. Miles, PF - Paul George, C - Ian Mahinmi
Magic: PG - Elfrid Payton, SG - Victor Oladipo, SF - Tobias Harris, PF - Channing Frye, C - Nikola Vučević
Injury Report
Pacers: Chase Budinger - out (sore right hamstring), George Hill - out (sprained right ankle), Solomon Hill - out (sprained left ankle)
Magic: Aaron Gordon – out (fractured jaw)
Last Meeting
March 10, 2015: Wearing their "Flo-Jo" throwback jerseys, Rodney Stuckey and the Pacers put on a shooting show reminiscent of the days when Reggie Miller still roamed the court in Indianapolis. Stuckey scored 34 points and Indiana tied a franchise record with 17 3-pointers in a 118-86 rout of Orlando.
Damjan Rudež, starting at shooting guard in place of C.J. Miles (a late scratch with sore feet), went 5-for-8 from beyond the arc and finished with 17 points and five assists. Luis Scola (15 points and 10 rebounds) recorded a double-double, George Hill had 13 points and six assists, and C.J. Watson added 12 points and five dimes for the Pacers.
Tobias Harris led Orlando with 22 points and eight rebounds on 8-of-17 shooting. Elfrid Payton added 14 points and six assists for the visitors.
Noteworthy
Thursday's game was originally scheduled for Friday, Oct. 9, but was moved up so that the Indiana Fever could host Game 3 of the WNBA Finals on Friday. As a result, Orlando will be playing the second half of a rare preseason back-to-back on Thursday.
Magic point guard C.J. Watson signed with Orlando this summer after two years in Indiana. Watson averaged 8.2 points and 2.6 assists while shooting 38.4 percent from 3-point range during his time with the Pacers.
TV: None
Radio: FM 107.5 The Fan - Mark Boyle (play-by-play), Slick Leonard (analyst), Pat Boylan (sideline reporter/host)
Tickets
Good seats still remain for the Pacers' preseason contest against Victor Oladipo and the Orlando Magic: Find Tickets »