Matchup
After having their three-game winning streak snapped on Friday night in Philadelphia, the Pacers (5-4) will look to get back in the win column as they close out a three-game road trip on Sunday night in New York against the Knicks (4-4).
Despite 31 points from Victor Oladipo, Indiana suffered a 121-110 loss to the Sixers on Friday. 3-point shooting was the Blue & Gold's undoing, as Philadelphia knocked down 18 3-pointers (eight by J.J. Redick). Pacers opponents had managed just a total of 18 threes over the course of Indiana's three-game win streak.
The Pacers did, however, receive good news on Friday, when center Myles Turner returned to action after missing seven games while in the NBA's concussion protocol. Turner displayed signs of rust after two weeks off, making just 4-of-14 shots, but he still brought his usual energy and athleticism to the floor, collecting a couple dunks, nine rebounds, and three blocks.
Turner came off the bench in his first game back, but could very well return to the starting lineup on Friday. That could also benefit Domantas Sabonis, who while effective in eight games as a starter, has displayed a propensity to get in foul trouble when playing starter's minutes.
Regardless of whether he starts or comes off the bench, Turner figures to spend plenty of time guarding Kristaps Porzingis in a matchup of two of the best big men in the heralded 2015 NBA Draft class.
Porzingis is off to a sensational start to his third NBA season. The 7-3 Latvian scored 37 points, going 13-for-22 from the field and 10-for-13 from the free throw line, to go along with seven rebounds and three blocks in a 120-107 win over Phoenix on Friday. Porzingis has scored 30 or more points in six of the Knicks' eight games so far this season.
Projected Starters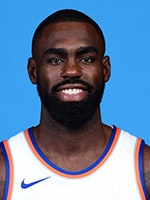 Pacers: PG - Darren Collison, SG - Victor Oladipo, SF - Bojan Bogdanovic, PF - Thaddeus Young, C - Domantas Sabonis
Knicks: PG - Jarrett Jack, SG - Courtney Lee, SF - Tim Hardaway Jr., PF - Kristaps Porzingis, C - Enes Kanter
Injury Report
Pacers: Glenn Robinson III - out (left ankle surgery rehabilitation), Edmond Sumner - out (left knee surgery rehabilitation), TJ Leaf - out (left ankle sprain)
Knicks: Joakim Noah - out (suspension)
Last Meeting
March 14, 2017: The Pacers scored just 29 points in the second half of an 87-81 loss to the Knicks at Madison Square Garden. Indiana led 52-42 after two quarters, but shot just 26.1 percent after the break.
Paul George had a double-double in the loss, finishing with 22 points and 10 rebounds. Myles Turner was the only other player in double figures, finishing with 17 points, 11 boards, and three assists.
Carmelo Anthony scored 15 of his team-high 22 points in the fourth quarter and also pulled down 13 rebounds to lead the Knicks to victory. Derrick Rose added 16 points, while Willy Hernangomez had 13 points, 16 rebounds, and four assists off the bench.
Noteworthy
The Pacers are 81-90 all-time in regular season games against the Knicks, but just 26-59 in games played in New York.
Indiana had won seven straight over the Knicks before New York took three of four games in the 2016-17 season.
Lance Stephenson's next point will be his 2,000th as a member of the Pacers.
Knicks center Enes Kanter was teammates with Pacers guard Victor Oladipo and forward Domantas Sabonis last season in Oklahoma City.
Tickets
The Pacers will return home to host DeMarcus Cousins, Anthony Davis, and the New Orleans Pelicans on Tuesday, Nov. 7. Find Tickets »
TV: FOX Sports Indiana - Chris Denari (play-by-play), Quinn Buckner (analyst), Jeremiah Johnson (sideline reporter/host)
Radio: 107.5 FM/AM 1070 The Fan - Mark Boyle (play-by-play), Pat Boylan (studio host)
Away Game Night Special
Retro Striped Knit Hat - $8. Game Night Specials can be purchased online the day of each away game from 10:00 AM - Midnight. Order Online »