Matchup
After seeing their six-game winning streak come to an end with a loss on Thursday night in Portland, the Pacers (12-6) will look to get back to their winning ways on Saturday night in Utah. Indiana's visit to Salt Lake City to take on the Jazz (8-9) is the last stop of a four-game West Coast road trip.
The Pacers and Jazz met a little over a month ago, but oh, how much has changed. The Pacers' first game against Utah was the low point of their season, a 97-76 drubbing at home that sent the Blue & Gold to 0-3 on the year.
Of course, the Pacers have righted the ship since that night, reeling off 12 wins in their next 14 games before Thursday's loss to the Blazers.
That loss in Portland can perhaps be written away as a bit of anomaly. The Pacers weren't as sharp as usual on the second night of a back-to-back. Paul George, a 46 percent 3-point shooter entering Thursday, went 0-for-9 from beyond the arc. But the biggest problem was Indiana's defense, which surrendered 123 points and allowed the Blazers to shoot 51.8 percent from the field, including 18-for-36 from 3-point range.
The Jazz have stumbled a little as of late, dropping four of their last six. They were handed another blow earlier this week, when the team announced that starting center Rudy Gobert is out indefinitely with an MCL sprain. Gobert is one the league's best shot-blockers, so his absence has a particularly big impact on the defensive end.
One thing to watch for on Saturday night: pace. The Jazz like to slow the game down, playing at the second-slowest pace in the NBA at slightly under 95 possessions per 48 minutes. The new-look Pacers, however, like to push the tempo. Indiana averages nearly five possessions per game more than Utah.
Projected Starters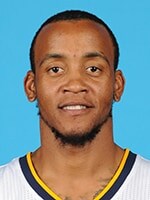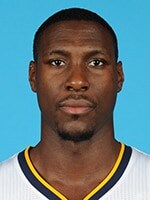 Pacers: PG - George Hill, SG - Monta Ellis, SF - C.J. Miles, PF - Paul George, C - Ian Mahinmi
Jazz: PG - Raul Neto, SG - Rodney Hood, SF - Gordon Hayward, PF - Trevor Booker, C - Derrick Favors
Injury Report
Pacers: Monta Ellis - right shoulder contusion (questionable), Myles Turner - out (chip fracture, left thumb)
Jazz: Danté Exum – out (left ACL surgery), Rudy Gobert – out (left knee sprain)
Last Meeting
October 31, 2015: Utah outscored Indiana by 28 points in the second half en route to a 97-76 win at Bankers Life Fieldhouse. The Jazz opened the half with a 14-2 run and never looked back. The Pacers committed 24 turnovers in the loss.
George Hill led the Pacers with 17 points and six rebounds. Paul George added 16 points on 6-of-11 shooting.
Derrick Favors had a game-high 18 points and seven boards for Utah, while Rodney Hood scored 17. Rudy Gobert was a menace in the post, collecting 17 points and three blocks.
Noteworthy
The Pacers hold a narrow 41-40 advantage in the all-time series with the Jazz, but they are just 14-26 in Utah.
Pacers forward C.J. Miles was a second-round draft pick by the Jazz in 2007. Miles' first seven NBA seasons were in spent in Utah, where he averagde 8.4 points, 2.2 rebounds and 1.3 assists over 389 games (159 starts).
Pacers forward Jordan Hill and Jazz forward Trevor Booker are cousins. Both were born in Newberry, South Carolina.
TV: FOX Sports Indiana - Chris Denari (play-by-play), Quinn Buckner (analyst), Jeremiah Johnson (sideline reporter/host)
Radio: 93.5 FM/AM 1070 The Fan - Mark Boyle (play-by-play), Pat Boylan (studio host)