Last Updated: Dec. 10 at 9:30 AM
Matchup
After dropping three straight games, the Pacers (12-8) will look to bounce back on Friday against their old nemesis, the Miami Heat (12-8). It will be the second meeting between the two teams this season. Indiana came away with a 90-87 win at Bankers Life Fieldhouse on Nov. 6.
After missing the playoffs last year, both the Pacers and the Heat have reestablished themselves as Eastern Conference contenders in the early part of this season. They have both remained in the top tier of the conference standings for the better part of the last month despite making marked changes to their styles of play.
The Heat carved out a niche playing small in the LeBron James era, but have remodeled themselves since James' departure. The emergence of shot-blocking wiz Hassan Whiteside has given the Heat a rim-protecting presence they haven't had in eons at the center position, which has allowed All-Star Chris Bosh to slide back over to the power forward position. With a bigger lineup bolstered by Whiteside, the Heat have the second-best defensive rating in the NBA, allowing just 96.4 points per 100 possessions.
Miami makes a conscience effort to slow games down, playing at the fifth-slowest pace in the league. Still, they have enough offensive firepower to compete, as Bosh (16.9 points and 8.5 rebounds per game) and Dwyane Wade (18.6 points and 4.5 assists per contest) continue to play at an All-Star level.
Conversely, the Pacers are playing much faster than they have in recent memory and are putting together impressive offensive numbers. The team is averaging 104.3 points per game, fifth-most in the NBA and more than they've averaged in all but one season over the past two decades. Paul George is scoring at an incredible rate, averaging 27.9 points and topping 30 points in seven of his last nine contests. George's current scoring average is 1.3 points higher than Billy Knight's average during the 1976-77 season, the best scoring average in the franchise's NBA history.
But despite their offensive prowess, the Blue & Gold have struggled mightily on the defensive end during their recent losing streak. The Pacers have allowed an average of 125.3 points over their past three games. Each of the Pacers' past three opponents have shot 46 percent or better from the field and two have topped 51 percent. Prior to this skid, Indiana had only allowed its opponents to shoot 46 percent or better three times in 17 games.
Projected Starters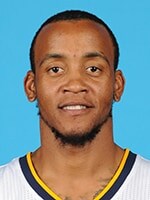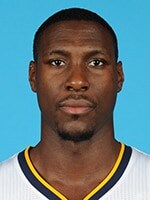 Pacers: PG - George Hill, SG - Monta Ellis, SF - C.J. Miles, PF - Paul George, C - Ian Mahinmi
Heat: PG - Goran Dragić, SG - Dwyane Wade, SF - Luol Deng, PF - Chris Bosh, C - Hassan Whiteside
Injury Report
Pacers: Myles Turner - out (chip fracture, left thumb)
Heat: Jarnell Stokes - out (NBA Development League assignment), Amar'e Stoudemire - questionable (rehabilitative recovery)
Last Meeting
November 6, 2015: Paul George erupted for 36 points and 12 rebounds to lead Indiana to a 90-87 win over the Heat. On the night that the Pacers debuted their Hickory jerseys in front of a national audience, George channeled his inner Jimmy Chitwood, making 14-of-27 shots in the victory.
George Hill added 12 points and Jordan Hill chipped in 10 points and 10 rebounds for Indiana. Chris Bosh led Miami with 21 points and 11 boards.
Noteworthy
The Pacers are 42-9 in home games against the Heat during the regular season.
Indiana has won eight straight regular season games against Miami at Bankers Life Fieldhouse. The Heat haven't won in Indianapolis in the regular season since Feb. 14, 2012.
Paul George's next point will be the 5,000th in his career.
The Heat's roster includes two former Pacers players: Gerald Green (spent the 2012-13 season in Indiana) and former Carmel High School star Josh McRoberts (2008-11).
TV: FOX Sports Indiana - Chris Denari (play-by-play), Quinn Buckner (analyst), Jeremiah Johnson (sideline reporter/host)
ESPN - Announcers TBA
Radio: 93.5 FM/AM 1070 The Fan - Mark Boyle (play-by-play), Slick Leonard (analyst), Pat Boylan (sideline reporter/host)
Please Note: Inside Bankers Life Fieldhouse, Pacers radio broadcasts can be heard on 1080 AM instead of 1070.
Tickets
Good seats still remain for Friday's game against the Heat. Thanks to FOX Sports Indiana, any tickets purchased online between now and the end of December will include zero fees. Find Tickets »
Home Court Gift Shop Game Night Special
Select Hooded Sweatshirts - $30. Game Night Specials can be purchased in the Home Court Gift Shop or any of our souvenir stands located on all levels of Bankers Life Fieldhouse. Please shop online also at PacersGear.com.