Last Updated: Jan. 28 at 9:30 AM
Matchup
Having dropped three straight games and six of their last seven, the Pacers (23-22) will be looking to bounce back on Thursday night when they host their recent playoff nemesis, the Atlanta Hawks (27-20). Indiana defeated Atlanta on Dec. 28, 93-87, in the only meeting between the two teams so far this season.
Thursday's contest will be the second of four straight home games for the Blue & Gold, who are coming off a tough 91-89 loss to the Clippers on Tuesday. Though it wasn't the overall result he wanted, Pacers head coach said he was pleased with his team's defensive improvement against Los Angeles. Indeed, the Pacers held the Clippers to just 91 points on the night, the fewest points they've allowed since Jan. 8.
Unfortunately, the Blue & Gold endured a rough night on both ends from beyond the 3-point arc. The Clips outscored Indiana by 30 points from long distance, knocking down 15-of-37 triples (40.5 percent), while the Pacers were just 5-for-16 (31.2 percent).
One big positive for Indiana, however, was the play of All-Star forward Paul George. George seemed to have hit a bit of a wall in recent weeks after a sizzling start to the season and even admitted to feeling extra fatigued now that he is a couple months into his first full season since sitting out most of last year with a broken leg.
But George appeared like his old self against Los Angeles, scoring 31 points on 12-of-23 shooting in a little over 38 minutes. The three-time All-Star also had 11 rebounds, but the most important statistic from Tuesday's game might be that he had just one turnover. He was averaging a career-high 3.8 giveaways per game heading into Tuesday, but he's gotten better in that department recently, committing two turnovers or less in four straight games.
The Hawks, who lost to the Clippers on Wednesday night before traveling to Indianapolis, have only played .500 basketball since their last game against the Pacers in late December. Still, that's been good enough to put them in third place in the Eastern Conference. With the same core from last year's 60-win team, the Hawks are never an easy out, but Indiana will be hoping they can find a way to beat them once again on Thursday.
Projected Starters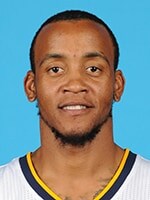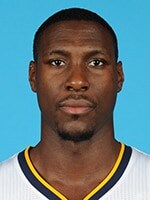 Pacers: PG - George Hill, SG - Monta Ellis, SF - Paul George, PF - Lavoy Allen, C - Ian Mahinmi
Hawks: PG - Jeff Teague, SG - Kyle Korver, SF - Kent Bazemore, PF - Paul Millsap, C - Al Horford
Injury Report
Pacers: Rodney Stuckey - out (right foot sprain and bone bruise)
Last Meeting
December 28, 2015: The Hawks entered their first meeting of the season with the Pacers having won six straight games, the longest active streak in the NBA, but Indiana snapped that streak thanks to Monta Ellis and an unexpected supporting cast.
Ellis scored a season-high 26 points, while the motley crew of Ian Mahinmi (13 points and nine rebounds), Solomon Hill (10 points), and Chase Budinger (10 points) joined him in double figures in the victory.
"Everybody's willing to learn and ready to step up when their names called," said Hill, who has been out of the rotation for most of the season, but logged 26 minutes in the win with C.J. Miles sidelined with a sore lower back.
Paul Millsap led Atlanta with 24 points and seven rebounds in the loss, while Jeff Teague added 18 points, five boards, and four assists.
Noteworthy
The Pacers are 80-97 all-time against the Hawks, but 54-35 in games played in Indiana.
Indiana's win over the Hawks on Dec. 28 snapped a four-game regular season losing streak against Atlanta.
By making three 3-pointers on Tuesday against the Clippers, George Hill moved past Troy Murphy for sixth place in franchise history for most 3-point field goals made.
The Hawks rank second in the NBA in assists per game, averaging 25.5 per contest.
Indiana and Atlanta are tied for second in the league in turnovers forced (16.7 per game).
The Pacers are 0-3 this season in games played on a Thursday, the only day of the week on which they have yet to win.
TV: FOX Sports Indiana - Chris Denari (play-by-play), Quinn Buckner (analyst), Jeremiah Johnson (sideline reporter/host)
Radio: 93.5 FM/AM 1070 The Fan - Mark Boyle (play-by-play), Slick Leonard (analyst) Pat Boylan (sideline reporter/host)
Please Note: Inside Bankers Life Fieldhouse, Pacers radio broadcasts can be heard on 1080 AM instead of 1070.
Tickets
Good seats still remain for Thursday's game against Al Horford and the Hawks: Find Tickets »
Home Court Gift Shop Game Night Special
Select Full Size Basketball - $12. Game Night Specials can be purchased in the Home Court Gift Shop or any of our souvenir stands located on all levels of Bankers Life Fieldhouse. The special is also available online at PacersGear.com until midnight.