Last Updated: Oct. 30 at 4:15 p.m.
Matchup
After opening the 2014-15 season with a 103-91 win on Wednesday against Philadelphia, the Pacers (1-0) play host to the Memphis Grizzlies (1-0) on Halloween. The Grizzlies defeated Minnesota on Wednesday in their regular season opener, 105-101.
With so many players currently sidelined with injuries, the Blue-and-Gold were ecstatic to receive solid production off the bench from guard Rodney Stuckey, who himself is recovering from a bruised foot. Playing limited minutes, Stuckey provided a noticeable spark in Wednesday's win. But head coach Frank Vogel said at Thursday's practice that they don't plan to give Stuckey a substantial increase in playing time just yet, as the Pacers have their first back-to-back with Friday's game against the Grizzlies and Saturday's road opener in Atlanta.
Like the Pacers, Memphis has made the playoffs for four straight seasons. Both teams reached the conference finals in 2013. Injuries to starters Marc Gasol and Tony Allen made things tougher for the Grizz last season, but they still managed to win 50 games in the loaded Western Conference. Memphis had a 3-2 lead over second-seeded Oklahoma City in the first round of the playoffs before the Thunder rallied to advance in seven games.
Memphis' starting five features three players with ties to central Indiana. Point guard Mike Conley starred at Lawrence North High School, shooting guard Courtney Lee attended Pike, and two-time All-Star power forward Zach Randolph is from Marion. Center Marc Gasol may be Memphis' best all-around player and wing Tony Allen is widely recognized as one of the NBA's best perimeter defenders.
The Grizzlies made tweaks to their bench over the summer. Gone are Mike Miller, Ed Davis, and James Johnson. Memphis added Vince Carter, who reinvented himself as an excellent spot-up shooter and bench scorer in Dallas. Returning forward Jon Leuer is expected to take on a larger role and the Grizzlies also get back forward Quincy Pondexter, who played in just 15 games last season due to a stress fracture in his foot.
There is no question that the Grizzlies are a step up in competition from the Sixers. Memphis has boasted one of the league's best defenses for several seasons, so it's especially important that Donald Sloan and the Pacers offense minimize turnovers. Turnovers plagued the Pacers' early in Wednesday's opener and they had 18 on the night. Memphis forced Minnesota into 23 turnovers on Wednesday.
Defensively, Indiana will want to pack the paint against Randolph and Gasol. The Grizzlies have played through their frontcourt duo for years, and they're seemingly both at the top of their game right now. Against Minnesota, Randolph and Gasol combined for 57 points and 22 rebounds on 24-of-33 shooting.
This game should be an early measuring stick of the short-handed Pacers' depth. If this iteration of Indiana can go toe-to-toe with a team of Memphis' caliber, it would be an early statement from the Blue-and-Gold.
Projected Starters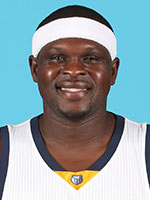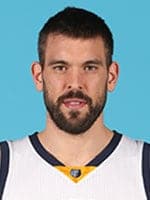 Pacers: PG - Donald Sloan, SG - C.J. Miles, SF - Solomon Hill, PF - Luis Scola, C - Roy Hibbert
Grizzlies: PG - Mike Conley, SG - Courtney Lee, SF - Tony Allen, PF - Zach Randolph, C - Marc Gasol
Injury Report
Pacers: Paul George - out (rehabilitation, fractured right tibia/fibula), George Hill - out (left knee contusion), C.J. Watson - out (bruised right foot), David West - out (sprained right ankle)
Grizzlies: Nick Calathes - suspended (eligible to return Nov. 23)
You Can Quote Me On That
"It's fun to see guys step up and guys get the opportunity that they've been wanting since they've been in the NBA." -C.J. Miles on teammates taking on larger roles due to injuries
"He was spectacular. The moment he stepped in the game, he made offensive plays, he made defensive plays. He really elevated the level of play for the whole team." -Frank Vogel on Rodney Stuckey's play in Wednesday's win
"We know they've got two big guys down there that they throw the ball to a lot in Gasol and Randolph. So we have to be prepared to help our bigs as well, digging and stuff like that. Because the majority of the game, it's just going to be bully ball down there." -Stuckey on Memphis
"He's a great point guard. He keeps his dribble. I think he's become a pretty good shooter, great finisher, great passer, great leader for that Memphis team. So I think not only (is it a challenge for) me, it's going to be a full team effort to keep him under wraps." -Donald Sloan on guarding Mike Conley
"We definitely can't turn the ball over (against Memphis). Because they're a team that's going to capitalize on it. They're a veteran team. They've been together and they know how to win games, know how to make people pay for mistakes." -Miles
Last Meeting
March 22, 2014: The Grizzlies held the Pacers to a season-low point total, grinding out an 82-71 win in Memphis. It was just the second loss of the season for Indiana in a game where they held their opponent under 90 points.
Lance Stephenson led the Blue-and-Gold with 15 points, eight rebounds, and four assists. David West was the only other Pacers player in double figures, contributing 10 points and six rebounds.
Mike Conley led Memphis with 21 points, five rebounds, and four assists. Zach Randolph added 18 points and 13 rebounds, while Mike Miller hit 4-of-6 3-pointers and added 13 points.
Noteworthy
Indiana leads the overall series with Memphis, 24-12. That includes a 14-3 mark at home, including home wins over the Grizzlies in each of the last two seasons.
The Pacers and Grizzlies won't meet again for 80 games. They'll play in Memphis on the final day of the regular season (April 15).
Rodney Stuckey was teammates with Grizzlies forward Tayshuan Prince for five seasons in Detroit (2008-13).
Halloween Special For This Game
There will be trick or treating at the game! Arrive early and get your treats in each Pavilion in Bankers Life Fieldhouse (while supplies last).
Broadcast Information
TV: FOX Sports Indiana - Chris Denari (play-by-play), Quinn Buckner (analyst), Jeremiah Johnson (sideline reporter/host)
Radio: 107.5/1070 The Fan - Mark Boyle (play-by-play), Slick Leonard (analyst), Pat Boylan (sideline reporter/host)