Last Updated: Jan. 24 at 11:00 PM
Hickory Night
Wednesday's game will be the sixth of 10 times this season (and third of six home games) where the Pacers will wear their NBA Pride Hickory uniforms, a season-long tribute to Indiana basketball as symbolized by the Academy Award–winning movie, Hoosiers. Learn More About #HickoryPacers »
Matchup
There's no place like home. After playing nine of their last 11 games on the road, the Pacers (23-21) return to Bankers Life Fieldhouse for a four-game homestand, which begins with Tuesday's contest against Chris Paul and the Los Angeles Clippers (28-16).
As they've toured across the country over the past few weeks, the Blue & Gold have struggled to find wins. Indiana won just three of its nine road games, with their only win on their most recent four-game jaunt coming over a Phoenix team that is in the midst of a massive tailspin.
Still, the Pacers have managed to remain competitive in most of their contests, even while dealing with several key absences (sixth man Rodney Stuckey remains out with a foot injury, starting point guard George Hill missed three games last week while on paternity leave, starting center Ian Mahinmi has missed the past two contests with a sprained ankle).
Pacers fans can take one big positive from the team's most recent road trip: rookies Myles Turner and Joe Young appear to have turned an important corner in their development. Turner, in particular, has been a revelation offensively. The 6-11 center averaged 20.5 points while shooting a sensational 64.8 percent from the field. Even including a 1-for-8 performance in Saturday's loss to Sacramento, Young averaged 11 points and 5.5 assists over the four games.
Meanwhile, stars Paul George and Monta Ellis are continuing to produce at a high level offensively, combining to average over 40 points per game over the trip, but sharpshooter C.J. Miles is mired in a deep slump. Miles, the team's second-leading scorer for a good part of the season and a 43.7 percent 3-point shooter in November, has had hardly any shots fall over the past few weeks. The 6-6 swingman has made just two of his last 28 3-point attempts and managed just three total points on 1-of-15 shooting in a pair of losses over the weekend to Golden State and Sacramento.
Thanks to a recent hot streak, the Clippers have a comfortable cushion for fourth place in the Western Conference. The Clips have dropped three of five, but won 10 in a row prior to that. That streak is all the more impressive when you factor in that all but one win came without leading scorer Blake Griffin, who hasn't played since Christmas Day due to a quad injury.
Projected Starters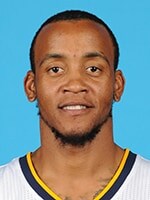 Pacers: PG - George Hill, SG - Monta Ellis, SF - Paul George, PF - Lavoy Allen, C - Jordan Hill
Clippers: PG - Chris Paul, SG - J.J. Redick, SF - Paul Pierce, PF - Luc Mbah a Moute, C - DeAndre Jordan
Injury Report
Pacers: Ian Mahinmi - questionable (sprained left ankle), Rodney Stuckey - out (right foot sprain/bone bruise)
Clippers: Blake Griffin - out (partially torn left quad tendon)
Last Meeting
December 2, 2015: The Pacers went into the Staples Center and came away with a 103-91 win, their sixth straight victory.
Paul George led the Pacers with 31 points and 10 rebounds, his fourth consecutive game scoring 30 or more points. Rodney Stuckey added 18 points off the bench for the Blue & Gold.
Blake Griffin and Lance Stephenson each had 19 points for the Clippers in the loss.
Noteworthy
The Clippers have won two of their last three games in Indiana, but the Pacers are 31-10 all-time against Los Angeles.
With a win, the Pacers would sweep the season series with the Clippers for the second time in the last three seasons.
George Hill needs to make two more 3-pointers to tie Troy Murphy for sixth-most 3-point field goals made in franchise history (419).
TV: FOX Sports Indiana/ESPN - Chris Denari (play-by-play), Quinn Buckner (analyst), Jeremiah Johnson (sideline reporter/host)
Radio: 93.5 FM/AM 1070 The Fan - Mark Boyle (play-by-play), Slick Leonard (analyst), Pat Boylan (sideline reporter/host)
Please Note: Inside Bankers Life Fieldhouse, Pacers radio broadcasts can be heard on 1080 AM instead of 1070.
Tickets
Good seats still remain for Tuesday's Hickory Night game against Chris Paul and the Clippers: Find Tickets »
Meet Scot Pollard
Before tonight's game, meet former Pacers player Scot Pollard at an autograph signing from 6-7 p.m. at the NBATV table outside Section 20.
Home Court Gift Shop Game Night Special
Hickory Long Sleeve Tee - $15. Game Night Specials can be purchased in the Home Court Gift Shop or any of our souvenir stands located on all levels of Bankers Life Fieldhouse. The special is also available online at PacersGear.com until midnight.