Last Updated: Nov. 1 at 11:30 AM ET
Matchup
After a narrow escape form New York on Wednesday night, the Pacers look to close out their two-game road trip with a win against the Bulls on Friday.
Indiana has struggled at the United Center in recent seasons, losing six of its last seven games in Chicago, dating back to the 2014-15 season.
The matchup with the Bulls (2-6) will be the first night of Indiana's second back-to-back of the season, as they'll return home on Saturday to face Gordon Hayward and the Boston Celtics.
Against the Knicks on Wednesday, the Pacers (5-3) started the fourth quarter trailing by four, but used a series of clutch plays in the final two minutes to pull ahead at Madison Square Garden.
Two late threes from Oladipo, combined with Sabonis' perfect night from the field (12-for-12), were enough to propel Indiana to the victory.
In Chicago, the Pacers matchup with a Bulls team that has been bit by the injury bug to start the season. The Bulls will be without key contributors such as Lauri Markkanen, Kris Dunn, and Bobby Portis.
With a thin lineup, the Bulls have been led in scoring by Zach LaVine, who has been a revelation on offense, scoring 28.1 points per game — the fourth-best mark in the NBA.
Slowing down LaVine will be priority number one for the Pacers, especially after the last shooting guard they faced, Tim Hardway Jr, got loose for 37 points on Wednesday.
Projected Starters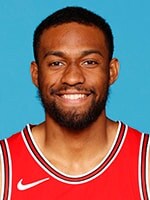 Pacers: PG - Darren Collison, SG - Victor Oladipo, SF - Bojan Bogdanovic, PF - Thaddeus Young, C - Myles Turner
Bulls: PG - Cameron Payne, SG - Zach LaVine, SF - Justin Holiday, PF - Jabari Parker, C - Wendell Carter Jr.
Injury Report
Bulls: Kris Dunn - out (left MCL sprain), Lauri Markkanen - out (right
elbow sprain), Bobby Portis - out (right MCL sprain), Denzel Valentine - out (left ankle
sprain)
Last Meeting
Jan. 6, 2018: In their last meeting, the Pacers beat the Bulls soundly at Bankers Life Fieldhouse, winning 125-86.
Victor Oladipo — who had missed the previous four games with a sore right knee — filled up the box score in his return, finishing with 23 points, nine assists, six rebounds, and five steals.
"I was just out there playing," said Oladipo, who recorded five steals in the first quarter alone. "I just kind of get lost in the game and do whatever I can to help my teammates. I just try to set the tone at both ends."
The Bulls were led in scoring by Bobby Portis, who finished the 15 points on 4-of-7 shooting.
Noteworthy
Bulls forward Justin Holiday and Pacers guard Aaron Holiday are siblings.
Chicago leads the all-time series between the teams, 97-87.
This is the first meeting of four between the teams this season (Nov. 2, Dec. 4, Jan. 4, and March 5).
Thaddeus Young needs two rebounds to hit 1,000 in his Pacers career.
Tickets
Following their two-game road trip, the Pacers return home to Bankers Life Fieldhouse to host Kyrie Irving and the Boston Celtics on Sat, Dec. 3 at 7:00 PM ET. Find Tickets »
TV: FOX Sports Indiana - Chris Denari (play-by-play), Quinn Buckner (analyst), Jeremiah Johnson (sideline reporter/host)
Radio: 107.5 FM/AM 1070 The Fan - Mark Boyle (play-by-play), Pat Boylan (studio host)