Shiny & New Theme Week
Why every Western Conference team is trying to win in 2018-19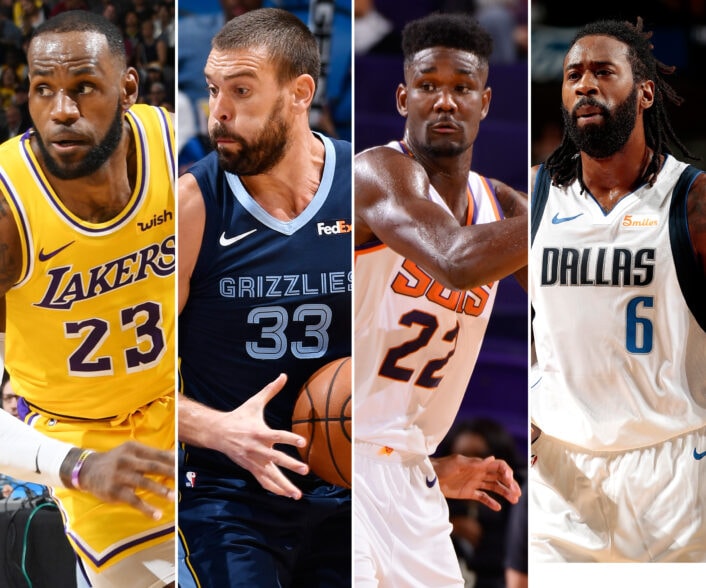 What happens when you play musical chairs with 15 people and only eight seats?
Chaos. That's the promise of the 2018-19 Western Conference.
This normally isn't the case. It's usually easy to single out which teams are using any given season to rebuild for the future. However, for reasons as different as the teams themselves, each franchise out West possesses (or has given itself) a reason to try and win. Some are realistic. Others are born out of impatience or lack of options.
Here's a team-by-team look at why the West may be wilder than ever.
(Note: Teams are listed in alphabetical order)
* * *
Dallas Mavericks
2017-18 record: 24-58
Why they want to win now: You don't draft the most accomplished European teenager ever or sign DeAndre Jordan unless you want to make some immediate noise. Luka Doncic and Jordan add two of coach Rick Carlisle's most coveted essentials: an elite passer and a big man who can finish at the rim. Dirk Nowitzki's star is fading — it sounds like he's coming off the bench this season — but Dallas appears intent on ending its two-year playoff drought sooner than later.
Biggest question marks: Is a core of Doncic, Jordan, Dennis Smith Jr. and Harrison Barnes enough in this conference? Their primary ball-handlers boast a combined one year of NBA experience, but how much will that matter given Doncic's EuroLeague success?
* * *
Denver Nuggets
2017-18 record: 46-36
Why they want to win now: Missing the playoffs on the final night of the regular season means you're close. More importantly, Denver was close and young, which means they should only get better internally. Nikola Jokic is one of the best young centers in the league. The Nuggets signed Paul Millsap in 2017 to add defense and a veteran presence. They have a trio of talented guards in Jamal Murray, Gary Harris and Will Barton, all of whom are capable of scoring 20 points a night.
Biggest question marks: Who's the point guard? Or is that question too archaic for a team boasting Jokic's passing skills in the middle? Can Denver's youthful talent thrive under the playoffs-or-bust pressure from within the franchise?
* * *
Golden State Warriors
2017-18 record: 58-24
Why they want to win now: They're the two-time defending champs, but "three-peat" sounds way cooler.
* Powell: Warriors aim for fifth straight West title
Biggest question mark: What will it take to prevent the Warriors from winning it all again?
* * *
Houston Rockets
2017-18 record: 65-17
Why they want to win now: Houston was (maybe) a Chris Paul hamstring away from The Finals. Now they're reloading to finish the job, this time with Carmelo Anthony's potentially game-swinging offense in tow. Championship windows are short, and the Rockets are intent on keeping this one jammed open as long as possible.
Biggest question marks: The odds are next to nothing that Houston misses the postseason, but its ultimate goal faces a series of different questions in 2018-19. How much will the Rockets miss Luc Mbah a Moute and Trevor Ariza? Can Anthony stay on the floor if opposing offenses single him out? If not, who finishes the game? And can someone send Paul a good luck charm to simply stay healthy come playoff time?
* * *
LA Clippers
2017-18 record: 42-40
Why they want to win now: "Lob City" is long gone, but the Clippers remained surprisingly competitive behind Kia Sixth Man of the Year Lou Williams. Tobias Harris is one of the more underrated forwards in the league. Danilo Gallinari looked good (and healthy!) in the preseason. Marcin Gortat is a serviceable big man. Patrick Beverley and Avery Bradley offer defense-first leadership to complement rookie guards Shai Gilgeous-Alexander and Jerome Robinson.
Biggest question marks: Can their sum total of players overachieve to keep the Clippers afloat in a Western Conference overflowing with star power? Can Williams duplicate his 2017-18 production (22.6 ppg)? And, if bad health pays them another visit, can the Clippers keep up in the playoff race?
Los Angeles Lakers
2017-18 record: 35-47
Why they want to win now: Earvin "Magic" Johnson is in charge and LeBron James is in town.
Biggest question mark: What do you trust more about the current Lakers roster: its promise or pitfalls? Lonzo Ball, Brandon Ingram and Kyle Kuzma have shown ample flashes of potential. JaVale McGee, Lance Stephenson and Michael Beasley once did the same, only to become NBA journeymen. It's up to James and coach Luke Walton to figure out what formula works best on such a uniquely-constructed team.
* * *
Memphis Grizzlies
2017-18 record: 22-60
Why they want to win now: Mike Conley is back and healthy. Ditto for Chandler Parsons (7-for-15 on 3-pointers in the preseason). Marc Gasol is 33 years old and still more than effective. Signing Kyle Anderson to a multi-year deal was a win-now move.
Biggest question mark: What will Jaren Jackson Jr. provide? He looked like a man-child in NBA Summer League, but foul trouble plagued him in the preseason. If the fourth overall pick can't contribute consistently, the rest of the big man duties fall to JaMychal Green or small-ball options such as Wayne Selden, Garrett Temple, Marshon Brooks or Dillon Brooks.
* * *
Minnesota Timberwolves
2017-18 record: 47-35
Why they want to win now: After snapping a 14-year playoff drought, the Timberwolves are in no hurry to return to the lottery. They shouldn't be, not with Karl-Anthony Towns earning his first All-Star nod and a new contract extension. Andrew Wiggins enters the first year of his own extension, while veteran point guard Jeff Teague offers the stable point guard play that many young teams lack.
Biggest question mark: When and how does the Jimmy Butler situation resolve itself? His on-court effect, especially on defense, isn't up for debate. He matters, but if his trade request stands, today's Timberwolves could look very different tomorrow. The question is what Minnesota ultimately gets back for him — assuming they choose to trade him at all.
* * *
New Orleans Pelicans
2017-18 record: 48-34
Why they want to win now: Anthony Davis.
Biggest question mark: Jrue Holiday was the feel-good story of last year's playoffs, but it's up to him to prove that his career year was more than just that. Last season marked the first time since 2012-13 that Holiday played more than 70 games. Signing Julius Randle further strengthened the frontcourt behind Davis, but will not addressing a thin rotation of shooters ultimately prove their undoing?
* * *
Oklahoma City Thunder
2017-18 record: 48-34
Why they want to win now: After losing Kevin Durant two summers ago, the Thunder have secured consecutive long-term contracts with Russell Westbrook and Paul George. They're not going anywhere. So how far can they go?
Biggest question marks: There's a lot of them. Will trading Carmelo Anthony be a case of addition by subtraction? Will the real crunch-time power forward (Patrick Patterson, Jerami Grant) please stand up? Will their defense continue to suffer until Andre Roberson returns? Can Dennis Schroder play in the same backcourt as Westbrook? All that being said, a foundation of Westbrook, George and Steven Adams is a great place to start.
* * *
Phoenix Suns
2017-18 record: 21-61
Why they want to win now: Owner Robert Sarver said recently, "I think we're at the end of a rebuild. For me, the switch has flipped and it's now time to start figuring out how to win." When he says it's time to win, odds are the team will try to do just that.
Biggest question marks: Why now? Because Sarver believes Devin Booker, Deandre Ayton and Josh Jackson are ready to lead kind of leap? Because adding Trevor Ariza and Ryan Anderson will make that big of a difference? Because new coach Igor Kokoskov is the league's next great coach waiting to happen? If at least two of those things don't happen, it's hard to see Phoenix — a team that finished last in both offense and defense last season — improving enough to surpass anyone out West.
* * *
Portland Trail Blazers
2017-18 record: 49-33
Why they want to win now: First Team All-NBA guards are a rare breed, and Portland has one in Damian Lillard. CJ McCollum is an All-Star-caliber scorer in his own right. For now, Portland deems that backcourt enough of a reason to table any thoughts of hitting the reset button.
Biggest question mark: The Blazers locked up center Jusuf Nurkic with a long-term deal over the summer. That leaves the other frontcourt spots, which boast Maurice Harkless, Evan Turner, Al-Farouq Aminu and Jake Layman. Can at least two of them become overachieving role players that enhance the overall mix and chemistry of the team, especially come playoff time?
* * *
Sacramento Kings
2017-18 record: 27-55
Why they want to win now: The Kings don't own their 2019 draft pick and there is nothing more dangerous than a team with nothing to lose. Just ask the Cavaliers, Thunder, 76ers, Blazers and Jazz, all of whom lost to the Nets last season.
Biggest question mark: The Kings have drafted just one All-Star since 1997 (DeMarcus Cousins). Can Marvin Bagley, De'Aaron Fox or Willie Cauley-Stein exhibit the kind of franchise-changing talent Sacramento needs to finally turn the ship around?
* * *
San Antonio Spurs
2017-18 record: 47-35
Why they want to win now: The Spurs won 47 games without their best player and added DeMar DeRozan to that team. They haven't missed the playoffs since 1997. Gregg Popovich.
Biggest question marks: Can a team with so many mid-range specialists succeed in today's NBA? Will age set in for LaMarcus Aldridge or Pau Gasol? How well can Patty Mills and Bryn Forbes hold down the backcourt with Dejounte Murray and Derrick White out?
* * *
Utah Jazz
2017-18 record: 48-34
Why they want to win now: Donovan Mitchell is a star now, and the assumption is he will only get better in Year Two. Rudy Gobert single-handedly morphs the Jazz into the stingiest defensive team in the league. Joe Ingles is an underrated source of production. Ditto for Derrick Favors. Quin Snyder is a future Coach of the Year award contender.
Biggest question marks: Will Mitchell improve on an incredible rookie season (and even better postseason)? Can Gobert stay healthy? Can Utah count on at least two reserves for consistently efficient production and impact?
* * *
Sekou Smith is a veteran NBA reporter and NBA TV analyst. You can e-mail him here, find his archive here and follow him on Twitter.
The views on this page do not necessarily reflect the views of the NBA, its clubs or Turner Broadcasting.