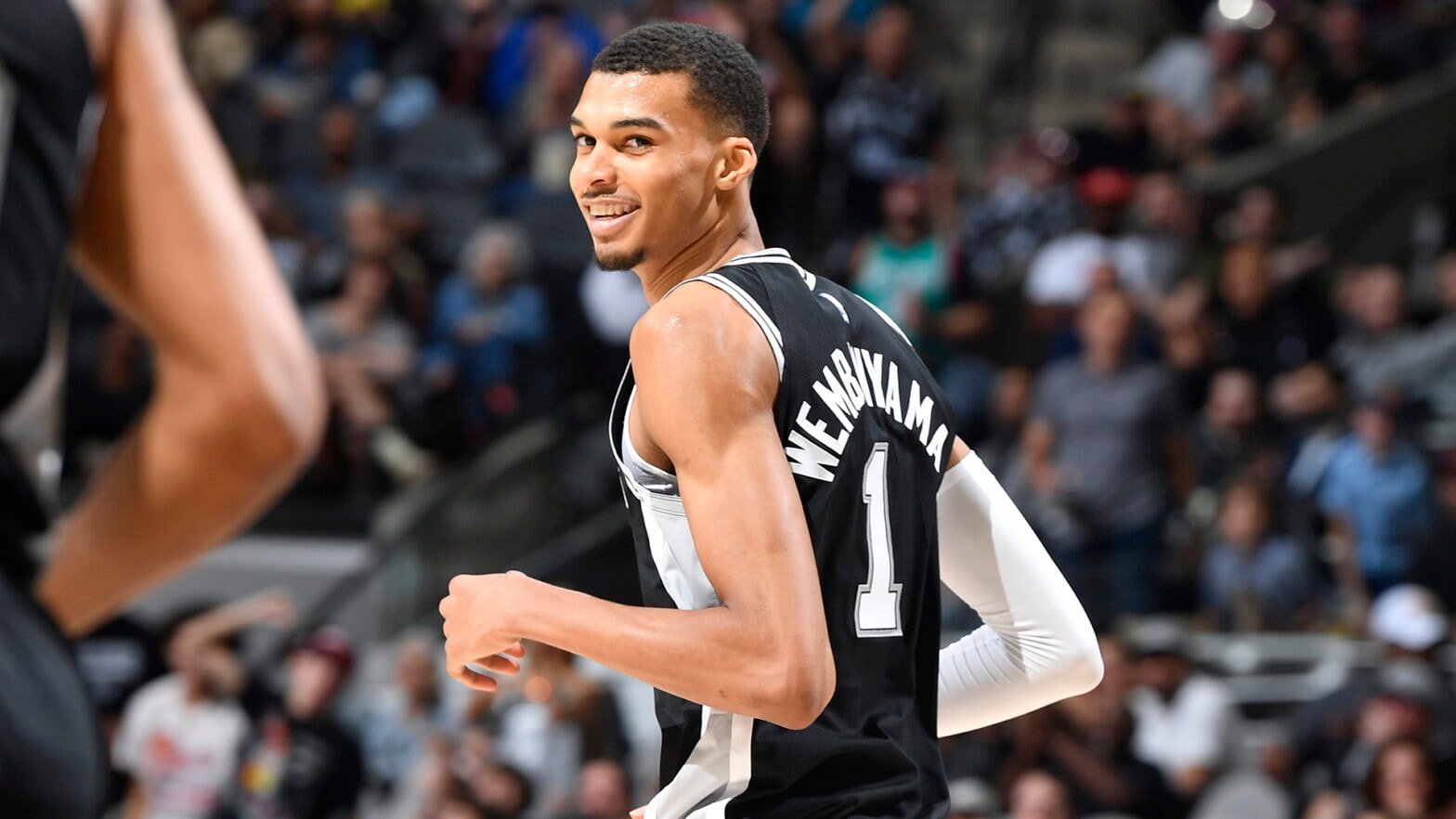 Stay up to date on No. 1 pick Victor Wembanyama as he embarks on his rookie campaign with the San Antonio Spurs. NBA.com's Michael C. Wright and Michaela Gilmer will provide a weekly recap of Wembanyama's outlook on and off the court. 
A new Wemby Watch drops every Sunday.
Here's a look at what we saw from the 19-year-old French phenom during the first five games of his NBA career.
---
On the court 🏀
In starting the season 3-2, Wembanyama and the Spurs played in a variety of scenarios that should pay off down the road.
Oct. 25: In the opening-night matchup against Dallas, the Spurs controlled nearly the entire game. But shoddy execution late and a surge by Luka Doncic resulted in defeat.
Oct. 27: San Antonio topped Houston in overtime. Wembanyama struggled through three quarters, shooting 3-for-12, before sending it to OT, where he shined.
Oct. 29: Two nights later against the LA Clippers, the 19-year-old experienced his first blowout loss. 
Wembanyama spent the next four days in Phoenix for two games against the Suns. Those two outings resulted in interesting, if not contrasting scenarios. 
Oct. 31: Trailing by 13 points entering the fourth quarter, Wembanyama scored nine of his 18 points in the final frame.

His tip-dunk pulled the Spurs to within a point with seven seconds remaining.

Keldon Johnson sealed the deal and San Antonio overcame a 20-point deficit en route to a 115-114 win.

Nov. 1: Two nights later, Wembanyama announced his arrival with a mind-bending career-high 38 points to go with 10 rebounds, a steal and two blocks. San Antonio stormed to a 27-point lead that Phoenix completely wiped out with 4:12 left to play. 
That's when the Victor Wembanyama show tipped off in earnest.
---
1-man highlight reel 🤯
Tip passes, pull-up 3s, dunks, blocks, you name it.
We can show you better than we can tell you. Here are a few Wemby clips from the week.
Wemby's Rookie season is off to a STRONG start 💪🏽

20 PPG | 8 RPG pic.twitter.com/1ZKS8p1AOr

— NBA TV (@NBATV) November 5, 2023
---
1 stat to know 📊
Wembanyama has scored 103 points in his first five career games, making the rookie just the second Spur after Hall of Famer David Robinson to drop 100 points or more in that span. He became the first player since Shaquille O'Neal in 1992 to tally 85 points or more, 35-plus rebounds and 10-plus blocks in his first five contests.
---
Circle on calendar 📅
Wed., Nov. 8: Spurs vs. Knicks (7 ET, ESPN) 
The French phenom takes his show to Madison Square Garden for the first time, where he'll encounter Jalen Brunson, the Knicks, and the New York media. 
---
Rookie reflection 💭
Wemby spoke about what he learned from playing against KD for the first time.
His thoughts show a level of humility not often seen among players so young.
"I learned that I'm far from mastering the game as much as him," Wembanyama said. "I know because I try to do some stuff like him, but I'm maybe not patient enough. I want to go too fast. But he goes to his own pace, goes to his spots. I've got to not copy that, but get inspired by that."
---
Tunnel drip 💧
Dressed as Slender Man, Wembanyama would defeat Durant, the Slim Reaper on Halloween, then again two days later.
Happy HalloWemby!

📺 Spurs/Suns, 10pm/et on TNT pic.twitter.com/ZCNU1f5oBh

— NBA (@NBA) October 31, 2023
---
A taste of San Antonio 🍽️
Le beignet, anyone? Someone please inform Charles Barkley there is no French word for his favorite pastry in San Antonio.
The round mound of rebound asked the rookie on Tuesday how to say "churro" in French.
Wembanyama replied, "What? I've never heard of that."
Minutes later, Wemby explained to a reporter that he knows what a churro is. He just didn't know how to say it in French. In San Antonio, it's almost impossible to never encounter churros, which are ridged sticks of fried dough coated in cinnamon sugar.
The Spurs often serve churros as a dessert for pre-game media meals.
---
On the road ✈️
On his first SoCal trip with the Spurs, fans flocked to Santa Monica to see the mesmerizing rookie up close ahead of San Antonio's game last Sunday against the LA Clippers.
"One of my favorite cities in the states," he said. "Historical city for many things and for basketball. For me, every week is going to be a crazy new opponent."
---
Praise from NBA vets 👏
Philadelphia 76ers forward Nicolas Batum has been telling players across the league about his fellow Frenchman for years.
"As a French, it's good to have a guy who comes from your country and be that phenom," Batum said. " The next 15-plus years are gonna be insane for him. I got to know him way before that. Happy for him. Proud as a French. As a fan, [I'm] pretty happy for him."
---
Lost in translation 🇫🇷
With so many French reporters following Wembanyama's every move, the Spurs make sure to accommodate them at press conferences by allowing the group to ask questions in their language for a sizable portion of every session.
One interaction led to widespread laughter among the French media.
Not knowing what was said, the American reporters felt left out.
So, we reached out to a French reporter to find out what was so funny.
After the Spurs suffered a 40-point blowout to the LA Clippers last Sunday in their third game of the season, Wembanyama was asked by a French reporter whether that outing was his first difficult game in the NBA.
With no hesitation, Wembanyama quipped in French: "No, it was the third."
Merci for the translation.
* * *
Michael C. Wright is a senior writer for NBA.com. You can e-mail him here, find his archive here and follow him on Twitter.
Michaela Gilmer is a producer for NBA.com.
The views on this page do not necessarily reflect the views of the NBA, its clubs or Warner Bros. Discovery.