2017 NBA Draft
Top 30 Draft Board: Kentucky's De'Aaron Fox, Duke's Jayson Tatum on rise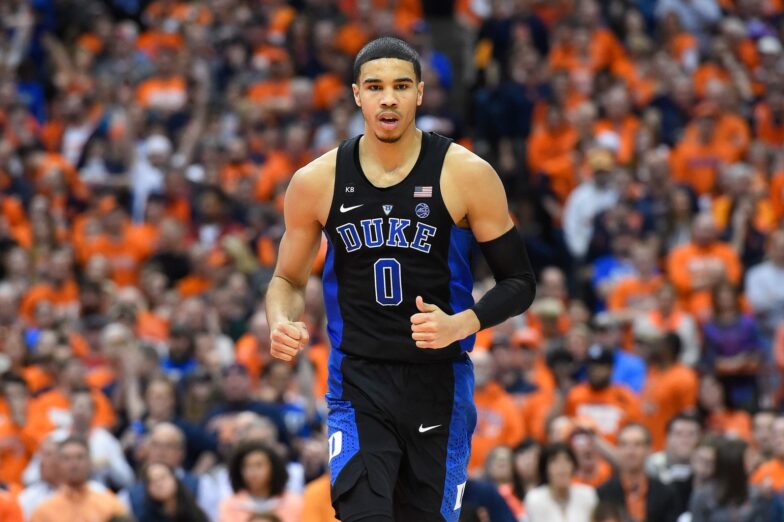 The NBA.com top 30 for the June 22 draft, based on conversations with executives and scouts.
(And if you missed it, here's the first Top 30 Draft Board.)
1. Markelle Fultz | Washington | PG | 6-4 | 195
Fans didn't get the coming attractions in the tournament because Washington went 9-22, but front offices know enough to still give Fultz the edge for No. 1. The height at point guard, and 18 years old with the chance to still grow, the ability to create space to get to the rim or pull up from the perimeter, the versatility to play the point or off the ball — he has been the consensus top pick most of 2016-17. Fultz shot 41.3 percent behind the arc, although also just 64.9 from the line.
2. Lonzo Ball | UCLA | PG | 6-6 | 190
Lonzo is not his dad, his dad is not Lonzo. Family issues are a non-factor for front offices because the Ball being drafted comes across as grounded, relaxed and, more than anything, a team player. He has great vision and is a pass-first point guard with the basketball IQ to deliver the ball at the right time and the right place. Then-Washington coach, Lorenzo Romar, speaking to a group of reporters on Feb. 3 has moved the hype machine all the way to: "The last time I saw something like this was Magic Johnson with the Lakers." So no pressure.
3. Josh Jackson | Kansas | SF | 6-8 | 205
The Andrew Wiggins comparisons will come — Kansas, wing, athletic, one-and-done — but Wiggins was crazy athletic. Jackson has great size for a small forward, which along with the physical gifts may one day allow him to play small-ball power forward after getting older and getting stronger. And while he can become a great scorer in transition, he can also find the open man. Jackson did not shoot well from the perimeter, with only occasional three-point range and even 56.6 percent from the line.
4. De'Aaron Fox | Kentucky | PG | 6-4 | 170
Fox had moments in the tournament when he should have been in the conversation for No. 1. Front offices love the speed and nonstop energy that comes across on defense as well as when he pushes the ball on offense, and that he's not out of control in the process — his assist-to-turnover ratio in the first week of February was 3-to-1 before finishing at 1.90-to-1. That's a good look even if he is the envy of most every point guard with the typical glut of Kentucky talent on the receiving end of the passes. Don't expect much yet on the jumper, though, especially anywhere close to the 3-point line.
5. Jayson Tatum | Duke | SF | 6-8 | 205
The question is whether he can develop 3-point range, and not just because it is important for a wing. It's that if Tatum gets that part down as well, he will be close to a complete scorer, able to get points by constantly exploiting openings he finds in transition, with a mid-range game and from offensive rebounds. He has the size for the position.
6. Malik Monk | Kentucky | SG-PG | 6-4 | 185
A few things to counter concerns he is slightly undersized to become an impact shooting guard: That level of athleticism means he can play bigger than 6-foot-4, he is 19 and could add an inch or two, and has promising 3-point range after the 39.7 percent as a freshman. And not just success behind the arc. Monk has stepped up in clutch situations as a freshman and will undoubtedly get more chanced in the tournament. The NBA loves to see that intangible.
7. Dennis Smith | NC State | PG | 6-3 | 195
Good NBA defenders may have trouble staying in front of Smith as a rookie. He has that much explosiveness, with speed and leaping ability while constantly in attack mode, assets that allow him to break down defenses, get inside and play above the rim at 6-foot-3. The lack of perimeter game, though, means the same defenders will be able to back off. Playing big minutes at a high level has been an especially important accomplishment after missing 2015-16, what would have been his senior season in high school, with a knee injury.
8. Jonathan Isaac | Florida State | PF-SF | 6-11 | 205
That height plus a nine-foot reach creates a lot of possibilities on both sides of the ball, along with rebounding even while obviously needing to put on weight. It's the ability to handle the ball and create that makes small forward an option. Isaac has already shown the quickness to play there, making the potential versatility as a combo forward an obvious plus.
9. Lauri Markkanen | Arizona | PF | 7-0 | 225
The agile, fluid 7-footer is the latest European stretch four bound for the lottery, following Kristaps Porzingis and Dragan Bender. Markkanen, from Finland, will beat defenders down court on the break or pick them apart in half court with range that resulted in making 42.3 percent of his threes while attempting 4.4 per game. In a draft heavy with point guards, he is a big who stands out.
10. Frank Ntilikina | France | PG | 6-5 | 170
If he is this poised and unselfish with the ball at 18, already 6-foot-5 and with the chance to keep growing, with this much court vision, imagine the possibilities when he becomes an old man of 21 or 22 with NBA experience. Not merely the top true international prospect, given Markkanen's swing through the NCAA, Ntilikina has a path to the top half of the lottery and maybe even the top five if he blows teams away at individual workouts. That he isn't there already says everything about the depth at point guard this year.
11. Zach Collins | Gonzaga | PF | 7-0 | 230
Collins had a fast climb up Draft boards in the second half of his freshman season, even for someone prominent enough to be a major recruit for the Zags. Although front offices don't want to over-emphasize one game, the 14 points, 13 rebounds and six blocks in the national semifinals showed he can already handle the pressure moments. Collins averaged just 17.2 minutes on a team loaded with veterans, but that was enough to impress the NBA.
12. Justin Jackson | North Carolina | SF | 6-8| 195
He can impact a game on both sides of the ball with energy, mobility and long arms. He finds openings on the defense to score in a variety of ways while his role has increased each of the last three years, to where Jackson was the leading scorer on a national champion. That's the other thing: Three years in an elite program with the added experience of back-to-back trips to the title game. He does not have three-point range that will force an opponent to come out, but is improving.
13. Jarrett Allen | Texas | C | 6-10 | 235
The size, the big hands, the long reach and wingspan — he will be ready physically. It's just that Allen does not play physical, doing most of his damage running the court hard and finishing, and following offensive rebounds. Beyond that, his offense needs a lot of work. His level of agility and reach equals the potential to become a good shot blocker and rebounder, and the NBA noticed he strung good games together after a slow start, including the statement of 22 points, 19 rebounds and three blocks at Kansas on Jan. 21. Front offices love to see upward trajectory.
14. Harry Giles | Duke | PF | 6-11 | 220
On talent, Giles is in the conversation for at least the top five and possibly even No. 1. But he tore ligaments in both knees in high school and missed the first 11 games this season while recovering from a third procedure, arthroscopic surgery on the left knee, meaning a general manager is really, really going to have to trust his medical staff before spending a high pick on Giles. He averaged just 11.5 minutes in 26 games without the consistent standout play front offices want to see from a lottery pick, but also with the understanding 2016-17 was a double transition as a freshman and working back from injury.
15. Ivan Rabb | California | PF | 6-10 | 215
Rabb is an old man compared to much of the rest of the projected Draft class — a sophomore — who was a lottery candidate a year ago while playing with No. 3 pick Jaylen Brown and second-rounder Tyrone Wallace before returning to school. The decision does not appear to have dramatically impacted his 2017 stock either way as he remains a candidate for the top 14 or later into the teens. Rabb can score inside, either from the post with a nice touch or on the run with good mobility, and rebounds, but will need to improve to make an impact when he moves away from the paint.
16. Terrance Ferguson | Australia | SG | 6-7 | 185
The Dallas-area native made a big gamble by turning pro in Adelaide, Australia, rather than spending a freshman season at the University of Arizona with much better competition and playing for a coach, Sean Miller, with a record of developing NBA prospects. Ferguson needs to add to his game whatever the location. For now, he is essentially a spot-up shooter without much ability to handle or create an opening.
17. Justin Patton | Creighton | C | 7-0 | 230
The redshirt freshman, originally not part of the discussion of the heralded first-year players, has surged with athleticism to go with the size. The 18 points on nine-of-12 shooting plus eight rebounds and two blocks in 28 minutes when Creighton played then-No. 1 Villanova on Dec. 31 was part of getting noticed, but not everything. The rest of the season offered encouraging hints of Patton's future.
18. OG Anunoby | Indiana | SF-PF | 6-8 | 235
Anunoby would have been an easy call as one of the top defenders available and a possibility for closer to the middle of the first round, until needing season-ending surgery on his right knee from an injury suffered Jan. 18 at Penn State. The health concern will obviously weigh heavily on the minds of front offices heading toward June. It could impact Anunoby's thinking as well over whether to stay in the Draft or return to Indiana for his junior year to show the NBA he could still be the same strong combo forward capable of defending multiple positions.
19. T.J. Leaf | UCLA | PF | 6-10 | 225
Nothing about Leaf jumps out as spectacular or lottery-worthy. The appeal is that he does a lot of things well, with moves around the basket, range out to the 3-point line and passing ability, all the more impressive that it's as a freshman. He was an important recruit a year ago but not compared to some of the elite high school seniors at the top of 2017 Draft boards, and he is not close to the No. 1 prospect from his own school. Yet Leaf has jumped out and benefitted from the NBA eyes on Ball.
20. Isaiah Hartenstein | Lithuania | PF | 7-0 | 240
The versatile offensive threat was born in Eugene, Ore., in 1998, moved to Germany in 2008 and joined Lithuanian team Zalgiris in 2016. He can score from different areas, inside and out and also on the run, a sign of his mobility at that size while still growing at 18 years old. NBA teams would like him even more but are wondering about his attitude and whether bad body language and being taken out of his game by emotions is being a teenager or being a potential problem.
21. Bam Adebayo | Kentucky | C | 6-10 | 250
He can play with some power inside or use mobility to score in transition, complete with the leaping ability that could lead to finishing a lot of lobs. Beyond potential as a rebounder and the ability to play in open court, though, Adebayo is offensively challenged, getting most of his baskets on the run or from offensive rebounds while struggling when he steps out, from the line or as a passer. He would almost certainly have to be paired with a big who can hit a shot or score from the post.
22. John Collins | Wake Forest | PF | 6-10 | 225
He went from 7.3 points and 54.7 percent shooting as a freshman in 2015-16 to 19.2 and 62.2, respectively, this season while playing against the very good competition of the ACC. The offense, beyond scoring inside and capitalizing on offensive rebounds is very much a work in progress. But defensively, although hurt by foul trouble, he is active and could develop into a rebounder and shot blocker in the NBA.
23. Luke Kennard | Duke | SG | 6-5 | 190
Kennard — not Tatum, not Giles, not Grayson Allen — was Duke's most dependable scoring threat on a team loaded with options and also one of the biggest three-point threats in the country. While that range is the obvious selling point, Kennard has a nice offensive game in general, including passing, as part of the big improvements from last season as a freshman. The NBA does not see star potential, but can project a solid career at least as a contributor in the rotation.
24. Rodions Kurucs | Spain | SF | 6-8 | 190
The Latvian playing in Barcelona is advanced and versatile offensively with the ability to attack the basket in transition or creating on his own, hit from the perimeter or pass. That, along with being 19 years old and needing to get stronger, makes him a candidate to become the first draft-and-stash taken. And that means he could easily get to the late-teens or early-20s to a team with multiple first-rounder picks. Kurucs' defense and whether he can become a dependable three-point threat are the questions.
25. Caleb Swanigan | Purdue | PF | 6-9 | 250
This is not the same Caleb Swanigan who declared for the 2016 Draft, had a bad showing at the Chicago pre-Draft camp, and wisely decided to return to school. The 2017 version, a sophomore, is much improved almost every way, from conditioning to approach to on-court execution. He suddenly has the look of a potential reserve big man, at power forward and possibly some small-ball center.
26. Donovan Mitchell | Louisville | SG | 6-3 | 210
He has the physical tools, with very good athleticism and strength at 210 pounds, both of which help compensate for being undersized for a shooting guard. (If Mitchell is listed at 6-3, let's see what he measures at the pre-Draft camp.) But his game is inconsistent and lacks three-point range, two obvious concerns for front offices. He did have some of his better showings against quality opponents.
27. Tyler Lydon | Syracuse | PF | 6-10 | 205
Shooting 42.7 percent behind the arc the first 25 games and 39.5 for the season makes him an ideal stretch-four candidate and also means he could handle some small forward on offense while getting stronger. Being able to defend both positions may be another matter. Lydon rebounded well against ranked Atlantic Coast Conference opponents and overall averaged 8.6 boards in 36.1 minutes, a sign he will be able to handle himself inside at the next level after adding weight.
28. Jawun Evans | Oklahoma State | PG | 6-1 | 185
He should not be overlooked in a class with many other point guards rated higher and was not lost in Oklahoma State's bad start to conference play as part of a 20-13 season. Evans has the speed to compensate for any concerns, handles the ball well, and would be coming out with two years of experience at a major program against tough competition. Teams could see a backup point guard of the future available late in the first round.
29. Alec Peters | Valparaiso | PF | 6-9 | 225
This is no mid-major prospect generating attention. Peters is established on NBA fronts after considering entering the Draft a year ago, before returning for his senior season. His three-point range that projects to making him a future stretch-four is the primary appeal. Just in case anyone was concerned about being able to handle bigger stages, 24 points at Oregon on Nov. 17 and the 25 at Kentucky on Dec. 7 were nice reminders.
30. Semi Ojeleye | SMU | SF | 6-7 | 235
He went almost two years between games after transferring from Duke and redshirting at SMU. Once Ojeleye got on the court, though, he quickly returned to prominence in a versatile way, with scoring, rebounding and defense en route to being named American Athletic Conference Player of the Year. He has good size for the position, shot 42.4 percent behind the arc and brings a maturity at 22 years old.
Scott Howard-Cooper has covered the NBA since 1988. You can e-mail him here, find his archive here and follow him on Twitter.
The views on this page do not necessarily reflect the views of the NBA, its clubs or Turner Broadcasting.