James Capers on the offseason of an NBA referee
NBA players and teams weren't the only ones busy during the NBA offseason
By James Capers – as told to Brian Martin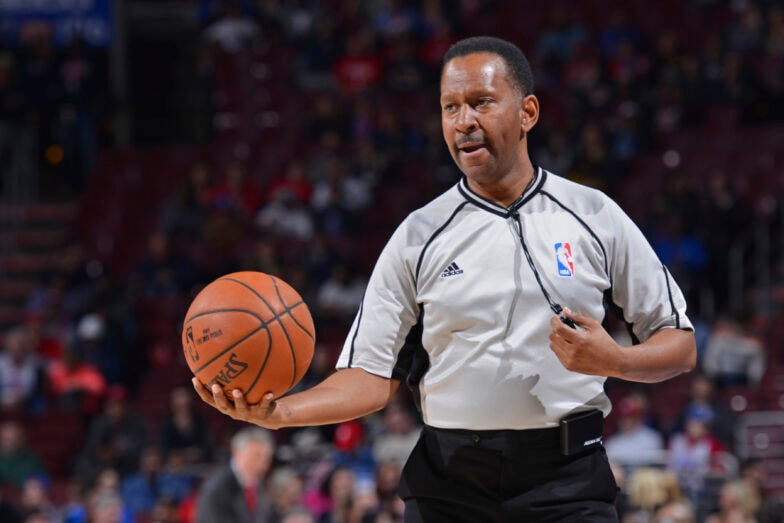 In what has been an action-packed offseason, fans have been able to follow the moves of the players and the teams over the past three months. While players have joined new teams, coaches have new rosters to work with and general managers continue to try to put the perfect roster together ahead of the upcoming season, there is another group of the NBA family that is also preparing for the 2017-18 campaign – the league's referees.
Veteran official James Capers offers a glimpse into his summer to discuss his offseason regimen as well as his first trip to Africa with Basketball Without Borders.
Traveling to Africa with Basketball Without Borders
What started as a conversation with NBA Deputy Commissioner Mark Tatum years ago turned into one of the most rewarding experiences of my life, as I was able to make my first trip to Africa as part of Basketball Without Borders.
Basketball Without Borders is the program that the NBA has put in place to spread the game around the world. They've used coaches, they've used players but the final piece of the puzzle was to include the referees. So now the referees in the NBA are being used more and more in the BWB program to perform clinics and teach/instruct the officials in these countries the fundamentals of officiating and how to be better officials.
Its very important because coaches are teaching the players the fundamentals based on the rules of the game, so what better way to foster the progress of the players, than teaching the local refs so they can enforce the rules properly. This will reinforce all the skills the coaches are teaching and increase the learning curve of the players to prepare them to perform in game situations and the game can be played the right way.
We held clinics with a group of 14 African referees and started with something very elementary as far as teaching them our NBA mechanics (floor positioning) and our philosophy as to when we rotate and when we don't rotate. After teaching them those philosophies on how to put yourself in the best position to see plays, we then watched them work games. As we were observing the local refs we would notice some weaknesses or areas that we thought they could improve upon, and during timeouts and quarter breaks, we would go out and share that information with them. Over the course of a three-day period, the growth from day one to day three was remarkable.
It was a slight challenge to critique the work of those officials because they can never see the game the same way that referees in the NBA see it. The experience gap is just too wide. But we're used to critiquing our peers and having our peers critique our work. NBA officials are used in grass roots programs as well as the Las Vegas, Orlando and Utah Summer Leagues, where we have a mentorship program in place to help the up and coming refs with aspirations of making it to the G League and the G League referees trying to make it to the NBA.
The great thing about officiating is that it's a brotherhood, a sisterhood where we're always trying to teach those with the same dreams all NBA refs once had. If a prospective ref is really interested in learning and they are able to get in contact with us, whether they live in our area or they meet us at a camp or meet us at a speaking engagement, we always try to leave some valuable referee knowledge of the game behind for them to be better. If there is a relationship that has developed, then we have a mentoring mindset to always help them, have them send us tapes so we can kind of engage with them. Be available by email or telephone whenever they have questions about their particular games.
Now, in addition to the work we do with our fellow officials here in America, we have established relationships with officials halfway around the world that we can help mentor and continue to help grow the game.
The African officials we worked with in the clinics came to the charity game that was played by the NBA players and got to see Zach Zarba and I work the game. Afterward they made it their business to wait outside the dressing room for us, they just wanted to say thank you for spending the time over the past couple days with them. They wanted our jerseys, they wanted our sneakers, and it was kind of heartwarming that they looked up to us that way.
Another moment that really stood out was at the end of our classroom clinic, they asked if they could have our email addresses and before I even got back to the United States, five or six of them had already emailed saying thank you and wanted to know if it was alright if they can email during the season. I immediately emailed them back and said that wouldn't be a problem and I'm sure Zach has probably done the same thing.
I feel that we're only scratching the surface of what officials can do within the Basketball Without Borders program. Its just amazing because I had approached Mark Tatum with this probably three or four years ago about how important it is to involve the referees and how we can really expand the game if we can involve that last piece of the puzzle.
I always look at the NBA game and say there are three pertinent parts that make this game fabulous. When you go to a game you have the players that are playing, coaches on the sideline and then you have those three officials. When we are all doing our job in concert it is a beautiful game to watch. Mark agreed to the point that he really pushed the initiative to get the referees more involved and I actually saw him after we got back and he can't believe how things are growing with our involvement. He thinks it was long overdue and that it has been great for the game.
African Experience Outside Of Basketball
As rewarding as being a part of the BWB clinic was, the trip also afforded me the opportunity to visit South Africa (Johannesberg, Port Elizabeth and Capetown) for the first time and I came away with some extraordinary memories.
I had always hoped maybe one day I would get the opportunity to go to Africa, but I had never really thought it would happen, so to go on this trip, just served a greater meaning personally for me because it was a dream come true. It was just amazing to meet so many Africans from all over the continent. I met people from South Africa, Kenya, Ghana, Ethiopia, Uganda and the Congo and more. During breaks I was able to have conversations with all these folks and learn the history of their country, the history of Apartheid, some of the bad things that are going on over there, but then also a hope of promise for the future. I have since looked at the difference of social struggles Africans have gone through there versus us here in America. It was indeed a historical trip for me.
What stood out the most for me was a trip to the Apartheid Museum. I really saw just how terrible an act of injustice was put upon blacks in Africa. The other emotional moment was the visit to the prison on Robben Island to actually see the prison cell that held Mr. Nelson Mandela. Those were just the two highlights of the trip that were life-changing experiences.
I have been changed by this experience. Meeting so many African people, learning the history of Nelson Mandela and also learning about the past and current struggles of the black African people was amazing. The African people have a word they use quite often and its "resistance". It's interesting because resistance to me as an American and resistance to them are two totally different things. I learned and understand their meaning of resistance is, how do you use your mind to overcome obstacles in a non-violent way. I live in Chicago and I see resistance in another form and its normally in violence and aggression. I have so much respect for what the African people have been through as human beings and how they are faithfully trying to overcome everything that is part of their past.
Getting Back To My Offseason Regimen
After returning from Africa, it was time to start preparing for the upcoming season. Having been an official for more than 20 years now, my offseason routine is pretty much set. I can break it down into three parts.
The first thing all refs have to do is take care of their body. Depending on when your season ends – my last game was Game 2 of the NBA Finals – I think everybody needs to take a few weeks off just to get over the aches and pains of the season and just to unwind from the mental pressure of the season.
Once you've got your rest, then its time to get back to work and prepare for the upcoming season. A big part of that is conditioning. I make sure I work out four days a week – Monday, Tuesday, Thursday, Friday – and I do two days with a trainer and two days without to make sure I'm on the right path to get me where I need to be physically when training camp arrives.
The second thing that all the men and women on our staff do is study videotape from all of our games last season and review our own work. Between that and our end of year reviews where we get some constructive criticism as to areas where we can improve, then we transfer that onto the court because a lot of us work summer league basketball games.
Now nothing will ever prepare you for the NBA, but I live in Chicago, so this summer, me, Marc Davis, Danny Crawford, Nick Buchert and James Williams, we all worked some of the summer league games just to work on the craft and work on some of those weaknesses that were pointed out to us.
The final step is the mental preparations for the upcoming season. I start the second week of August, because we usually go to training camp in the second week of September, and I get back in the rulebook, the casebook and the official's manual. I study these books every day to prepare for training camp, preseason exams and discussion session with other staff refs to get ready for preseason games.
I've saved tests and exams from previous training camps so I'll go back and review those 50 question and 100 question exams just to mentally get ready for the season.
When you combine those three things that pretty much takes up nearly all of the offseason. And really to that point – it really is not an offseason.
Just like players are working on new moves and working on their skills, coaches are working on strategy based on the players they'll have on their upcoming roster, we're no different as we're always trying to get better and hone our craft as professionals.
Second Generation Official
You have to have an incredible work ethic to make it as an official in the NBA and I have two of the best examples to follow. My father, Jim Capers Sr., refereed in the league for 24 years before I got in, so my father is continually pushing me to be better and better and never get comfortable with my position. The other is Danny Crawford, he lives here in Chicago, and he recently retired this past season. These two men have been the biggest influences in my career.
Danny Crawford is probably one of the best – if not the best – official that has ever refereed in the NBA. He's been a mentor of mine and I have always said if Danny is out there working summer league games then I better be out there. It was no way he would outwork me in the summer by working more summer league games than me. I just think it's a credit to the hard work he put into the profession and I'm certain a lot of that has brushed off on me.
While my father did this job for 24 years, he doesn't call me and point our any mistakes that I may have made or things I could have done better. He is my father and he is more of a motivator or encourager instead of a harsh critic of my work and I appreciate and love him for being there for me.
He has always told me never ever get relaxed with the position that you have on this staff; you have to always want to be better. I remember it was six years ago when I made it in the Finals, the one thing he said, just because you're there don't ever get comfortable.
That's another reason that I work in the summer the way I do and during the season, there is not a game I worked where I don't go back and watch the video tape and critique my work. My father always taught me: be your own worst critic. Be so hard on yourself that you're never content with your performance. So I'm always looking for the perfect game even though I won't be able to attain it. But I'm always nitpicking so even when I have really good games to always try to find something that could have made me better that night.
Training Camp, Meetings And Getting Ready For Preseason
We just finished our annual training camp and the biggest takeaway from that are the points of education for the upcoming season and new rules that will need to be administered. We have to make sure everyone on our staff understands the rule and how to implement the rules so that we're not going in different directions.
One of the disadvantages is that we don't have an office that we report to and we all live all over the country. So this is the only time that we're able to get together and be in front of our bosses and their bosses to really get messages across as to where we are as a staff, how we can get better as a staff, what are the analytics showing from last season, what are areas that we can improve upon, what members on the staff are going to be crew chiefs, how can they be better leaders as crew chiefs.
A lot of the information is given to us from the points of education, to any new rules, to breakout sessions to deal with leadership and how we can be better leaders. That's really tough when you're talking about 62 people that are the best at what they do in the world. Obviously all of us are leaders but there has to be something that makes some of us a step above others but do it in a respectful manner. There are a lot of things that we have to grow mentally and emotionally with that is consumed during training camp.
Now we're only a few weeks away from the preseason and its time to get back to the grind of another season. This will be my 23rd in the NBA – just one shy of my father – and I've put myself in a position to make it my best one yet.