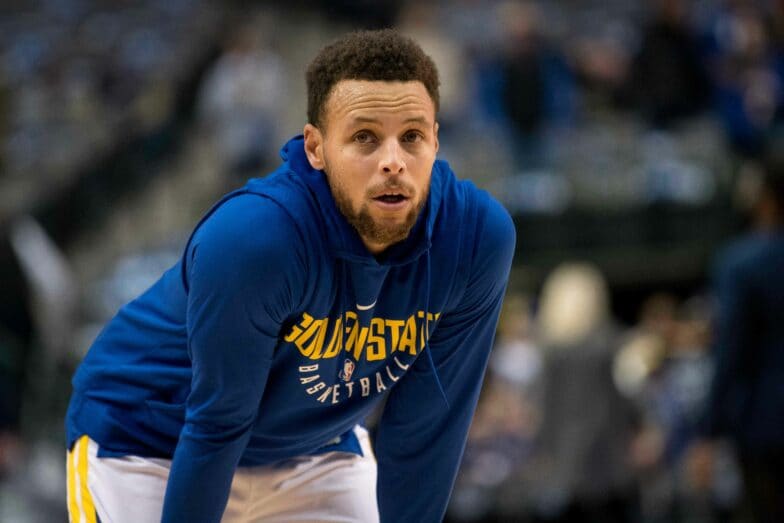 The Golden State Warriors' playoff quest for another championship is starting without star guard Stephen Curry. He's on the mend from from his Grade 2 MCL sprain suffered in late March and, based on a new report, is hoping to return in the Western Conference semifinals.
Yahoo Sports' Shams Charania reports that Curry is expecting to return to the Warriors' lineup at some point in the Western Conference semifinals. The Warriors open their 2018 playoff run on Saturday against the San Antonio Spurs in Game 1 (3 ET, ABC).
Here's more from Charania, via Twitter:
Warriors star Stephen Curry (sprained MCL) is targeting expected return at some point in the Western Conference semifinals, league sources told Yahoo. Curry has three-week evaluation on Saturday
During a 117-100 romp against the Phoenix Suns on April 8, Curry joined the Warriors' broadcast team mid-game to provide an update on how his rehab work from his MCL sprain is going. The injury, which Curry suffered on March 23, has kept him out of the lineup since then. However, Curry is happy with the progress he's seen in his injury since suffering it.
"I haven't had any setbacks," Curry told the Warriors' broadcast crew. "So that's the positive, every day has been something good, advancing the rehab process. I'm looking forward to making more progress as we get towards the playoffs."
"It's been an interesting two weeks so far," Curry said during the 20-minute interview. "Just trying to get some rhythm, some strength back, some flexibility, range of motion, all that type of stuff."
Curry was officially ruled out for at least three weeks after the latest injury. This season, Curry played in 51 games, averaging 26.4 points, 5.1 rebounds and 6.1 assists per game.
* * *