Playoffs 2017 (generic branding)
Portland Trail Blazers and Utah Jazz taking the safe route with their budding centers
Jusuf Nurkic and Rudy Gobert are vital pieces to the growth of their franchises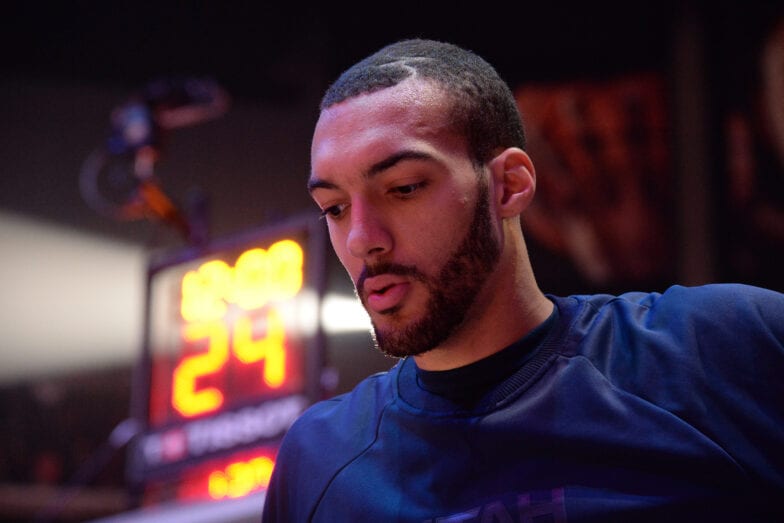 SALT LAKE CITY — There is ample evidence that the impact of the big man isn't what it once was in the NBA, and there is also a rebuttal to that theory both here and also in Portland, homes of playoff dreamers.
The Utah Jazz and Portland Trail Blazers suddenly find themselves using shovels to fill the crater left by the absence of their dynamic young centers, and so far it's an exercise in futility and frustration. Ultimately, the cost might be steep and insurmountable, maybe a game for the Blazers and an entire first-round series for the Jazz.
Rudy Gobert and Jusuf Nurkic, both injured, have meant that much to their teams and played a large part in helping the Jazz and Blazers get to this point. Even if they returned in time to play, it could be too late, and in the meantime, their teams and coaches are adjusting on the fly and trying and mostly failing to find a workable solution.
Gobert has already been ruled out of Game 3 against the Clippers, still aching from a hyperextended knee with a bone bruise. Without the NBA's most effective shot-blocker guarding the rim, the Clippers have gone on the attack, driving the lane with increased regularity and joy and doubling up on their Lob City technique. The path to the basket comes with both sunlight and a green light.
Clippers-Jazz complete coverage
It's a different twist with the Blazers, where Nurkic helped with low-post scoring. The replacement bigs bring little to none of that, leaving guards Damian Lillard and CJ McCollum gassed as they try to shoot the Blazers back into a series with the Warriors in which they trail 2-0.
In addition, the big losers are basketball fans. How much more intrigue would Jazz vs. Clippers hold if Gobert were healthy and going head-to-head against DeAndre Jordan and sending a shiver through the Clippers? And while few would give the Blazers any chance against the Warriors even with Nurkic, at least the underdog Blazers would feel a lot more comfortable grabbing a game or two as the series shifts to Portland.
Warriors-Trail Blazers complete coverage
The good news for the Jazz is Gobert is moving around without crutches or a brace and appears in good spirits. He was even seen taking light shots in practice. No surgery is required, just rest, and that's where it gets tricky for the Jazz. Given how much they've invested in Gobert, both financially (he signed a four-year, $102 million extension before the season) and in terms of their growth as a team, why not put him on ice the rest of this series? That option could be on the table.
Even a small risk might be too much. Every case is different, but a hyperextension could take weeks to completely heal and also give the injured player confidence to go about business as usual. Gobert is the most important Jazz player who's signed beyond this season — more on that in a minute — and at just 24 is starting to develop into a game-changer.
A healthy Gobert might also play a major role in Gordon Hayward's decision to re-sign with Utah this summer as an unrestricted free agent. It's a fair assumption that Hayward would at least explore the idea of going elsewhere if not for Gobert's breakout season; now, Hayward has a talent big man under contract at least another three years.
Why risk a re-injury, even if the possibility is small? The Jazz are certainly taking the careful approach, as they should, regarding Gobert and his status for the rest of this series.
"We've been conservative all year in the sense of discouraging any player to do something to put himself in (that) situation," said coach Quin Snyder.
There's also the reasonable chance Utah could push the Clippers to the limit, or even win the series, without Gobert. They won Game 1 without Gobert for all but the first 19 seconds, when he suffered the injury. And in Game 2, they were within a few baskets for most of the final minutes. Much will depend on replacement starter Derrick Favors becoming more comfortable with increased minutes at center, which isn't his natural spot. A solid showing at home this weekend might convince the Jazz to hold off on using Gobert as long as possible even if he reports no pain or complications.
There's no debating his value to Utah, not at 14 points, 12.8 rebounds. 2.6 blocks along with plenty of defensive intimidation and pick-and-rolls.
"He really came into his own this season," said teammate Boris Diaw, a fellow Frenchman and mentor to Gobert. "Where he really improved was the offensive side. Before, he would get his points off of opportunities, but now his footwork is better and we throw the ball inside. He is an option."
Back on March 31 the Blazers announced Nurkic had a non-displaced fracture in his leg and would miss at least two weeks. Well, it's going on three and Nurkic hasn't played since. Similar to the Gobert situation, the Blazers are taking the cautious road with a player they'd like to keep healthy for a long time. Not suiting up for the first two games against the Warriors was "more about not risking anything," he said.
The Jazz and Blazers are teams building themselves to be title contenders down the road. Neither are close to challenging for championships right now. Therefore, the importance of their playoff series aren't as dire as the win-now teams, which directly influence how they handle injuries that aren't serious in nature, but could pose risks and re-injury.
Nurkic gave the Blazers a whole new outlook on basketball life when they traded for him two months ago. Once weak in the middle, the Blazers found a big man who turned out far better than expected; he averaged almost 16 points and 11 rebounds after arriving and gave Portland, which had relied heavily on perimeter shooting and the Lillard-McCollum combo, much needed offensive balance.
Without Nurkic, the Portland front line has been a nightmare against Golden State, which won the first two games by an average of 20 points. JaVale McGee outscored Steph Curry in the first half of Game 2, proof that Portland had almost no resistance in the middle. Noah Vonleh and Meyers Leonard are averaging four rebounds combined in the series and neither are offensive options. Without Nurkic, there really isn't a natural center on the roster or low-post offensive weapon. This puts pressure on Lillard and McCollum to squeeze points, and with the increase in shot attempts, some are forced or badly taken.
Nurkic could at least give the Blazers a different look and approach, although we may never know. His status in this series is day-to-day. Nurkic is only 22 with a future, one the Blazers would understandably be hesitant to push, especially being overmatched against the Warriors. Some battles are best fought tomorrow, not today.
Veteran NBA writer Shaun Powell has worked for newspapers and other publications for more than 25 years. You can e-mail him here, find his archive here and follow him on Twitter.
The views on this page do not necessarily reflect the views of the NBA, its clubs or Turner Broadcasting.