Top Stories
Reports: Riley tells Heat players he's 'pulling plug' on Butler talks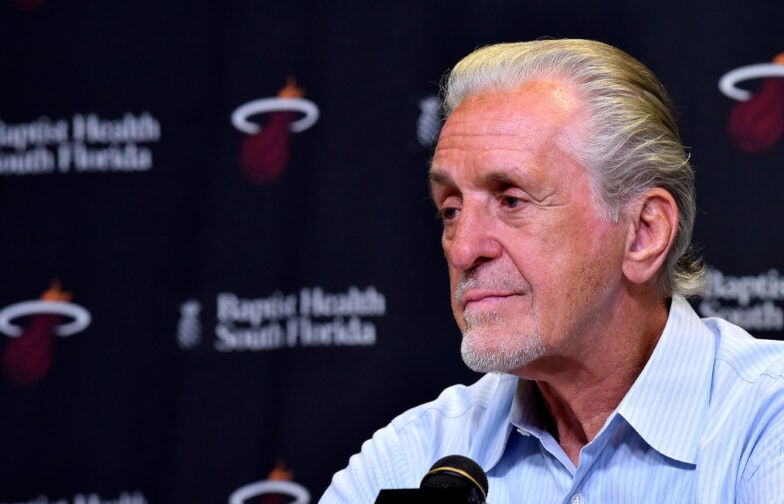 If Minnesota trades Jimmy Butler sooner than later, it may not be to the Miami Heat.
According to Ira Winderman of the South Florida Sun-Sentinel, Heat president Pat Riley has informed players that he has all but ended trade talks centered on acquiring Butler, a four-time All-Star.
In another rare confirmation of Miami Heat trade negotiations, a team spokesman confirmed shortly before Thursday night's game that Heat President Pat Riley recently told the team's players he was "pulling the plug" on trade negotiations regarding disgruntled Minnesota Timberwolves guard Jimmy Butler.
Anthony Chiang of the Miami Herald reports that Riley spoke with the team last Sunday and, per a team spokesman, Riley apologized for players' names surfacing in the talks. He told the team "I'm pulling the plug," after talks went on for too long, but did not issue a guarantee that a trade won't happen down the road.
"It calms you down, for sure, a little bit," point guard Goran Dragic told the Miami Herald. "Of course, everybody is talking, including me. I just want to focus on my job. But deep down, it affects you a little bit. I want to stay here. I like it, really. So when Pat came after practice and sat us down and we had a small meeting, he told us that and you can feel a little bit of relief. But that doesn't mean, in the near future it can't happen. So we still need to do our job. We still need to be professionals."
Miami has been the most frequently mentioned suitor for Butler, who made it clear to Timberwolves management that he preferred to be dealt before finishing out the final year of his contract. Minnesota, however, has held firm either in hopes that Butler will reconcile himself to the team or for an offer they can't refuse.
In many of the Heat-Wolves trade scenarios bandied about, Miami guard Josh Richardson has seen his name come up several times. Richardson is trying his best to tune out the chatter, which has been on his mind when the rumors began circulating, writes Winderman.
"It was a distraction at first," he said of the constant reporting that he soon might need to upgrade his winter wear. "But, I mean, I don't know. I'm not a person that gets into all that stuff. I know everything happens for a reason. I believe in God, so I'll be in the right place."

…

"I've been chllin', man. It is what it is," he said. "Wherever I'm at, I'm going to do what I'm going to do."

And that's the thing, for all of the assurances that he's coveted, for all the words offered by Pat Riley about a desire to keep the team together, Richardson acknowledges his insight isn't much different than anyone else attempting to sort through the speculation.

"The [amount of] texts haven't been too bad lately," he said during the private moment. "I just tell them, 'Don't ask me about it. I know less than you do.' "
Butler had been absent for most of training camp and the preseason after he requested a trade from the team in September. He played and started in the Wolves' season-opener on Wednesday, scoring 23 points in 31 minutes as Minnesota lost to San Antonio. He returned to the team last week for a contentious practice where he reportedly called out his coaches, teammates and the front office. After the practice, Butler spoke with ESPN's Rachel Nichols to explain his actions.
The Timberwolves reportedly were close to trading Butler to the Miami Heat in early October, but the talks reportedly broke down at the last minute. According to Shams Charania of The Athletic, the trade negotiations between the Timberwolves and Heat "have been dead".
Butler, a four-time All-Star, averaged 22.2 points, 5.3 rebounds, 4.9 assists and two steals per game for the Timberwolves last season. He had a minor procedure done on his right hand in July after meniscus surgery on his right knee in February, an injury that kept him out for 21 games in 2017-18.
The Timberwolves acquired Butler from Chicago in exchange for Kris Dunn, Zach LaVine and Lauri Markkanen during the 2017 offseason. The former 30th overall pick helped propel the young Timberwolves to a 47-35 season while earning his fourth consecutive All-Star berth. The Wolves made the playoffs, ending a 14-year drought for the franchise, but they lost 4-1 to the top-seeded Houston Rockets in the first round.
Information from The Associated Press was used in this report.