Each week during the season, NBA.com writer John Schuhmann surveys the league to compile stats and notes for his in-depth Power Rankings. Before the next rankings drop on Monday, here are some of the storylines he's keeping an eye on this weekend.
---
The league's top two defenses met (for the first time) in Memphis on Wednesday, and appropriately, a terrific game ended with a defensive stop. After Steven Adams' go-ahead tip-in, Dillon Brooks blocked a Darius Garland 3-point attempt that could have won the game at the buzzer.
ADAMS BUCKET.
BROOKS BLOCK.

GRIZZLIES WIN THEIR 11TH STRAIGHT 🔥 pic.twitter.com/H8VzMgUrKh

— NBA (@NBA) January 19, 2023
The Grizzlies blew a 19-point lead, but extended their winning streak to 11 games (one shy of the longest streak in the league this season) and improved to 31-0 in games they've led by double-digits. (Every other team has at least three losses in games they led by at least 10 points.)
Statistically, Cavs-Grizz was an offensive game, with the two teams combining to score 118.7 points per 100 possessions. But Cleveland did get some unusually good perimeter shooting from Isaac Okoro and Lamar Stevens, who went 6-for-6 from 3-point range or with their toes on the arc.
Memphis' top-ranked defense left those guys wide open, but was more disruptive overall, forcing 19 turnovers (10 of them live balls) out of the Cavs and blocking seven shots. The heart of that defense is Jaren Jackson Jr., who had four of those seven blocks, and is now averaging 4.6 blocks per 36 minutes, the most for any player in the last 11 seasons (since Serge Ibaka averaged 4.8 per 36 in 2011-12).
The last of those four blocks was the biggest. Just before Adams' tip-in, Jackson defended a Garland iso and swatted his shot in the paint …
But Jackson's most impressive defensive play wasn't scored as a block. Early in the third quarter, Adams blitzed a pick-and-roll and Jackson left his man (Evan Mobley) to meet Jarrett Allen's roll into the paint. When Allen tossed a lob to Mobley, Jackson was able to get back and affect Mobley's dunk attempt …
On the day that Jackson made his season debut (Nov. 15), the Grizzlies ranked 20th defensively (having risen from 30th through their first seven games). Now, they're No. 1, and for the season they've allowed 8.6 fewer points per 100 possessions with Jackson on the floor (102.3) than they have with him off the floor (110.9).
That on-court number is, by a healthy margin, the lowest among 287 players who've averaged at least 15 minutes in 20 games or more. The next six spots belong to players who've mostly come off the bench (and mostly defended against other reserves). The next highest full-time starter is Brooks, and the Grizz have allowed far fewer points per 100 possessions in Brooks' minutes alongside Jackson (102.3) than they have in his minutes without Jackson (108.6 – still a very good number).
Some of Jackson's on-off differential is about how well the Grizzlies' opponents have shot from 3-point range, but it's mostly about what's happened inside. With Jackson on the floor, opponents have shot just 48.4% in the paint. With him off the floor, they've shot 56.1% in the paint.
Jackson's minutes on the floor have been somewhat limited. On Wednesday, he had five fouls in 28 1/2 minutes, with two of those five coming on 3-point shooters. Of course, fouls have been an issue for Jackson throughout his career. Through his first three seasons in the league, he averaged 5.2 fouls per 36 minutes. That rate dropped to 4.6 fouls per 36 last season, but that was still the 11th-highest rate among 272 players who played 1,000 minutes.
This season, Jackson is down to 4.2 fouls per minute, the 31st highest rate among 280 players who've played at least 500 minutes. And because he's blocking so many more shots this season, he's part of an exclusive club of players who have more blocks than personal fouls, having had a rate of just 0.48 blocks per foul through his first four seasons.
Jaren Jackson Jr., blocks and fouls, season by season
| Season | MIN | BLK | PF | BLK/36 | PF/36 | BLK/PF |
| --- | --- | --- | --- | --- | --- | --- |
| 2018-19 | 1,515 | 82 | 220 | 1.9 | 5.2 | 0.37 |
| 2019-20 | 1,622 | 92 | 232 | 2.0 | 5.1 | 0.40 |
| 2020-21 | 258 | 18 | 42 | 2.5 | 5.8 | 0.43 |
| 2021-22 | 2,126 | 177 | 272 | 3.0 | 4.6 | 0.65 |
| 2022-23 | 733 | 93 | 85 | 4.6 | 4.2 | 1.09 |
Through Wednesday, there are only two other players who've played at least 500 minutes with more blocks than personal fouls: Bol Bol (58 blocks, 56 fouls) and Brook Lopez (108 and 106), who also pulled off the feat 10 years ago.
Jackson has fouled out of one of his 28 games this season, and he's now had five fouls in six others. But even in the games in which he's committed three or fewer fouls, Jackson has averaged just 27.3 points per game. He's cracked the 30-minute mark just four times all season.
Jaren Jackson Jr. minutes per game
4 or more fouls (11 games): 24.5
3 or fewer fouls (16 games): 27.3
Jackson's minutes are seemingly still limited by design and with the Grizzlies' depth (Brandon Clarke was also very active defensively on Wednesday), they can afford to keep them under 30 per game in the regular season. The question will be if they can extend him to 34 or 36 in the postseason, when his ability to stay out of foul trouble will be under the microscope even more.
The playoffs are still three months away. The Grizzlies now head out on their longest road trip of the season — five games over eight days. It begins on Friday (10 p.m. ET, ESPN) in L.A. with their first meeting with LeBron James and the Lakers, and it includes one game (Monday in Sacramento) against a top-10 offense.
---
While there are only three players who've played at least 500 minutes with more blocks than personal fouls, there are five with more steals than fouls. And to no surprise, Jimmy Butler and Tyus Jones are among those five.
More steals than personal fouls, 2022-23
| Player | MIN | STL | PF | STL -PF |
| --- | --- | --- | --- | --- |
| Tyrese Haliburton | 1,336 | 70 | 44 | 26 |
| Tyus Jones | 1,037 | 43 | 18 | 25 |
| Jimmy Butler | 1,093 | 64 | 42 | 22 |
| Dejounte Murray | 1,461 | 68 | 60 | 8 |
| Gary Trent Jr. | 1,240 | 66 | 64 | 2 |
Minimum 500 minutes played
This would be the fifth straight season in which Jones has had more steals than fouls. For Butler, it would be the seventh straight and the ninth time in his career.
Of course, Butler still needs a few more to tie the all-time leaders in Jimmy Butler Club Seasons. Two guys — Mookie Blaylock and Hall of Famer Jason Kidd — have had more steals than fouls 12 times.
Most seasons, more steals than personal fouls
| Player | No. |
| --- | --- |
| Mookie Blaylock | 12 |
| Jason Kidd | 12 |
| Allen Iverson | 10 |
| Jimmy Butler | 8 |
| Maurice Cheeks | 7 |
| Ronnie Brewer | 6 |
| Don Buse | 6 |
| Rickey Green | 6 |
| Gus Williams | 5 |
Minimum 500 minutes played
1973-74 through 2021-22

Jones looks to be on his way to joining that group above.
---

3. Bench improvement fuels rising Heat
The Miami Heat have had some recent luck in regard to who has suited up for their opponents. They played two games last week against the Milwaukee Bucks without Giannis Antetokounmpo. And on Wednesday, they faced the New Orleans Pelicans without CJ McCollum, Brandon Ingram and Zion Williamson. But the Heat have dealt with their own absences all season, having their preferred starting lineup together for just 15 of their 46 games and their three best players — Butler, Bam Adebayo and Tyler Herro — all available for just 22 of the 46.
Of course, the Heat are just 10-12 in those 22 games when all three of those guys have been available, even though they've outscored their opponents by 11.0 points per 100 possessions with all three on the floor. As the Heat went 12-15 over through Dec. 10, bench minutes were as much of an issue as their starters' availability. (The two are related, of course. Fewer available starters lead to minutes from guys further down the bench.)
At that point, Adebayo had played in 26 of their 27 games, and the Heat had been 13.6 points per 100 possessions better with him on the floor (plus-3.2) than they had been with him off the floor (a dreadful minus-10.4). In regard to aggregate point difference per 100 possessions, the Heat had the league's 27th-ranked bench (minus-3.4).
Dec. 10 (Game 27) was Victor Oladipo's third game of the season. And through those three games, the Heat had been outscored by 21 points (13.8 per 100 possessions) in his 63 minutes.
But things have since turned around. Since that 12-15 start, the Heat are 13-6, rising from 10th to sixth place in the Eastern Conference. Their bench minutes have been critical as they have the league's fourth-ranked bench (plus-1.9) over that 13-6 stretch, and Oladipo's minutes (in which the Heat have outscored their opponents by 4.0 per 100) have been solid.
Oladipo isn't the most efficient scorer and only twice in his career has he registered a true shooting percentage better than the league average. Those were his first All-Star season (2017-18) and last season (when he played in only eight games). But he's been a terrific defender, and he's become more of a playmaker for the Heat, registering career-high marks in assist ratio (recording assists on 24.1% of his possessions) and assist/turnover ratio (2.29).
He's a very good pocket passer …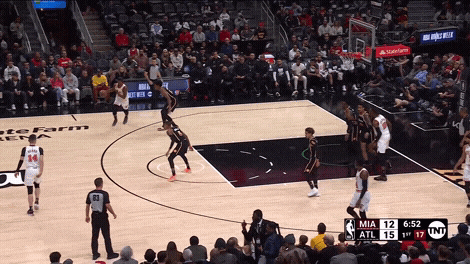 To illustrate how important bench minutes have been consider this: the Heat are 13-1 when Oladipo has registered a plus-minus no worse than minus-2, and they're 0-6 when they've been outscored by more than two points in his minutes on the floor.
If you don't count games against the shorthanded Bucks and Pelicans as quality wins, the Heat have been mostly taking care of business over this 13-6 stretch. Two of their next three games will be tougher tests. They'll visit the Mavs on Friday (7:30 p.m. ET, ESPN) and (after facing the Pelicans again) they'll host the Celtics on Tuesday (7:30 p.m. ET, TNT).
---

4. LeBron is sprinting toward the finish
As LeBron James gets closer to passing Kareem Abdul-Jabbar for the all-time scoring lead, he's not slowing down. In fact, he's speeding up.
Five of James' seven highest-scoring games of the season have come in the last 20 days. And the binge is almost as much about efficiency as it is about usage. As the season has gone on, James' true shooting percentage has risen, in part because he's been getting to the free throw line more often …
LeBron James scoring, usage & efficiency, 2022-23
| Dates | GP | PPG | USG% | TS% | FTA/FGA |
| --- | --- | --- | --- | --- | --- |
| Through 11/4 | 8 | 24.0 | 30.2% | 50.0% | 0.236 |
| 11/6 through 12/9 | 10 | 27.0 | 30.6% | 57.5% | 0.209 |
| 12/11 through 12/28 | 9 | 32.1 | 33.2% | 63.6% | 0.271 |
| Since 12/30 | 8 | 36.4 | 35.7% | 61.9% | 0.371 |
USG% = Percentage of team's possessions used (via FGA, turnovers and trips to the line) while on the floor
TS% = PTS / (2 * (FGA + (0.44 * FTA)))
It could be that James is pushing for the record. He also knows that the Lakers need offense if they're going to win without Anthony Davis. Over the 17 games since Davis has been out, the Lakers rank 25th defensively (117.8 points allowed per 100 possessions), having ranked 12th (111.5) through the game that Davis injured his foot.
Over those 17 games, the Lakers have scored 13.2 more points per 100 with James on the floor (120.3) than they have with him off the floor (107.1). They've also been much better defensively with him on on the floor, resulting in a Jokic-esque on-off differential.
James is now 284 points from passing Abdul-Jabbar. He's missed two of the Lakers' last eight games and L.A. has a stretch of five games (with two back-to-backs) in eight days coming up (Jan. 24-31). If he were to continue scoring at his season-long rate (29.8 points per game), then he's 10 games played from becoming the NBA's all-time scoring champ. If he were to somehow continue at this rate from his last eight games (36.4 per game), then he's only eight games away.
The Lakers have 14 games until the All-Star break. Even after their loss to the Kings on Wednesday, they're just three games in the loss column behind the sixth-place Warriors in the West. But, as they sit in 13th, there are three teams between them and a Play-In spot.
The Lakers will play one of those three teams — Portland — on Sunday, First, they'll host the second-place Grizzlies on Friday night (10 p.m. ET, ESPN).
* * *
John Schuhmann is a senior stats analyst for NBA.com. You can e-mail him here, find his archive here and follow him on Twitter.
The views on this page do not necessarily reflect the views of the NBA, its clubs or Warner Bros. Discovery Sports.