Paul Pierce announces 2016-17 season is his last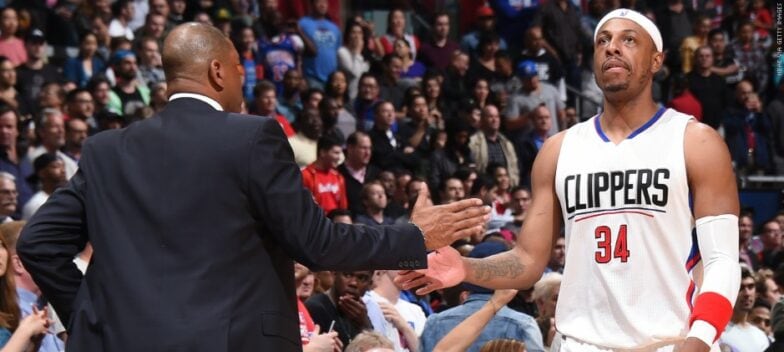 The 2016-17 NBA season will be the last for Paul Pierce , who made the announcement this morning on The Players' Tribune.
Pierce is joining the exodus of players from his generation — Kobe Bryant, Tim Duncan and Kevin Garnett have all retired since the end of last season. Pierce, who won a championship in Boston with Garnett, will finish his career in his hometown with a Los Angeles Clippers squad expected to be one of the Western Conference's best teams.
"This is it, my final season," Pierce wrote. "It's time to move on from the game of basketball. Just like any difficult decision, I think you've got to be at peace with yourself. I'm at peace with retiring, but I've got one more ride left. One more season. One more opportunity."
Pierce will have played 19 seasons, the first 15 in Boston. He played for current Clippers team president and coach Doc Rivers for nine seasons there and was added to the mix in Los Angeles by Rivers to help push the Clippers to the next level.
"With the Clippers, in the city where I grew up, I feel like I have that opportunity on a great team," Pierce wrote Monday. "We're hungry. We want to win a championship.
"After 18 NBA years, it's hard to believe I'll be playing in each arena for the last time. So I'm going to enjoy every practice, every bus ride, every team dinner, every time running out through the tunnel. I'm going to do my part to give us a shot at the ultimate goal."
With both Chris Paul and Blake Griffin returning from injuries that derailed the Clippers' postseason plans last season, expectations, internally and otherwise, are again high for this group. Pierce's confidence that they can chase a championship this season surely played a role in his decision to play one final season.
Pierce, 38, has averaged 20.6 points and 5.7 rebounds per game through the first 18 years of his career and will no doubt go down as one of the best players of his generation. He was the Finals MVP in 2008 and was a 10-time All-Star.
Sekou Smith is a staff writer for NBA.com. You can e-mail him here and follow him on Twitter.
The views on this page do not necessarily reflect the views of the NBA, its clubs or Turner Broadcasting.