One Team, Three Stats: Thunder offense takes big step back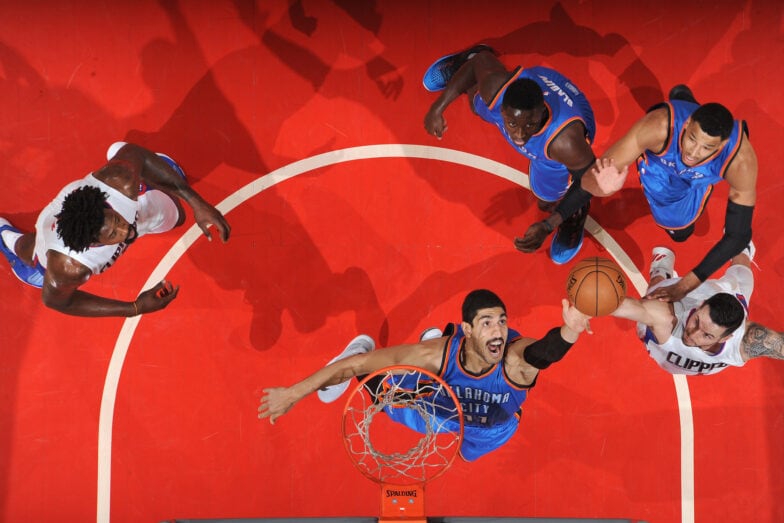 The Oklahoma City Thunder, without Kevin Durant, stand in third place in the Western Conference at 6-2 through Thursday's games. So far, they've indeed been able to withstand the departure of their best player and remain in line for a top seed.
They've done it a little differently than you might have expected, though.
The Basics – Oklahoma City Thunder
Pace: 102.5 (7th)
OffRtg: 97.9 (27th)
DefRtg: 96.9 (4th)
NetRtg: +1.0 (11th)
Thunder links: Team stats | Player stats | Player shooting | Lineups
The Thunder's best win of the season so far came in L.A. against the otherwise-undefeated, 7-1 Clippers, who they host on NBA TV on Friday (8 p.m. ET).
No. 1
The Thunder have scored 12.0 fewer points per 100 possessions than they did last season. That's the biggest offensive regression in the league by a wide margin.
The Thunder are the only team in the league that has regressed in each of the offensive four factors. They've shot worse, rebounded worse, turned the ball more and gone to the free throw line less often than they did last season.
Shooting is the most important of the four and it's shooting where they've regressed the most. The Thunder have shot worse than they did last season in the restricted area, on other paint shots, from mid-range and on above-the-break threes.
Of course, that's what happens when you lose one of the best players in the league. Kevin Durant was not only a great shooter himself, but his teammates had an effective field goal percentage of 53.3 percent (well above the league average of 50.3 percent) off his passes last season.
Russell Westbrook is shooting a career-high 34.6 percent from 3-point range, but his effective field goal percentage has dropped from last season, because he has shot worse inside the arc.
Not only has Westbrook shot worse in the restricted area, on other paint shots, and from mid-range, but he's also getting to the basket less often. Only 31 percent of his shots have come from the restricted area. That's a good mark for a guard, but it's a career low for him, down from 40 percent last season. He could raise his percentages from different spots, but fewer layups will keep the overall field goal percentage lower.
Of course, the Thunder wouldn't be 6-2 if they haven't taken a step forward on the other end of the floor. They rank fourth in the league defensively, having allowed 6.1 fewer points per 100 possessions than they did last season. Only the Clippers (-11.6) and Hornets (-6.4) have improved more defensively.
No. 2
The Thunder have scored 103.6 points per 100 possessions with Westbrook on the floor and just 84.2 with him on the bench. That's the difference between having an above-average offense and one that's much, much worse than that of the Philadelphia 76ers.
Of course, Westbrook is his team's most talented player by far. But what's interesting is that the Oklahoma City starting lineup has scored just 95.7 points per 100 possessions, the lowest mark among 26 lineups that have played at least 50 minutes. It's been when Westbrook has been on the floor with at least one reserve when the offense has been good.
Those lineups with Westbrook and at least one reserve have played much faster than OKC's starting group. But it's not about one particular bench guy that has played well with the star.
In fact, no Thunder reserve has played a majority of those 166 minutes that Westbrook has been on the floor with a group other than the starters. The reserve who has played the most minutes with Westbrook is Enes Kanter, but they've shared the floor for only 66 of the 166.
When you start to break it down, the sample sizes get smaller. The numbers are interesting, but it may be too early to have them driving any lineup decisions.
No. 3
In our One Team, One Stat series to preview the season, the Thunder edition was about their lack of ball movement. Here's an update on that…
According to SportVU, the Thunder have averaged 2.78 passes per possession, a rate which ranks 28th in the league and is up from 2.67 last season. It's a slight increase, but not exactly a full embrace of the power of the pass.
The Thunder have assisted on 52.6 percent of their baskets, down from 55.8 percent last season.
Pace = Possessions per 48 minutes
OffRtg = Points scored per 100 possessions
DefRtg = Points allowed per 100 possessions
NetRtg = Point differential per 100 possessions
John Schuhmann is a staff writer for NBA.com. You can e-mail him here, find his archive here and follow him on Twitter.
The views on this page do not necessarily reflect the views of the NBA, its clubs or Turner Broadcasting.