Uncategorized
One Team, One Stat: Right shots, wrong percentage for Pistons' foes
NBA.com's John Schuhmann gets you ready for the 2016-17 season with a key stat for each team in the league and shows you why it matters. Today, we look at the Detroit Pistons, who forced their opponents to shoot from the right spots.
THE STAT
Last season, the Detroit Pistons allowed their opponents to attempt just 56 percent of their shots from the restricted area or 3-point range, the lowest rate in the league.
THE CONTEXT
The restricted area and 3-point range are the areas of the floor that yield the most points per attempt. If a team can limit your opponents' layups and 3-pointers, it has the foundation of a good defense. And no team did a better job of forcing their opponents to shoot from the area in between than the Pistons did.
But Detroit ranked 16th in effective field goal percentage defense and 13th in overall defensive efficiency last season. The Pistons had the league's best shot location defense, but a below-average shot efficiency defense. Their opponents shot above the league average at the rim, from 3-point range, and in between.
"Those have to be contested shots," Pistons coach Stan Van Gundy said about those mid-range looks before a preseason game this month. "So it's good that we take away the others, but uncontested twos are still pretty good shots in this league.
"There are some teams that can hurt you pretty badly shooting mid-range jumpers and we didn't defend that stuff very well."
The Pistons led the league in SportVU's ball pressure metric. They had a top-10 defense against the league's 10 best offensive teams. But that defense got scorched — allowing 116 points per 100 possessions — in getting swept by the Cavs in the first round.
The Pistons didn't make any major changes to their rotation this summer and defensive improvement will have to come from within. It can start with Andre Drummond, who ranks as a below-average rim protector. According to SportVU, opponents shot 52.6 percent at the rim when Drummond was there to defend it, a mark which ranked 48th out of 60 players who defended at least five shots at the rim per game in at least 40 games.
Tobias Harris doesn't provide much support as a small-ball four, but Van Gundy sees Drummond as the most important cog in his team's ability to get stops.
"He has the biggest impact on our defense," Van Gundy said. "If everything he does — his pick-and-roll defense, but especially his basket protection — would change, that would change us a great deal.
"We've been working at it. A lot of that is mentality, of going and challenging more shots. I think like a lot of guys in the league, there's a tendency at times to get a little hung up on your own man, not wanting your guy to score. I think our defense still needs to build some trust, so that guys know they're going to have help and Andre's going to know when he comes to help, people are going to sink and have his guy.
"There's a lot of things that go into being a really good defense and everybody's got a role in it. But he does have a huge role. That's your key guy on the defensive end."
The foundation is there. The Pistons have a scheme that forces the right kinds of shots. But they need to tighten things up if they're going to take the next step.
"We got to toughen up and contest shots more," Van Gundy said, "because people shot the ball well against us. And we've still got to be able to contain the action we were able to contain last year. I think our pick-and-roll defense has got to improve. I don't think we're going anywhere near where we want to be being in the middle of the pack defensively. You're going to have to be better than that."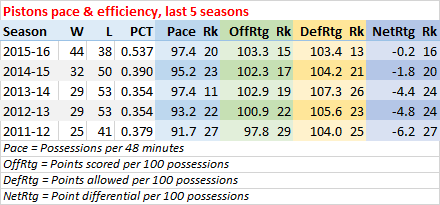 10 MORE PISTONS NOTES
The Pistons have been a below-average offensive team in seven of the last eight seasons and were a below-average defensive team for six straight seasons before last year.
Detroit ranked second in both offensive rebounding percentage and defensive rebounding percentage, and were the only team that ranked in the top five in both.
Drummond grabbed 24.4 percent of available rebounds while on the floor, the best mark among 213 players who played at least 20 minutes per game in at least 50 games. He scored 426 second chance points, 124 more than any other player.
The Pistons ranked 29th in both assist percentage (assisting on only 51.2 percent of their baskets) and passes per game.
Detroit's lineup of Reggie Jackson, Kentavious Caldwell-Pope, Marcus Morris, Ersan Ilyasova and Drummond played more minutes (915) than any other lineup in the league, even though Ilyasova was traded at the deadline.
Players off Detroit's bench had an aggregate NetRtg of minus-3.4, the worst mark among playoff teams.
Only 11.9 percent of opponent possessions were in transition, the lowest rate in the league. The Pistons allowed a league-low 10.4 fast break points per game.
Jackson averaged 6.14 dribbles per touch, the most among 230 players with at least 1,000 touches, according to SportVU. He led the league with 626 shots after at least seven dribbles and was assisted on just 14.1 percent of his field goals, the lowest mark among anyone who played at least 25 games.
According to SportVU, Drummond set 1,380 ball screens for Jackson last season, 240 more than any other pair of teammates combined for. Jackson came off 2,605 ball screens total, 118 more than any other player.
In the playoffs, the Pistons were outscored by just five points in 156 minutes with Harris on the floor and by 29 points in 36 minutes with Harris on the bench.
NBA TV's Pistons preview premieres at 6 p.m. ET on Friday, Oct. 14.
John Schuhmann is a staff writer for NBA.com. You can e-mail him here and follow him on Twitter.
The views on this page do not necessarily reflect the views of the NBA, its clubs or Turner Broadcasting.