Kia Race To The MVP Ladder
Kia MVP Ladder: Roster revamp could revitalize LeBron James' run for MVP hardware
Cleveland's shake-up may do more than help Cavs rise in East standings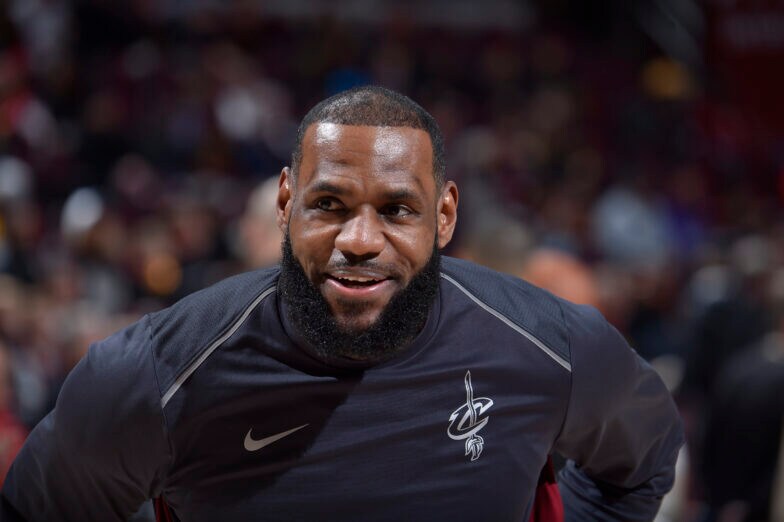 Koby Altman's charge was simple.
Make that change that stopped the Cleveland Cavaliers' post-Christmas slide.
Make them whole again.
Make them fun.
Energize a group that had clearly run out of energy, and in his own words, "was marching a slow death," he wanted no part of.
And do it by the 3 p.m. ET trade deadline Thursday.
Altman, the Cavaliers' first-year general manager, did all of that and more, when he flipped the Cavaliers roster with three trades that could save the season in northeast Ohio.
Isaiah Thomas, Iman Shumpert, Derrick Rose, Dwyane Wade, Jae Crowder and Channing Frye are all gone, purged from the roster in order to add some youth and energy in the form of youngsters Jordan Clarkson, Larry Nance Jr., Rodney Hood and veteran point guard George Hill.
The most important trade deadline acquisition, however, might very well be the "rejuvenated" LeBron James Altman and the Cavaliers expect to emerge from the franchise's trade deadline flurry.
One of the leading candidates on the Kia Race to the MVP Ladder through Christmas, when the 24-10 Cavaliers lost in their Finals rematch against the Golden State Warriors in Oakland, the four-time Kia MVP's spirits and performance sagged as the Cavaliers tumbled through a 7-13 stretch before Thursday's roster reckoning.
Forget the looming free agency quandary the Cavaliers are facing with the face of the franchise; July will be here before you know it anyway. The Cavaliers clearly had more immediate issues to address if they were serious about making a fourth straight run to The Finals.
Altman couldn't take it anymore. He knew he had to do something to change the fractured culture that had developed around his superstar, something to light LeBron's fire for the stretch run of this season.
"I'm really excited about what they're going to be bringing to the table."

GM Koby Altman addresses yesterday's trade deadline moves: https://t.co/chjWtJpKok#AllForOne pic.twitter.com/veA2r9lH47

— Cleveland Cavaliers (@cavs) February 9, 2018
"This guy is so good he dictates outcomes," Altman said in a media conference call Thursday night. "That was the hardest part for me was seeing him … I wanted to see a renewed sense of joy in him. Being around him the last 24 hours has been great. I think he's excited and I can see a renewed sense of excitement and joy in him when he's in the building and we will see that translate to some fun basketball because he's the key, he's the guy that is going to take us back to the promised land. So you want to put the right pieces around him."
Time will tell if that mission has been accomplished.
In the meantime, we'll see if Altman's deadline dealing turns up the heat on the other players at and around the top of the Kia Race to the MVP Ladder.
* * *
The top five in the Week 17 edition of the 2017-18 Kia Race to the MVP Ladder:
* * *
1. James Harden, Houston Rockets
Last week's ranking: No. 1
Season stats: 31.5 points, 9.0 assists, 4.9 rebounds
While many of his contemporaries around the league and on this list were sweating out the details of Thursday's trade deadline, Harden is busy going about the business of trying to bag his first Kia MVP. The Rockets have won six straight games heading into tonight's game against Denver at Toyota Center (8 ET, NBA League Pass), a streak in which the Rockets are averaging 113.5 points on nearly 50 percent shooting). The last time we saw him in uniform Harden was dropping 41 points (which included a 5-for-12 effort on 3-pointers) on the Miami Heat, his eighth 40-point game of the season. With Harden, Chris Paul and Clint Capela in the lineup the Rockets are a staggering 24-1 and have shown themselves to be as good as any team in the league — the Golden State Warriors included. But it all starts with Harden, whose focus and determination has not wavered this season.
2. Kevin Durant, Golden State Warriors
Last week's ranking: No. 4
Season stats: 26.0 points, 6.8 rebounds, 5.5 assists
Durant has strung together 30-point performances in three of his past four games, showing off the scoring touch you'd expect from a four-time NBA scoring champion in the prime of his career. Sure, the Warriors went 2-2 in those games, losing to both Denver and Durant's old team, the Oklahoma City Thunder. But his ability to take his game to the next level at a moment's notice has been undeniable, even on a roster that includes former two-time Kia MVP Stephen Curry as well as All-Stars Klay Thompson and Draymond Green. The Rockets are giving good chase for that No. 1 spot in the West, which should be all the motivation Durant and the Warriors need to stay focused until season's end.
3. LeBron James, Cleveland Cavaliers
Last week's ranking: No. 3
Season stats: 26.5 points, 8.7 assists, 8.0 rebounds
For all of the struggles the Cavaliers have endured since Christmas, it's worth noting that LeBron still kept them among the top three teams in the Eastern Conference. Cleveland was able to hold on until the trade deadline, where the front office could go to work on the issues LeBron's presence alone couldn't fix. Still, his 37-point, 15-assist, 10-rebound triple-double and game-winner in overtime to knock off the Minnesota Timberwolves was the glimmer of hope Cavaliers fans needed to believe things had a chance to turn around during the upcoming All-Star break. Fresh legs, news faces and a renewed energy should sustain the Cavaliers until the new faces can be integrated into the system. LeBron has always been inspired by challenges and this is the latest and perhaps greatest since his first season back in Cleveland. Back in that 2014-15 season, he dragged an inexperienced bunch to The Finals with an injury-ravaged supporting cast.
4. Stephen Curry, Golden State Warriors
Last week's ranking: No. 2
Season stats: 27.2 points, 6.4 assists, 5.1 rebounds
It's not often a former two-time Kia MVP gets picked on the way Curry did in back-to-back losses to the Denver Nuggets and Oklahoma City Thunder earlier this week. But there he was in both games, wearing the bullseye on the defensive end as the Nuggets and Thunder targeted him time after time. Curry usually combats his defensive liabilities by exploiting the mismatches he enjoys offensively (few humans can match his shooting range and the he's usually not ever turning the ball over). The Warriors need Curry to find his groove again, what with the Rockets in full pursuit of that top spot in the West playoff chase. The Warriors don't have the luxury of playing as carelessly as they have lately, and that means Curry has to set a better tone with his ball security and attentiveness on the defensive end.
5. Russell Westbrook, Oklahoma City Thunder
Last week's ranking: No. 7
Last week's ranking: 25.5 points, 10.3 assists, 9.3 rebounds
Westbrook sat out Thursday's game against the Los Angeles Lakers with a sore ankle, an injury suffered during his monstrous performance in Tuesday's 20-point thumping of the Golden State Warriors. That performance (34 points, nine rebounds and nine assists) serves as another reminder of how quickly Westbrook can overwhelm foes — even the Warriors — when he's hell bent on doing so. He made nine of his first 10 shots, scored 21 of his points in the first quarter as the Thunder opened up a 12-point lead after the first quarter and never trailed. Any time Westbrook sees old friend and former teammate Durant and the Warriors, he shows up with a few extra doses of rage. With Paul George, playing like the frontrunner for this season's Kia Defensive Player of the Year award (six steals to go along with his game-high 38 points), rolling with him, the Thunder looked every bit the potential spoiler in the West playoff field. Depending on the matchups they get, Westbrook and George could lead the Thunder's upset bid throughout the 2018 playoffs.
The next five:
6. Kyrie Irving, Boston Celtics
7. DeMar DeRozan, Toronto Raptors
8. Giannis Antetokounmpo, Milwaukee Bucks
9. Jimmy Butler, Minnesota Timberwolves
10. LaMarcus Aldridge, San Antonio Spurs
And five more …: Bradley Beal, Washington Wizards; Anthony Davis, New Orleans Pelicans; Joel Embiid, Philadelphia 76ers; Nikola Jokic, Denver Nuggets; Damian Lillard, Portland Trail Blazers
Next up?
An inside look at Rodney Hood from a Western Conference advance scout:
"This is one of the more intriguing trade deadline additions I've seen in recent years, considering the efforts of the Cavaliers to get younger and more athletic on the perimeter. Hood is sort of an enigma in that he's a 6-foot-8 shooting guard who can do a little bit of everything offensively but always seems to be holding something back. On those nights when he really let it loose, he goes off and just shreds your defense. But in terms of the consistency, it hasn't always been there. That's where playing alongside a guy like LeBron James can bring out the best in Hood's game."
"He's going to be working with the best player in the world, the best player of a generation and one of the best of all-time. There's so much Hood will learn watching with and working with LeBron. And he's going to be really good once he figures out how to pick and choose his spots playing alongside one of the best facilitators I've ever seen. That sneaky athleticism and Hoods' shooting stroke are exactly what the Cavaliers need to help boost their overall group. He'll come in there and fit in easily. The best part, though, is that he's learned how to defend playing for Quin Snyder in Utah. His length and athleticism make a huge difference on defense. Sometimes you need a guy with his talent to come in and play a role and play it to perfection. I think he's capable of doing that at a very high level. I think Tyronn Lue is going to love him. His teammates are going to love what he brings. LeBron is going to love having a guy like that to work with and help him continue to grow his game and become an integral part of what they're trying to get done. The headline of [trade deadline day] was the Lakers guys, and Larry Nance Jr. and Jordan Clarkson are also great fits for what Cleveland is trying to do. That said, Hood might be the underrated move of the day. Don't be surprised to see him playing a more significant role than people think."
* * *
Sekou Smith is a veteran NBA reporter and NBA TV analyst. You can e-mail him here, find his archive here and follow him on Twitter.
The views on this page do not necessarily reflect the views of the NBA, its clubs or Turner Broadcasting.