Kia Race To The MVP Ladder
Kia MVP Ladder: A familiar chorus serenades rising Kyrie Irving
Week 4: Celtics' standout guard taking flight behind stellar start, his team success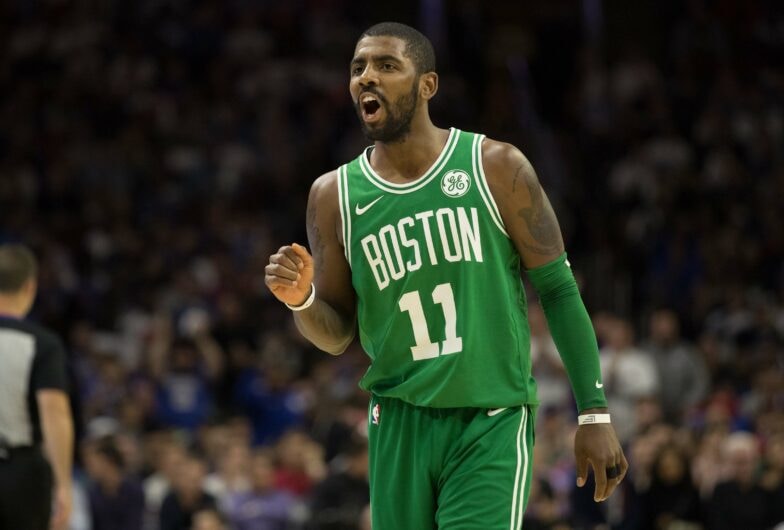 The chants started in a corner of the arena and rose to a robust murmur in the final moments of the Boston Celtics' ninth straight win.
The Celtics fans in the crowd at Philips Arena were celebrating Kyrie Irving's best game in the green and white with that familiar chorus afforded to superstar players — "M-V-P, M-V-P, M-V-P" — when they show out on the big stage.
Irving had better get used to such chants, because his first impression in his role as the new face of the franchise in Boston suggests that he'll hear it often this season. He has certainly played up to the chants through the Celtics' first 12 games — the first two losses and the subsequent 10 straight wins that have followed — leading to his move up the ranks in this week's Kia Race to the MVP Ladder.
He's the best player on the best team in the league, always a reliable metric for MVP candidacy. And he's doing it by leading these Celtics in words and deeds, showing qualities he insists have always been there but were perhaps obscured from public view when he was playing alongside (and in the shadow of) LeBron James in Cleveland.
* Kia MVP Ladder (Nov. 3): Antetokounmpo makes early case
"Sometimes he scares me because he says what's about to happen before it happens," said second-year forward Jaylen Brown. "You're sitting on the bench talking to him and he's like, 'we're going hit this shot' or 'coach is going to call a timeout' or whatever the case may be, and it happens. He's played so much basketball at a high level and he just knows the game inside and out. He's a great teacher."
Irving's responsibility to lead this team, on and off the floor, changed dramatically five minutes and 15 seconds into that opener night loss in Cleveland when Gordon Hayward was lost for the season with a dislocated ankle.
But the most surprising thing is he's a willing teacher. As good he is and as well he knows the game, he's able to teach and show you what he sees."

Jaylen Brown, on Kyrie Irving
When he asked for a trade from Cleveland and landed in Boston, the narrative for his season shifted immediately. But Irving has not abandoned his desire to embrace each moment with his new team while maintaining a clear view of what lies ahead.
There are no steps that can be skipped in the process for Boston. Every shot, every pass and every single moment along the way — no matter how insignificant it might seem — means something in the bigger picture for the Celtics.
That's why nothing surprises or shocks Irving. Not the reaction of his team after Hayward's injury. And not after the way the Celtics have come together in the wake of that stunner or the wins that have piled up since then.
"It's just a new season," Irving said after smoking the Hawks for a season-high 35 points. "It's probably just unexpected, more or less, because all of the input everyone had going into the season in terms of what they thought this was going to look like. The only thing that really matters is us handling our preparation and the trust that we continue to build in one another, the trust we have in this locker room, it's all reality based. We know what we want to accomplish.
"But it starts with not taking any moment for granted. We've got to better in practices and shootarounds and in every moment we have to connect, they matter. I always say, and Brad always says there are never really little things, in the grand scheme of things. Every moment matters for us to continue to build our foundation and what we want to be going forward."
Irving is just 25 and seven seasons into a sensational career. He was the "Kid," per LeBron, in Cleveland. Not so in Boston, where he's a true elder statesman on a Celtics team where just four players — Al Horford (31), Aron Baynes (30), Marcus Morris (28) and Hayward (27) — are older. And he's universally regarded as one of the most dynamic shot-makers and shot-creators in the game, especially off the dribble and around the basket.
"He's very unique," Horford said, "so very unique. And he does it in so many different ways. He has a good sense of how teams are playing him, so if he's not finishing at the basket he's spraying the ball out [to open guys]. He has the ability to shoot 3s, I just think the more games he plays with our group the more comfortable he'll get and he's just going to get better, and that's the good thing for us."
Actually, it's a great thing for these Celtics. None of them have been the places Irving's been, physically, mentally and emotionally, the past three seasons. Those are the places he's trying to lead them.
You work until the final day of the NBA season in each of those Finals runs with the Cavaliers, where his clutch shooting and next level shotmaking helped end Cleveland's 52-year title drought two years ago, and it changes your perspective.
It provides a gravity that only comes with experience.
"It makes sense why he's Kyrie," Brown said. "He's a four-time All-Star, a NBA champion, a gold medalist, and all of the above. His talent level and scoring ability is off the charts. But the most surprising thing is he's a willing teacher. As good he is and as well he knows the game, he's able to teach and show you what he sees. And he's incredibly humble and a great dude to be around."
* * *
The top five in the Week 4 edition of the 2017-18 Kia Race to the MVP Ladder:
1. James Harden, Houston Rockets
Last week's ranking: No. 2
Season stats: 29.5 points, 9.7 rebounds, 4.4 assists
His MVP case: Harden was supposed to get a breather from this workload this season. But until Chris Paul can come back from his knee issues, the Rockets will need to see more and more of the Harden who has been on display early this season. All he's done is average 36 points, 10.6 assists and five rebounds in the Rockets' last five games. And that includes a 56-point, 13-assist performance (one point shy of the franchise single-game scoring record) in a win over Utah and his second triple-double of 2017-18 (35 points, 12 rebounds and 11 assists) in Thursday's win over LeBron James and the Cleveland Cavaliers. Harden got some timely help from his friends during crunch time against the Cavs, namely Clint Capela and P.J. Tucker. The sort of help he'll get from Paul, however, is what Rockets coach Mike D'Antoni prepared Harden and his team for this season. He'll all have to settle for supernova Harden until Paul's return.
2. Kyrie Irving, Boston Celtics
Last week's ranking: No. 8
Season stats: 22.0 points, 5.3 assists, 3.3 rebounds
His MVP case: No Hayward, no Horford, no problem for the Celtics' new resident superstar. Irving guided his crew to their 10th consecutive win (over the Los Angeles Lakers Wednesday in Boston) without his All-Star counterparts. It wasn't Irving's best shooting effort (7-for-21 from the floor, 0-for-7 from deep). But make no mistake, he was the steady hand the young Celtics needed to finish off yet another tightly contested game. Irving is blending in beautifully, sharing the ball and making plays for his young teammates, while maintaining his status as one of the league's great closers (see his work in Atlanta Monday night). His effort to make a seamless transition should not be overlooked, given all of the opportunities he's had to freelance and go off script early on this season. No one appreciates his leadership more than Celtics coach Brad Stevens and youngsters like Brown and Jayson Tatum.
3. Stephen Curry, Golden State Warriors
Last week's ranking: No. 6
Season stats: 25.4 points, 6.5 assists, 4.8 rebounds
His MVP case: Any suggestion that Curry has taken a step or two back since Kevin Durant arrived are a bit overblown. He's not scoring at that wicked clip he did during the Warriors' 73-win season and he might never get back to that level. But he's every bit as dangerous as he was a year ago, hitting his standards from last season through the Warriors' first 12 games. Curry and his fellow "Splash Brother" Klay Thompson remain the Warriors' sweet-shooting offensive security blanket when things are off (or when Durant is out of the lineup). Watching them combine for 50 points (22 from Curry to go along with eight assists and eight rebounds) in Wednesday's pounding of the Minnesota Timberwolves should serve as a reminder to the rest of the league of just how potent the Warriors can be without KD. With Joel Embiid, Ben Simmons and the rejuvenated Philadelphia 76ers visiting Oracle Arena tonight, prepare for fireworks from the champs.
4. Giannis Antetokounmpo, Milwaukee Bucks
Last week's ranking: No. 1
Season stats: 31.9 points, 9.8 rebounds, 4.8 assists
His MVP case: Antetokounmpo had a monstrous night (40 points on 76 percent shooting) as the Bucks fell to the Cleveland Cavaliers, marking Milwaukee's fourth straight defeat. He's still leading the league in scoring and could pile up outlandish individual numbers forever. But he can't continue to do it alone. It's simply not a sustainable playoff model for the Bucks to continue to lean as heavily on him as they have. That's why the Bucks are hoping that new point guard Eric Bledsoe will have an immediate impact after coming over in that trade with Phoenix. A visit to San Antonio tonight will add an extra layer of spice for The Greek Freak and his new running mate. The Bucks would love for the two of them to find a rhythm quickly, as they'll have to ride the wave their new dynamic duo provides to get out of their current funk.
5. Kristaps Porzingis, New York Knicks
Last week's ranking: No. 15
Season stats: 30.0 points, 7.5 rebounds, 2.3 blocks
His MVP case: You've got to love the vibe Porzingis is fueling in and around the Knicks this season, his first as the true center of attention. He's the youngest player to average 30 points per game through his team's first 10 games of the season, passing up of all people a 22 year old Carmelo Anthony (who did it in Denver to kick off the 2006-07 season).The records, though, mean "nothing" to the Unicorn if they don't come with a playoff payoff in April. He's been a monster on both ends of the floor, scoring at an elite clip and rim protecting at an elite level. The only worry for Knicks fans is keeping Porzingis healthy and energized to keep playing at this high level. A sprained left ankle and contused right elbow kept him out of Wednesday's loss in Orlando. The Knicks need him back in action for Saturday's game against Sacramento at Madison Square Garden, where the surprising Knicks are 5-2 this season.
The next five:
6. LeBron James, Cleveland Cavaliers
7. Russell Westbrook, Oklahoma City Thunder
8. DeMarcus Cousins, New Orleans Pelicans
9. Damian Lillard, Portland Trail Blazers
10. Karl-Anthony Towns, Minnesota Timberwolves
And five more …:
Kevin Durant, Golden State Warriors; Marc Gasol, Memphis Grizzlies, Aaron Gordon, Orlando Magic; Ben Simmons, Philadelphia 76ers; Kemba Walker, Charlotte Hornets
* * *
Next up?
An Inside Look at Nikola Jokic (from a Western Conference scout):
"You're sleeping on my guy. I told you that last season and you didn't listen and here we are again! He's killing it, and you just don't want to listen. Like a lot of people, you're getting hung up on the fact that he's not yet a really consistent high-level scorer. And I get it, everybody in this league loves a guy that can go out and get you 22 to 26 points a night. We all want that guy. Jokic is still rounding out that part of his game. He's still working on polishing his offensive game. But when you have the ability to facilitate an offense through a guy that big, who can play out to the 3-point line and in, you allow his game to develop naturally instead of trying to force him into being something he's not — or better yet, something he's just not ready to be right now.
"He's got it in him. He torched Brooklyn (for a career-high 41 points in a Nuggets win Tuesday), did it from all over the floor. Is he maybe doing a little more than I'd like from distance? Yes. But having a guy who can score at every level, a guy who's capable, you don't try and manipulate his game. You allow him to continue to figure out his sweet spots while taking advantage of everything else he does for you on the floor. His vision is next level and he's as good a passer, as a big man, as there is in the game today. You forget he's just three years in, he's still so young. Once he puts it all together, you'll see more consistency from him in every phase. He's got the whole package, all of the skills needed to be in that (best big man in the game) conversation for years to come."
* * *
Sekou Smith is a veteran NBA reporter and NBA TV analyst. You can e-mail him here, find his archive here and follow him on Twitter.
The views on this page do not necessarily reflect the views of the NBA, its clubs or Turner Broadcasting.