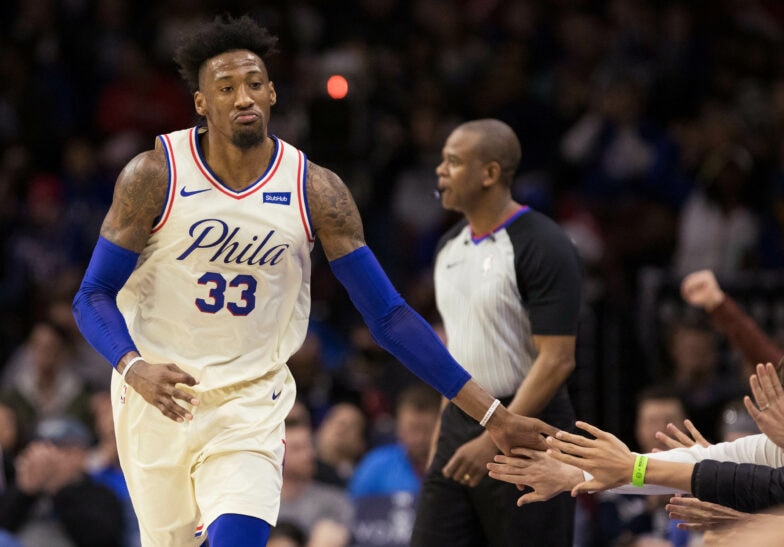 (Last week's record in parenthesis; last week's ranking in brackets)
1) Houston Rockets (2-1) [1]: Suffered first home loss since Jan. 4 (Golden State) Saturday against Oklahoma City, ending a 20-game win streak at Toyota Center.
2) Toronto Raptors (3-1) [2]: It falls to me, the killjoy, to point out that Kyle Lowry is just 25 of his last 76 (.329) from the floor, I guess.
3) Golden State Warriors (2-2) [3]: Remember Klay Thompson? The light-skinned guy who has been known to drop 41 on the road in an elimination game in the conference finals? And lock people up at the other end? Yeah, don't forget about him.
4) Cleveland Cavaliers (2-1) [4]: Can George Hill (sprained ankle) provide any kind of perimeter defensive help in the first round?
5) Boston Celtics (1-3) [5]: Put me down as wrong about what Terry Rozier could do in the pros. He's becoming a solid point guard.
6) Utah Jazz (3-0) [10]: Don't sleep on Utah's second unit, led by Dante Exum, with cameos from Jae Crowder, Royce O'Neale and Jonas Jerebko.
7) New Orleans Pelicans (3-0) [8]: No-Beard Niko is 31-55 (.564) in three games.
8) Philadelphia 76ers [11]: The Sixers have won 14 straight games and just clinched a 50-win season. They won 10 games in the entire 2015-16 season — just two years ago.
9) San Antonio Spurs (1-1) [9]: The Spurs have won two games on the road since Feb. 7 (13 games total). Doesn't bode well for an extended postseason run.
10) Oklahoma City Thunder (1-1) [7]: Did I see a Jerami Grant-Patrick Patterson backstop look surprisingly effective defensively down the stretch against the Rockets Saturday night?
11) Portland Trail Blazers (0-3) [6]: Just 4-6 in last 10 after 13-game win streak.
12) Indiana Pacers (2-2) [12]: Among the more impressive things the Pacers have done this season: five wins combined over last year's NBA finalists, Golden State (two) and Cleveland (three).
13) Miami Heat (2-1) [NR]: Clip'-N-Saves for the playoffs: Heat was 2-2 this season against Philadelphia (currently, the team the sixth-seeded Heat would play in the first round), 2-1 this season against Boston (if Miami finishes seventh) and 1-1 against Toronto (if the Heat ends up in eighth place in the east).
14) Milwaukee Bucks (2-1) [14]: Jabari Parker exceeds 30 minutes for a fourth straight game for the first time this season.
15) Minnesota Timberwolves (1-1) [15]: Will Jimmy Butler be able to scrape off six weeks of rust in one week's time?
Dropped out: Washington [13]