Morning Tip Q&A: Klay Thompson
Morning Tip Q&A: Klay Thompson
This time, the foil wasn't anonymous. The last time Kobe Bryant held court in Staples Center, he scored 60 points in his last game. The Utah Jazz were the hapless foil; it wasn't Utah's fault, but absolutely no one cared who Bryant and the Lakers played on that final night of the 2015-16 season. It was all about Kobe, and his last moment in Forum Blue and Gold.
Last Monday was different. Yes, everyone came out to see Bryant's jerseys get retired, but they also came to see the defending champion Warriors, even without Stephen Curry and Draymond Green. Golden State still sported Kevin Durant and Klay Thompson, who's playing some of the best basketball of his career.
Through 33 games, Thompson is shooting a career-high .486 from the floor and a career-high .446 from 3-point range, stepping in for his injured Splash Brother to help keep the Warriors' offense humming. Golden State's 11-game win streak ended Saturday night at home to the Nuggets, and the Rockets have had the best record in the West all season.
But the Warriors are still the team to beat, even though Houston has made no secret of the fact that Golden State is its white whale and obsession. (The Warriors don't return the favor. As Steve Kerr put it to the San Francisco Chronicle: "I don't wake up in the morning thinking about them. I think about what I'm going to have for breakfast. I also think about lunch, what we're going to do at practice and what movie my wife and I are going to watch that night.")
That's right up Thompson's alley; the next time the 27-year-old shows outward emotion on the floor about anything that doesn't involve the game will be the first. But it meant something to Thompson to be in L.A. the night one of his idols growing up got a final sendoff. Embracing the Lakers, after all, has been a family tradition for a while.
* * *
Me: Joel Embiid told me that Kobe was a real inspiration for him growing up to be a basketball player. You obviously came from a different place in terms of growing up with the NBA game, but what were your memories of watching him as a kid?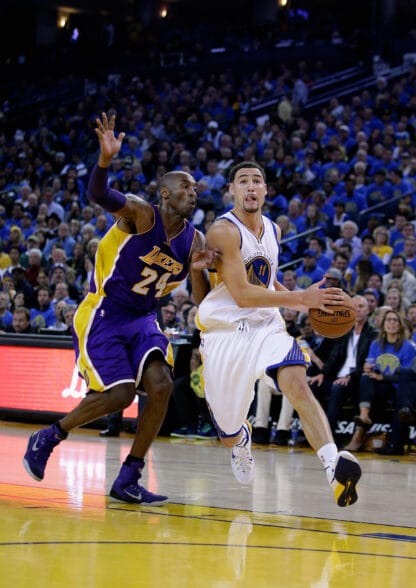 Klay Thompson: I was just fortunate to watch him, obviously go from the transformation from number 8 to 24, win championships, scoring titles, put on historic performances, and his game winners. He missed a lot of game winners, but that's what made him who he was. He was never afraid to take the shot. He always wanted it. He made some of those incredible shots look easy. Such an incredible athlete. The way he could contort his body, too. People forget, he was such a great player, he came into the league a better athlete than he was a player. He honed his skills. You've got to respect somebody who maximized his potential, and Kobe did that.
Me: You played against him a few times. What was that like?
KT: It was always one of my favorite games, because he was the guy I watched the most growing up. So to always play against him was a huge moment for me. And he faced that every night. That's why he was such a great player. Like the guys like Michael Jordan, Kobe, LeBron, Larry Bird, they faced the opponent's best game every night. He showed up every night, and always embraced the challenge and the competition. So it's just some of my favorite moments as a player. I'm going to get to tell my kids one day that I got to compete against Kobe.
Me: Y'all are still stopping people, even with Steph and Draymond out recently. How have you maintained that defensive focus with such key guys out?
We'll see them soon, so that's going to remain a challenge for us, because they're playing so well. We don't mind if they're getting the attention. We just want to get wins and just stay healthy."

Klay Thompson on the Houston Rockets
KT: Our depth is amazing, and we've got guys who love to compete. You have to have a defense of just effort. And we've got guys who go out who are hungry to show the world that they're good players, who might not get the minutes when we're fully healthy. Everyone's stepping up. Obviously KD is special — his scoring performances and near triple doubles are special. But just 'cause our best defensive player isn't out there, and a few starters, it's not a huge dropoff for us. We're prepared so well, we've got guys who are ready to play and ready to prove themselves.
Me: Houston's been playing so well — I'm not saying you're under the radar — but there's someone else out there who's an elite team. Is it good for you all to have somebody else get a lot of attention for a change?
KT: I mean, yeah, we don't really pay too much attention to the media, because it can build you up and brings you down. So you just kind of, you can pay attention to it, but not read too much into it. Houston's playing phenomenal right now…they've had a crazy win streak. They're really gelling. Unfortunately, we lost our first game to them, but I think we've got an immensely better sense now. We'll see them soon, so that's going to remain a challenge for us, because they're playing so well. We don't mind if they're getting the attention. We just want to get wins and just stay healthy.
Me: So where would you say you are as a team in terms of building toward May and June?
KT: I feel like we're playing great. We had a great road trip. I mean, you think about it, an eight-, nine-, 10-game winning streak, something like that. Our defense has been tremendous these last (few) games. We're not there yet; we've still got a long ways to go. But for December, and the level we're playing at, I think we're playing real well, considering we didn't start off the season too well.
TWEET OF THE WEEK
I'm still in shock of the things they stole 🤦🏽‍♂️🤦🏽‍♂️🤦🏽‍♂️🤦🏽‍♂️🤦🏽‍♂️ but the one that stand out the most is a toilet…… Bro a toilet, can't get my mind off that. A toilet….. Wow 🚽🚽🚽🚽🚽

— Charlie Villanueva alopecia (@CVBelieve) December 20, 2017
— Former NBA player Charlie Villanueva (@CVBelieve), Wednesday, 7:16 a.m., still incredulous that someone broke into his Dallas home last Tuesday and stole several items…including his toilet. And, that is hard to fathom.
THEY SAID IT
"To be out here, to see the jerseys — it's crazy, man. You've got two jerseys up there for Kobe. Every player on that floor looked up there and dreamt about having something special like tonight."
— Kevin Durant, in my postgame interview with him last Monday following the retirement of Kobe Bryant's number 8 and number 24 at Staples Center during the Lakers-Warriors game.
"A lot of times, I go and I stay longer than I'm supposed to because it's so much fun. The food's always good. The only thing that gets a little overwhelming is the kids; sometimes they don't listen to the structure of the party and it just gets loose."
— Knicks forward Kyle O'Quinn, to ESPN.com, on his side job as an entertainer at local bar mitzvah and bat mitzvah celebrations.
"January 9, 1989."
— Knicks forward Michael Beasley, after scoring 32 points in a win Thursday over Boston, on when he thought he had the "hot hand." And, yes, 1/9/89 is his birth date.
* * *
Longtime NBA reporter, columnist and Naismith Memorial Basketball Hall of Famer David Aldridge is an analyst for TNT. You can e-mail him here, find his archive here and follow him on Twitter.
The views on this page do not necessarily reflect the views of the NBA, its clubs or Turner Broadcasting.