DA's Morning Tip
Morning Tip Mailbag: Your questions on Paul George's future, the Draft and more
Rebekkah Brunson became the first player in WNBA history to win five titles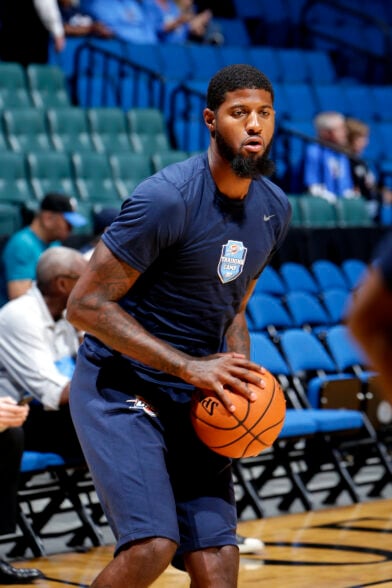 We're not going to repeat the Oscar thing, are we? From Deven Parikh:
With Russell Westbrook signing his extension and Paul George having second thoughts about staying in OKC beyond this upcoming season, how does this impact LeBron James' decision to go to the Lakers? Because if PG-13 won't go LaLa land, neither will LeBron, right?
Well, there's a lot to unpack there. While George will now give OKC a genuine listen next summer, that doesn't mean he's a lock to return. I'd still give the Lakers a very strong chance at getting him, whether that's with LeBron or anyone else. As for LBJ, I think it's still more likely than not that he leaves, but that also doesn't mean he's a lock for the Lakers if he does.
In addition, the success or failure of the Cavs' season — and the long-term health outlook for Isaiah Thomas — are still unknown. I'm not trying to buoy Cleveland fans' hopes that he'll stay; it's just too early to know with any certainty how the year is going to go and how LeBron and Cavs owner Dan Gilbert are going to deal with one another — or if they'll deal with one another — in the next 12 months.
I hope you brought enough superstars for everyone, From Brian Ip:
I agree with you that Stan Van Gundy's proposal on getting rid of the Draft sounds awesome! Yet for the sake of discussion I try to consider the potential drawback. One thing I speculate is that, if there is no Draft, when a rookie is projected to be a franchise-changing player (e.g LeBron, Tim Duncan, Shaquille O'Neal), they will be quite likely to sign with big-market teams, and those teams would also clear the house to make room for them, just like when they target other major free agents. So this system would probably work for most of the rookies, but San Antonio might never get a talent like Tim Duncan again. Franchise-changing players don't come along very often.
It's true that franchise-changers are rare. So the net-net is that very few teams of any size get franchise-changers, and it would be that way as well if incoming rookies were free agents. But I just disagree with you that that would eliminate small markets just because they're small markets.
Let's just say Shaquille O'Neal IV was coming out of school next summer in a Draft-free NBA, able to sign with anyone; whether or not there would be rookie exceptions to the cap, or teams would only be able to use cap space is an argument for another column. For the sake of argument, let's say teams could spend whatever they want, to keep the financial playing field equal. Brooklyn could create enormous room quickly.
The Nets play in the NBA's biggest media market. SONIV would almost certainly have monster opportunities there for local endorsement deals that would reach eight figures annually. The shoe companies would salivate at the possibility of someone that dynamic in NYC. But: the Nets aren't, currently, very good.
So SONIV would have to weigh that against playing in L.A. with the Lakers — equally bad right now — or in Chicago (ditto). On the other hand, he could play for a franchise like the Spurs that has a history of winning championships through its dominant big men. I don't know what Hypothetical SONIV would do, as he's Hypothetical.
What I'm saying is teams in small markets like San Antonio with a history of success wouldn't automatically be rejected. The Spurs got LaMarcus Aldridge — not a franchise player, but an All-Star and one of the top free agents available — in 2015. The Lakers offered him. The Knicks offered him. But he went to the Spurs — and if he hadn't gone to San Antonio, he very well might have signed with Phoenix. Everyone's motivations are different.
Spanning the globe, to bring you the constant variety of sports. From Christopher Hughes:
The only solution to making the All-Star Game competitive again is simple. Expand the rosters to 15 and make it USA vs the World. Fans vote the starting five, coaches choose the next nine players. After players are announced, the fans stream vote the last man standing. LeBron and crew will never want to lose that game … I believe the league is 25 percent foreign. Its time!
I'd have no problem with that idea, Christopher; the NHL seems to have made that switch without losing fan interest (and, I'm sure true puckheads would argue, the game is even better as a result). There are certainly more than enough international stars in the game today — Dennis Schroeder, Goran Dragic, Giannis Antetokounmpo, Kristaps Porzingis and Joel Embiid would be a pretty decent starting five, yes? — to make for a very competitive game. The problem would come from player agents who represent American-born players; there are an awful lot of incentives in existing contracts for making All-Star appearances that would fall by the wayside if the league implemented your proposal. The pushback would be … substantial.
Send your questions, comments and other Florida Men who are in the news but not for things that lead to police photos to daldridgetnt@gmail.com. If your e-mail is funny, thought-provoking or snarky, we just might publish it!
BY THE NUMBERS
212 — Days old that Mavs rookie Dennis Smith, Jr., was when Dallas acquired Dirk Nowitzki on the night of the 1998 Draft from Milwaukee. Only Sacramento, which has 19-year-old De'Aaron Fox and 40-year-old Vince Carter on its roster, has a greater gap in age between its youngest and oldest player as the Mavs do with 19-year-old Smith and the 39-year-old Nowtizki.
13,882 — Attendance for the Pistons' inaugural game at their new Little Caesar's Arena in downtown Detroit last week, an exhibition loss to the Hornets. The Pistons haven't played regularly in downtown since leaving Cobo Arena for the Silverdome in 1978. The new building seats approximately 21,000 for basketball — but Andre Drummond, for one, doesn't especially feel like it's home for the Pistons just yet.
0 — Players remaining from the Knicks' last playoff team — and its only 50-win team so far this century — in 2012-13. It was Carmelo Anthony's first full season with the team, which went 54-28 under Mike Woodson and made the second round before losing to the Pacers. Anthony, traded to the Thunder last month, was the last player from that team — which featured J.R. Smith (18 points per game off the bench), Amar'e Stoudemire (14.2 points, 5 rebounds) and Tyson Chandler (10.4 points, 10.7 rebounds) — who was still on the Knicks roster. Since that season, New York has gone 117-211 and has not made the playoffs the last four years.
I'M FEELIN'…
1) Watching the Lynx — whose Rebekkah Brunson became the first player in WNBA history to win five titles, including four with Minnesota — come back and win the last two games of the Finals over the defending champion Sparks was to watch the ultimate in mental and physical toughness. There's so much institutional memory there — Maya Moore and Sylvia Fowles and Brunson and Lindsay Whelan and Renee Montgomery, who've been together for most of the Lynx's four titles. If they get fazed, they don't show it; if they get nervous, they calm down. Minnesota is a great, great champion, so worthy of the term "dynasty."
2) It doesn't matter to me if Jeremy Lin wants to wear his hair in dreads. I don't think he's appropriating African-American culture by doing so, for his own betterment. I appreciate the fact that he gave some thought to it, and talked to other people from whom he could learn about it, before deciding what he would do. That's how we learn about each other and gain empathy for one another — by actually talking with each other and listening.
3) I ask, again: who doesn't love showtunes?
4) Former Suns swingman Dan Majerle, now the head coach at Grand Canyon University in Arizona, put the "mad" in Midnight Madness over the weekend.
5) This could be the greatest play in the history of football (via @TheCubeDotCom).
NOT FEELIN' …
1) RIP to the Hawk, Hall of Famer Connie Hawkins, who passed at 75 on Friday. One of the most humble superstars of the NBA-ABA era, Hawkins' pro career was truncated by his name being unfairly and incorrectly implicated in a gamble and point-shaving scandal in which he played no role while a freshman at the University of Iowa. That denied him the opportunity to further the exploits that had made him a legend in New York as a young man — his high-flying brilliance only a memory of the lucky ones that saw him doing work at Boys' and Girls' High School in Bed-Stuy, or at the Rucker in Harlem.
Despite no evidence of him playing any role in the point-shaving scheme — he'd taken $200 from former player turned gambler Jack Molinas, but never was asked by or agreed to help Molinas win bets by shaving points, which he couldn't have done at Iowa anyway; in those days, freshmen were ineligible to play in college — Hawkins was expelled by Iowa and blackballed by the NBA (which ultimately led to a successful lawsuit filed against the league), and had to play for the Globetrotters and the Pittsburgh Pipers in the ABA.
Hawkins led the Pipers to the ABA title in 1967, when he was the league's Most Valuable Player — and finally got to the NBA in 1969, at 27. He starred for the Suns for four-plus seasons, making the All-Star team four times, before stints with the Lakers and Hawks at the end of his playing career. The Hawk was justly proud of his whole career and his abilities, immortalized in his quip to the Philadelphia Inquirer about his seeming ability to defy the laws of gravity: "Someone said if I didn't break them, I was slow to obey them."
2) The Hornets will talk bravely, but losing Nicolas Batum for two to three months is a brutal blow. He was durable his first two seasons in Charlotte, playing 147 of 162 games, and he's one of the teams best passers as well as a necessary playmaker who makes things easier for Kemba Walker. Jeremy Lamb, Batum's likely replacement until he returns, has big shoes to fill.
3) With Markieff Morris recovering from a sports hernia, the Wizards have to look at small ball lineups. But even though they started Otto Porter Jr. at the four in Sunday's preseason game, they don't want to give him a regular diet there, and it's understandable. He's a little too light in the cakes, to quote my friend Fred Carter, to bang against fours on a nightly basis. And the Wizards need him too much. So the guess here is that Jason Smith will start the season at power forward, leaving Mike Scott to come off the bench to give Washington's second unit better floor spacing.
4) Still at 140, Twitter. Still at 140.
TWEET OF THE WEEK
China love swaggy and swaggy love China https://t.co/ntwHQ72lVJ

— Nick Young (@NickSwagyPYoung) October 5, 2017
— Nick Young (@NickSwagyPYoung), Thursday, 4:02 a.m., during the Warriors' trip to Shanghai and other stops in the country as part of the NBA Global Games appearance with the Timberwolves. Young was noting his appreciation for a custom-made "Swaggy P" Warriors jersey worn by a fan.
THEY SAID IT
"I don't want to imply I'm micromanaging. I'm not going to be. When it comes time to sign a big contract, people love to say, 'who's in charge?' I'll tell you who's in charge. The owner. I'm not saying the owner does this without a lot of advice and counsel, but before you spend $170 million or $205 million, guess what? The guy who has got to pay the check has got to buy in. And I have to be willing to stand up for decisions. So does Lawrence. So does Doc. We all have to be willing to stand up for that decision. You can't doubt there is some wisdom from hearing from Jerry West. That was an opportunity that presented itself that was pretty exciting."
— Clippers owner Steve Ballmer, in a Q and A with the Los Angeles Times' Brad Turner, on why he removed the team president title from coach Doc Rivers, promoted Lawrence Frank to President of Basketball Operations and hired Jerry West away from the Warriors as a consultant to the Clippers.
"I don't think anybody who knows me, anybody who listens to me, anybody who talks to me, (is) going to think I'm anything like Donald Trump."
— Mark Cuban, during the "ViewPoint" podcast with Bakari Sellers, on whether he thinks the controversies of the Trump administration have "poisoned the well" against business people running for the presidency in the future. Cuban said during the podcast that he's "considering" running for president in 2020 but isn't yet ready to commit to a run. Cuban said he's right of center on most business issues, but left of center on health care — which he said was a right that should be funded through a government loan program for people not on Medicare/Medicaid or covered through employee plans.
"We have talked about what we can do to make him more comfortable, and to make our team better. But having said that, I think we are mostly talking about offense. Defense, he was fantastic for us. Now, we have got to help him a little bit more so that he is comfortable in his own space offensively, and I haven't done a very good job of that."
— Spurs coach Gregg Popovich, to ESPN.com's Michael C. Wright, after Popovich and LaMarcus Aldridge talked out what happened last season, when Cousin LA's production slipped noticeably and he looked frustrated with his role in San Antonio's offense.
* * *
MORE MORNING TIP: Former rivals join forces with LeBron | State of extensions for 2014 Draft class
* * *
Longtime NBA reporter, columnist and Naismith Memorial Basketball Hall of Famer David Aldridge is an analyst for TNT. You can e-mail him here, find his archive here and follow him on Twitter.
The views on this page do not necessarily reflect the views of the NBA, its clubs or Turner Broadcasting.