Morning Tip Mailbag: Your questions on no-calls, the San Antonio Spurs and more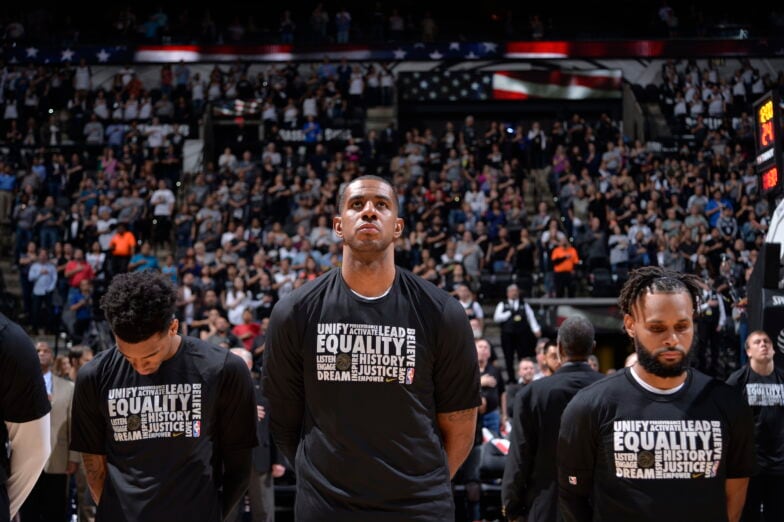 Daniel has noticed, shall we say, a certain inconsistency from certain individuals in the griping about officiating. From Daniel Cazai:
I've been reading and watching a lot of NBA news and games as one could for a Latin American fan (being living in Paraguay for my entire life). In the past weeks, I've seen a lot of superstars complaining about no-calls on fouls, but why don't they complain about the no-calls when those same superstars travel or double-dribble the ball? How many times do you see LeBron James, Paul George, Kevin Durant or DeMarcus Cousins traveling and nobody complains about that? In my honest opinion, they should at least recognize that they're wrong sometimes.
I'm sure it will come as no surprise, Daniel, that people tend to be hypocritical when it comes to their own behavior. Lots of other people complain about LeBron's walks, etc., but self-evaluation is something we can all work on.
Whataboutism, Chapter MCMXLLVIX. From Dwayne Ballard:
I was reading your column and got to the item about arming teachers. I read the following with some confusion:

What we need to do is ban semi-automatic weapons from civilian purchase. You can defend your home with a handgun or shotgun if you know what you're doing, and Lord knows there are plenty of those available for legal purchase.

Are you saying ban all semi-auto firearms? Do you think the handguns and shotguns for self-defense could/should be semi-autos or be limited to revolvers, pumps, or double-barrels? What about my little Ruger 10/22 rimfire that's only target for the last 30 years has been paper or tin-can targets? It's a semi-auto. I've got my Grandad's Browning Sweet 16 shotgun, also a semi-auto, that was designed in 1898 and this particular one built in about 1956. Should that one be banned also?

I agree that something needs to be done to address the situations currently seemingly happening more and more often, but painting with a broad brush as evil a certain segment of firearms is counter productive.
You're not going to start gunsplaining today, are you, Dwyane? If it will make the discussion go easier, why don't we just stick with the AR-15? Can we agree that such a weapon serves no legitimate "home defense" purpose? Do the opinions of the family of Eugene Stoner, who invented the weapon, mean anything to you? They're rather clear that they believe the AR-15 was never designed for civilian use. I'm fairly certain I've never advocated law enforcement coming to your home and taking your Ruger or any other gun that you legally own.
I would like to at least get AR-15s off the streets, out of gun shops and not available to the mentally ill or anyone who wants to use them to kill dozens of people at one time, as they have done time after time after time in the last five years. Can we at least agree on that? Or is the restriction on the sale of any weapon the problem for you?
They are only salty when the Chuckster's name comes up, from my dealings. From John Hunter:
Regardless of how this season turns out, Spurs fans should still be living in a state of gratefulness for the incredible long term success they've had in a small market. How many other franchises would've loved this run?

But instead, some Spurs fans are like the guy who wakes up after 20 years of being married to Cindy Crawford and says, "Honey, don't you think it's time we did something about the mole?"
I don't think that represents anything close to the majority of Spurs' fans, John. Most of them are well aware of their franchise's good fortune in going rather seamlessly from David Robinson to Tim Duncan to Tony Parker to Kawhi Leonard, and having a coach/GM combo of the quality and durability of Gregg Popovich and R.C. Buford. I'm sure there are a few folks who are a little salty and unrealistic about the way the season's gone and how Leonard's injury has lingered. But they're in the minority, I'm pretty sure.
Send your questions, comments and conversation breakers when you reach, say, Lusby, Va., during the trip to daldridgetnt@gmail.com. If your e-mail is funny, thought-provoking or snarky, we just might publish it!
MVP WATCH
(Last week's averages in parenthesis)
1) James Harden (25.6 ppg, 7 rpg, 7.3 apg, .467 FG, .824 FT): This is so heinous, so arrogant, so utterly dismissive … so wonderful!
2) Kevin Durant (27.3 ppg, 6 rpg, 4.3 apg, .612 FG, .850 FT): Continues to have just as influential an impact off the court as he does on it this year.
3) LeBron James (28.7 ppg, 10.3 rpg, 11.3 apg, .485 FG, .750 FT): He averaged a triple-double (27 points, 10.5 rebounds, 10.5 assists) in February. I averaged a triple-double (12 pizzas, 14.3 sodas, 14.3 pies) in February.
4) Kyrie Irving (25.6 ppg, 4.3 rpg, 5.3 apg,.563 FG, .923 FT): Great at a great many things. Missing free throws on purpose does not seem to be one of them.
5) Anthony Davis (34 ppg, 15.3 rpg, 2.7 bpg, .507 FG, .872 FT): Nothing against DeMar DeRozan or the Raptors. But "The Brow" has been that good. And maybe, for a minute or two, we can all take him at his word that he wants to keep being MVP-level good in New Orleans.
Dropped out: DeMar DeRozan
BY THE NUMBERS
46 — Consecutive games with a steal for Indiana's All-Star, Victor Oladipo, a franchise record that he set late last month, passing Metta World Peace's 40 straight games with a rip in 2002-0
17 — Consecutive games the Lakers have scored 100 or more points, the longest current such streak in the league. During that streak the Lakers have posted some impressive wins: Boston, two over Oklahoma City and Saturday's improbable rally in San Antonio to beat the Spurs.
$6,500,000 — Listed price for LA Clippers center DeAndre Jordan's Malibu home, per the Los Angeles Times. Jordan did not get traded at the deadline but he could opt out of the final year of his contract in July and become an unrestricted free agent.
I'M FEELIN' …
1) The connection between Dwyane Wade and Miami, already long-lasting and real, continues to produce remarkable moments like Wade's embrace of the family of Joaquin Oliver, one of the Marjory Stoneman Douglas students killed last month. Players can be good role models to be sure, but they can have such a greater impact on a community when their feeling for it is real.
2) Do you, Pelicans. Do you.
3) I'm a sucker for schools that finally make the NCAA Tournament — my beloved American University Eagles not having done so until 2008 — so it was awesome to see Lipscomb of the Atlantic Sun do so on Sunday. Honorable Mention: Loyola of Chicago, which hadn't made the tournament in 33 years before winning the Missouri Valley Conference title
4) Didn't see any of the pictures nominated for Best Picture this year — kids, Dubs, LeBron, July — but I still love watching the Oscars, and good for them for not ducking the #MeToo and #TimesUp movements, as if they could. And congrats to Kobe Bryant, of course, for winning the Oscar for Best Animated Short; "Dear Basketball," which was shown at his jersey retirement in December, was beautifully done.
NOT FEELIN' …
1) We don't root in our business, but it's painful to watch the Grizzlies, a proud, successful franchise that has been in the playoffs seven years in a row, and shown everyone how a small-market team can compete with its own distinctive style, limp to the finish line this season. Yes, a high Draft pick will be the reward. It's still hard to watch a team that fought for and earned respect for almost a decade have to endure a season like this to get it.
2) RIP, Joe Gilmartin, the brilliant and long-time chronicler of the Suns in Phoenix, for the Phoenix Gazette and the first recipient of the Curt Gowdy Media Award for print reporting from the Naismith Memorial Basketball Hall of Fame. He was a kind man who could turn a phrase brilliantly, and he was there for just about every moment of the franchise in the Valley of the Sun.
4) Pulling for you, Jim Kelly.
* * *
Longtime NBA reporter, columnist and Naismith Memorial Basketball Hall of Famer David Aldridge is an analyst for TNT. You can e-mail him here, find his archive here andfollow him on Twitter.
The views on this page do not necessarily reflect the views of the NBA, its clubs or Turner Broadcasting.