DA's Morning Tip
Young, talented roster giving Los Angeles Lakers glimpses of hope
A 5-5 start powered by drafted talent has LA believing it is getting on right track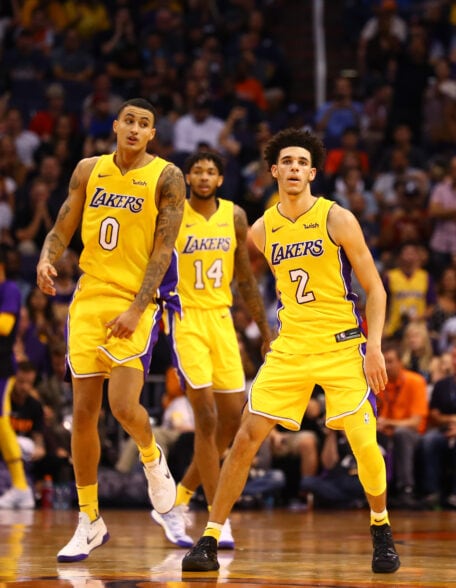 They'd had a lousy shootaround Thursday morning.
"And I talked to Brandon," coach Luke Walton relayed later in the day, referring to second-year forward Brandon Ingram, "and I said to him, 'you're one of the captains. When something like that happens, I expect you to let the guys know about it.' And he said, 'I'm on it.' "
It was one minute of one day of one week of the Los Angeles Lakers' road back to re-joining the NBA elite. It is not a road almost never traveled quickly, or without detours, divots and disappointments. It will not happen this season in Los Angeles, if it happens at all.
But as Kobe Bryant finally fades into the franchise's lore, the Lakers have legitimate hope for a breakthrough sooner rather than later. They have set themselves up for the summer of 2018, as all of NBA world knows by now, to be significant free-agent players. But the present is worth contemplating, too.
There is a lot more than Lonzo Ball — or Lavar Ball, for that matter — going on at Staples Center.
The next year isn't going to be spent tanking. Not when Kyle Kuzma does things that the Lakers had no idea he'd be able to do as a rookie. Or when Ingram starts to make those KD comparisons look less like pipe dreams. Or when Ball greets his dad's latest proclamation with a shrug. Or when Julius Randle brings the ruckus off the bench.
The way that Magic and Kobe brought it every night, those guys guide us in terms of the mentality, the way we want to play in every game — compete hard and play the right way. That's probably the word that's guiding us right now."

Lakers GM Rob Pelinka
Vets like Brook Lopez and Kentavious Caldwell-Pope are on-court stabilizers who have provided the spine of a halfcourt offense and respectable defense, and Corey Brewer, who came to town last season as part of the Lou Williams trade, is heralded by many for quiet leadership. But If the kids don't show that they're worthy of the league's best coming to town in free agency, none of the pomp and circumstance that team president Magic Johnson or GM Rob Pelinka dream up over the next nine months is going to matter.
"The thing we talk about is our mentality," Pelinka said last week. "The way that Magic and Kobe brought it every night, those guys guide us in terms of the mentality, the way we want to play in every game — compete hard and play the right way. That's probably the word that's guiding us right now."
After barely hanging on to beat the Memphis Grizzlies at Staples Sunday night — the Lakers blew a 22-point third-quarter lead — L.A. is .500. In the big picture, no great shakes, to be sure. But for a team that's won 27, 21, 17 and 26 games the last four seasons, 5-5 is significant progress.
"Some of the players have gotten older," Walton said. "I think KCP coming over, just a hard-nosed player. He's been in that Eastern Conference, hard worker. He kind of helps set that tone. Brook's been a solid vet in this league for a long time. I think as BI grows as a player, he's a competitor. You watched him in college and he was the same way. It's just a group of guys that are bonding together and trying to figure this out together."
Ball has the steepest curve — rookie point guard, for a boss who redefined the franchise and won five rings and is generally considered one of the top two or three ever to play the position. And who was as outgoing and boisterous as Ball is withdrawn in public.
It doesn't matter if Ball talks a lot to the media. John Stockton and Oscar Robertson didn't have a lot to say while they were players, and they turned out to be fairly decent floor generals. What matters is if the 20-year-old Ball can inspire grown men who are playing for money — can tell them what to do, where to go, when they'll shoot and a hundred other things that a point guard must do nightly.
The point guard isn't always popular, but he has to have the respect of the locker room. He has to lead.
"That's what I'm still working on," Ball said last week. "UCLA helped me a little bit, with Coach (Steve) Alford being there, he helped me a lot with it. But I'm still working on that. Because playing with grown men, you can't always be quiet. You have to get into them sometimes, especially in the locker room."
"We've done kind of a good job keeping those (losing) thoughts at bay … We also have a lot of talented, and high BBIQ guys — very high basketball intelligence. That helps make the transition very easy."

Lakers center Brook Lopez
Amidst the insanity that is Ball's daily life — the Facebook show and the Big Baller Brand and, well, dad — his numbers so far (8.8 points, 6.6 rebounds and 6.7 assists per game) are fine for a rookie. His shot needs work, to be sure. But Ball never is off message or off balance. He answers questions quickly, but politely, with a kind of bemused detachment.
"A lot of the credit goes to him, honestly," Walton said. "I don't know if his upbringing has prepared him for it, the insanity that comes with everyone always watching and judging everything that comes with being a star. But he just has this ability where it seems that it doesn't really get to him. He's calm. He doesn't seem like stress and pressure really affect him that much.
"He's been a great teammate; the guys on the team love. It's impressive at 19 — well, he's 20 now — that he's able to handle the limelight like he is. I mean, he's on SportsCenter every single night. No matter what's happening, he's on there. Obviously a lot of people have a lot of different opinions, but he was raised properly. He handles himself, he handles situations, he handles his teammates with dignity and class."
Ball does get ticked off, just not on the court. There are people that push his buttons.
"My little brother for sure," Ball said. "The youngest one. They take pride in it."
But on the court, Ball continues to never reveal himself.
"I was just taught, the team goes how the point guard goes," he said. "If I'm mad or showing my frustration, the whole team's gonna be like that, techs, and people are going to go down. So I just try to keep the even keel. That's why I don't get too high or too low. I've been playing like that my whole life. It's just natural for me."
But there's low-key, and there's asleep. Ball barely looked at the basket during Thursday's loss in Portland, shooting just twice in 28 minutes and going scoreless in a three-point loss. It's part of the maturation process of a rookie point guard, but Ball has to at least be a threat on the court or teams will continue playing his passing lanes.
Much is made of Ball's release on his jumper, but really, the Lakers are more concerned about his footwork than his shooting form. "It's like he's shooting a different shot every time," one Angeleno says. (Dennis Scott, our Turner Sports colleague who knows a thing or two about jumpers, says that as long as Ball's hands get square at the release point, where Ball starts his shooting motion doesn't matter that much.)
But Ball has been working with assistant coaches Miles Simon and Brian Shaw to further diversify his offensive bag, shooting runners and floaters after practices and before games. Getting that shot down will be a key next step in his development and the Lakers expect he'll ultimately make enough 3-pointers to be credible.
Ingram has shown that kind of jump in his second season. He was uncertain and disappeared for large chunks in 2016-17, when he shot just 36 percent for the first three-quarters of the season and was a nightly blow-by candidate on defense.
But he got going in his last 21 games, all starts, after the All-Star break, when he raised his scoring average from eight points per game to 13.2, and his field goal percentage to 47.5 percent. He's carried that end over to this season's beginning, but he's also stronger (about 10 pounds) and is able to finish through contact. His handle is much improved, and he's now using his length to get to the rim in one or two long strides — much like Durant when the light when on for him in Oklahoma City around 2010 or so.
Ten games into this season, he's averaging 14.8 ppg, including a game-tying putback in the final seconds of regulation against Washington that led to an overtime win. And, along with Larry Nance, Jr. (now out six weeks after breaking a bone in his left hand against Portland) and Lopez, Ingram was voted by the players as one of the team's captains.
"I think (it was) a little bit being into myself last year, not realizing how good I was until the last two months of that season," Ingram said. "Now I'm just trying to get back and relax, relax a little bit and trying to use my skill level and my ability. When I play my hardest, I feel like I'm one of the best on the floor."
Yet the revelation so far has been Kuzma, who came in the D'Angelo Russell trade on Draft night. At the time, the supposed "prize" the Lakers got in the deal was moving Timofey Mozgov's remaining three years and $47.8 million from their books. Doing so would give them an unencumbered shot at a max free agent next summer and an outside shot at two if they could move another contract by next summer.
But Kuzma has been a revelation. He never took more than 2.9 threes per game in three seasons at Utah, but he's taking four a night for the Lakers. He puts the ball on the deck like a 10-year vet who expects every shot to go in. He runs the floor and finishes. He talks on defense. He's averaging 15.4 ppg and shooting 56 percent from the floor — only Ben Simmons and Lauri Markkanen are scoring more per game among rookies. In his first start, for the injured Nance, Kuzma dropped 21 and 13 on the Nets, reminding them of the player they had for a few minutes.
The Lakers had him on their short list before the Draft, along with Michigan's D.J. Wilson and Syracuse's Tyler Lydon. They thought each could be good in time, maybe a rotation player in a year or two. No one had this. Kuzma was a first-team all Pac 12 selection and a very good defensive player for Utah, but Oregon's Jordan Bell got the conference's Defensive Player of the Year award, and all the attention when the Ducks made the Final Four.
Hitting on someone like Kuzma accelerates the calculus of a rebuilding team. You expect to get a star — a superstar — with the second pick. You do not expect that with the 27th pick, even if it's traded to you. That gets people's attention — people who may currently be on other teams. That can make a .500 team look better than a .500 team.
That, you can sell.
"We've done kind of a good job keeping those (losing) thoughts at bay," Lopez said. "We realize the situation. But at the same time, we have a lot of young guys. We also have a lot of talented, and high BBIQ guys — very high basketball intelligence. That helps make the transition very easy."
* * *
MORE MORNING TIP: DA's Top 15 Rankings | What's next for Okafor, Philly? | Your questions on Detroit's start, Cavs' woes | Q&A: C.J. McCollum
* * *
Longtime NBA reporter, columnist and Naismith Memorial Basketball Hall of Famer David Aldridge is an analyst for TNT. You can e-mail him here, find his archive here andfollow him on Twitter.
The views on this page do not necessarily reflect the views of the NBA, its clubs or Turner Broadcasting.