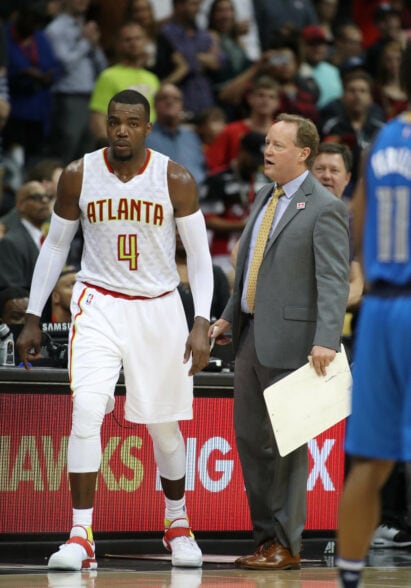 What in the name of Charlie Criss happened to the Atlanta Hawks?
Two seasons ago, the Hawks won 60 games, were the top seed in the Eastern Conference and made a conference finals for the first time since the team moved to Atlanta in 1968-69. They were a slightly older team than optimal for one that would have an extended window of contention, but they maxed out that season behind All-Stars Al Horford, Paul Millsap, Kyle Korver and their point guard duo of All-Star Jeff Teague and then-rookie Dennis Schroeder. Coach Mike Budenholzer was universally respected and his staff was considered among the best in the game at player development.
The success on the floor came as the franchise dealt with the tumult of former GM Danny Ferry's absence and ultimate departure following racially insensitive remarks he made during a staff meeting the previous summer. But Budenholzer already had major say in player personnel moves. And the constant infighting among the team's previous ownership group was finally settled when the league helped coordinate the sale of the team during the spring of 2015 to a group headed by billionaire Tony Ressler and which included former All-Star (and, my Turner colleague) Grant Hill.
The team's new CEO, Steve Koonin, executed a series of initiatives to reach out to the local community, including communities of color that had felt the Hawks had done little to cultivate their support or their financial loyalty over the years. Atlanta hired Nzinga Shaw as Chief Diversity and Inclusion Officer. A new practice facility was under construction and the city agreed to help renovate 18-year-old Philips Arena. Everyone seemed to be pulling in the same direction.
That has changed.
The Hawks' first-round loss to the Washington Wizards continued a disturbing trend line south for the franchise, which dipped to 43 regular season wins this season and the fifth seed in the East. And the team's dysfunction was made plain this week when Budenholzer gave up his title of President of Basketball Operations, while GM Wes Wilcox was reassigned within the organization.
Two weeks ago, Ressler told the The Atlanta Journal-Constitution that he had no plans to change his front office structure and that he loved how Budenholzer and Wilcox worked together. Following the team's exit interviews this week, though, he did a 180.
During a conference call Friday, Ressler kept saying he expected things to be "better" going forward. I asked exactly what that meant.
"From a franchise perspective, what we're hoping will be better will be the evalutation/decision making process for all of us to be, shall we call it, a championship-caliber team," Ressler said. "That's what we're looking for. We need more. I think some of your colleagues have suggested it politely in some of the conversations I had with them a couple of weeks ago — do you want more advice? I didn't think I did.
"Upon further reflection, I think I do. I think we as a franchise need more firepower to get to that next level, and like a lot of other owners, I'm sure. But here in Atlanta, we're trying to get to that next level. And we get what the objective is. And we thought we needed more firepower to get there."
Translation from ownerspeak: Budenholzer had too much on his plate, and Wilcox wasn't getting things done to my satisfaction.
"I think it's fair to suggest that when I asked them how we could be better how do we go to that next step, are we doing everything we could be doing, I think each of them individually, at least in my year-end discussions with them, I didn't think neither felt we were operating to the best of our ability as a franchise," Ressler said in the conference call. "I would argue they recognized it at least as early and as clearly as I did — maybe earlier. And it became painfully obvious after discussions with each of them."
It was a poorly kept secret in league circles that Budenholzer and Wilcox weren't seeing eye to eye on the direction of the team. It seems it was more philosophical than personal. But because of their differences, the Hawks couldn't seem to commit to a direction over the last year and a half.
They hesitated to offer Horford a max deal last summer when he became an unrestricted free agent, and he walked to the Boston Celtics. Recalling their bludgeoning two straight playoffs by the bigger, more athletic Cleveland Cavaliers — consecutive 4-0 sweeps — the Hawks quickly jumped on Dwight Howard to replace Horford, giving him a three-year deal for $70.5 million.
But they didn't get shooters who could play off of Howard, gumming up what had been one of the league's most efficient and pass-friendly offenses. They re-signed Kent Bazemore, who'd been an effective player off the bench in the 60-win season, but who struggled as a starter after DeMarre Carroll's departure to the Raptors in 2015.
Two seasons ago, the Hawks were sixth in the league in offensive rating, averaging 110 points per 100 possessions. They were second in 3-point shooting (38 percent) and assists per game (25.7), and were third in both True Shooting Percentage (.563) and Effective Field Goal Percentage (.527).
All those numbers have cratered. This season, Atlanta fell to 27th in the league in offensive rating (104.9 points per 100), was 23rd in 3-point shooting (34.1 percent) and 10th in assists per game (23.6), and dropped to tied for 18th in TSP (.541) and 18th in EFG (.504).
Barely .500 at Christmas, Atlanta then looked like it would start rebuilding in full, sending the 35-year-old Korver to Cleveland for veteran Mike Dunleavy — a move that would open up playing time for fourth-year guard Tim Hardaway, Jr., whom the Hawks believed had star potential and had spent a year working with and on since getting him from the New York Knicks in a 2016 Draft night deal.
They then traded veteran center Tiago Splitter, for whom they'd given the San Antonio Spurs a second-round pick in 2015, to Philadelphia for stretch four Ersan Ilyasova. Next was veteran forward Mike Scott, who had fallen out of the team's rotation, to Phoenix for a second-round pick in the Raptors' trade for P.J. Tucker.
The next logical move would have been to trade Millsap, who will become an unrestricted free agent this summer if, as expected, he opts out of the final year of his contract — and who, like Horford, would be seeking a huge payday. But after hemming and hawing, the Hawks took Millsap off the trading block, a move that reflected the divisions between Budenholzer and Wilcox.
Sources said Wilcox wanted to move Millsap and go all-in on the rebuild, focusing on the team's young talent like Schroeder, Hardaway and rookies Taurean Prince and DeAndre' Bembry. But Budenholzer, who had the final say on personnel moves, and who had approved the trade of Teague to Indiana last summer, nixed any more potential deals.
"It was kind of a Game of Thrones kind of thing," said one observer who is familiar with the parties.
The new GM — immediate speculation from ESPN center on former Detroit Pistons' GM Joe Dumars and Cavs' GM David Griffin — must assess whether to keep the Hawks intact or blow things up. It's not an easy call and you can make a case either way. But a decision must be made.
Millsap's future is first and foremost. (No matter who is picked as GM, Millsap will be dealing directly with Ressler on his contract going forward, I'm told.) Budenholzer and the owners want to do everything possible to re-sign him — "there's no disagreement on whether we're going to try and keep him, and whether he's great for the Atlanta Hawks," Ressler said.
But Millsap, wooed strongly by the Orlando Magic the last time he was a free agent, will have the final say. And there are rumblings about what he really thought about this season.
One source said there was unhappiness among some with a lack of accountability for other players who consistently made mistakes on the floor. There was also confusion why Budenholzer kept a healthy Thabo Sefolosha out of the rotation during the Wizards' matchup, especially after Washington's Bradley Beal started cooking offensively late in the series.
"We had guys out there doing (stuff) they had no business doing," the source said.
But, again: can the Hawks play fast with Howard on the floor? Budenholzer benched him for long stretches during the Washington series, including several times in the fourth quarter. That's when the Hawks were able to get pace and movement in their offense. But, the tradeoff came at the other end, as Wall torched them in the fourth quarter of Game 6 and sent them to their offseason.
Wilcox will continue to have a role with the Hawks; the two sides are working on a multi-year deal with offset protection for the team if he gets another job elsewhere. But Ressler is serious about continuing to listen to Wilcox''s input, along with the remaining front office staff, like assistant GM Jeff Peterson and Director of Player Personnel John Treloar — both of whom Wilcox brought to Atlanta.
Ressler said he would like to hire a new GM before the Draft and free agency, but is prepared to go through both with the existing crew. Which seems, on the surface, like nothing's really changed at all except some titles. And this is a bad summer for more of the same in Atlanta. The new boss cannot be the same as the old boss(es).
"Both Bud and Wes thought this would be a positive for the franchise," Ressler said. "I thought they were right."
Longtime NBA reporter, columnist and Naismith Memorial Basketball Hall of Famer David Aldridge is an analyst for TNT. You can e-mail him here, find his archive here and follow him on Twitter.
The views on this page do not necessarily reflect the views of the NBA, its clubs or Turner Broadcasting.