2018 NBA Draft
No mock draft (yet), but a look at who NBA teams could target come 2018 Draft
Several players on each team's first-round radar as Draft buzz starts to build
The 2018 Draft is starting to take shape, like a skyline at first light. We're just two-plus weeks away from Draft night. There will be a thousand machinations between now and then, and a trade or two or three. In addition, regular readers know how we feel about mock drafts. What follows is not that. It's a framework — an exoskeleton — of possibilities for teams if they remain in their current Draft positions.
Phoenix Suns
First-round picks: No. 1 and No. 16
Needs: Point guard, center
Potential Player Group (for No. 1 pick): C DeAndre Ayton, Arizona; G Luka Doncic, Real Madrid
(For No. 16 pick): Shai Gilgeous-Alexander, Kentucky; F Kevin Knox, Kentucky; G Lonnie Walker IV, Miami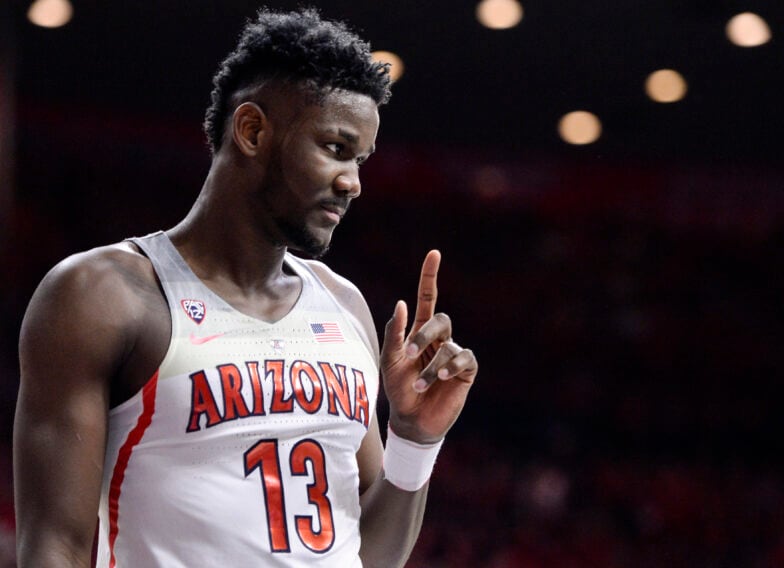 At No. 1, you take the best player and you don't worry about need. Phoenix will have to decide between two mouth-watering 19-year-olds: the 7-foot-1 Ayton, with his massive frame and dynamic offensive potential, or the 6-foot-6 Doncic, whose mature skill set has dazzled in Europe and in international competition. If Phoenix keeps 16, it needs to address the point. The Suns were 29th in the league this season in assists per game, and while that could be alleviated somewhat next season with the return of Brandon Knight from a torn ACL, Phoenix needs a big jump at that position — something that neither Knight nor rising RFA Elfrid Payton is likely to provide. Gilgeous-Alexander came on for the Wildcats and has the size and length to potentially be impactful early in the pros. If he's off the board, Knox or Walker would give the Suns another long and athletic wing to add to Josh Jackson, Marquese Chriss and Dragan Bender.
Sacramento Kings
First-round pick: No. 2
Needs: Playmaking/finishing wing
Potential Player Group: Doncic; F Marvin Bagley, Jr., Duke
The Kings want and need someone who can run with De'Aaron Fox for the next decade. Doncic, with his ability to see the floor and make plays with either hand, either for himself or teammates (just look at the diversity and sophistication of his game in this highlight reel), would be insanely good for Sacramento, helping Fox push tempo and create open looks for the likes of Bogdan Bogdanovic and Buddy Hield. Sacramento was quite good at making 3-pointers, finishing tied for third in the league with Washington in 3-point percentage (.375). But, like the Wizards, the Kings were quite bad at getting up enough deep looks; the Kings were 28th in the league in 3-point attempt rate — only 27.8 percent of their field goal attempts last season were 3-pointers (compare that to the Houston Rockets, who led the league at 50.2 percent 3PAr). It will be a shock if the Kings don't scarf up Doncic if he's on the board, but if Sacramento goes all monkey wrench on everybody, Duke's Bagley is a legit No. 2 pick. He can score, he can handle, he can shoot and he can rebound — all at a high rate. It's a mighty tempting package.
Atlanta Hawks
First-round picks: No. 3, No. 19 and No. 30
Needs: Frontcourt scoring, defense
Potential Player Group (for No. 3 pick): Doncic, Bagley; F/C Jaren Jackson, Jr., Michigan State
(For No. 19 pick): G Khyri Thomas, Creighton; G Troy Brown, Oregon; F Keita Bates-Diop, Ohio State
(For No. 30 pick): G Landry Shamet, Wichita State; G Jalen Brunson, Villanova; G Josh Okogie, Georgia Tech
There are scenarios where Doncic falls to three — if the Suns take Ayton first and the Kings go for Bagley at two. If that happens, the Hawks will have an interesting choice to make. Doncic's talents are obvious and the Hawks need to add as much talent as they can, especially at the top of the Draft. Bagley would obviously be a no-brainer here if Ayton and Doncic go 1-2. But the Hawks do need defensive help as well, as they were bottom 10 in points allowed (108.8) and Defensive Rating (108.2) this season. John Collins, Atlanta's first-rounder last year, was a good start, but the Hawks could use more help, and Jackson — the Big 10's Defensive Player of the Year as a freshman — has all kinds of defensive pedigree. There would probably be some spacing issues and overlap at the start if you played Jackson and Collins together, but in time, many scouts think Jackson will be more than credible as a stretch four. And for a team that's thinking long-term rebuild, the 18-year-old Jackson makes all kinds of sense; he should be entering his prime while still in his early 20s, perfect for the Hawks' timeline.
If Atlanta keeps its two other first-round picks it's hard to see the Hawks not going for even more wing length to complete Taurean Prince and DeAndre' Bembry, or a two who can put the ball in the basket. Creighton's Thomas showed he could score and defend multiple positions in college; Oregon's Brown has length; Bates-Diop got better and better in three seasons in Columbus.
* Complete 2018 Draft coverage
But it would surprise if Atlanta holds onto all of its firsts this year. The Hawks have two more first-round picks coming in 2019 and they have enormous cap space and flexibility. They could use No. 19 and 30 in combination to move up in this year's Draft, package them for another potential first next year or sell them off piecemeal to teams without 2018 firsts (a list that currently includes Houston, Toronto, New Orleans, Oklahoma City, Detroit and Miami).
Memphis Grizzlies
First-round pick: No. 4
Needs: Scoring/shooting
Potential Player Group: Doncic, Bagley, Jackson; G Trae Young, Oklahoma
When it involves anything having to do with putting the ball in the basket, Memphis needs help. The Grizzlies are currently awful across the board — in 3-point shooting (25th this season, .352), two-point shooting (28th, .486), points per game (29th, 99.3), Offensive Rating (27th, 101.8), pace (28th, 97.3) and on and on. They cannot score. So while Jackson would be a perfectly good pick at four, he won't — at least not right away — be a guy who can contribute significantly at that end. That's why Young makes the list. He's electric with the ball. He shoots it, he passes it, he creates shots for others. His size is problematic if you're playing him off the ball; he measured 6'1.75" at Chicago. By contrast, Stephen Curry, with whom Young is always compared because of their shared ability to splash from distance, is a legit 6-foot-3. But in the small-ball era, it's not as big a potential liability as it used to be. There are rumblings that Doncic could possibly slip to this spot in the Draft. If so, he'd be a no-brainer for the Grizzlies here, as would Bagley.
Dallas Mavericks
First-round pick: No. 5
Needs: Post defense, shooting
Potential Player Group: Jackson, Young; C/F Mo Bamba, Texas; F/C Wendell Carter, Duke
The Mavs have exactly one tantalizing piece for the future — point guard Dennis Smith, Jr. And they need a big. So either of Bamba or Carter would make the most sense here, depending on preference. Bamba has crazy upside in the mold of the modern shot-blocking, switchable big man; Carter is rock-solid across the board, better offensively coming in than Bamba though not quite as intriguing at the defensive end. Either would step right in at the five in Dallas, though. The Mavs' woes shooting the ball in 2017-18 mean you can't completely ignore the possibility of an all-world floor stretcher like Young. But, it doesn't look at first glance that he'd be a great fit playing alongside Smith.
Orlando Magic
First-round pick: No. 6
Needs: Point guard
Potential Player Group: Young, G Collin Sexton, Alabama
Yes, we all know that team president Jeff Weltman and GM John Hammond famously love length and athletic ability. But don't bury the lead here: it's not a stretch (no pun intended) to say that Orlando hasn't had a dynamic lead guard since Penny Hardaway in the mid-90s. (Tracy McGrady had the ball during his four seasons [2000-04] in Orlando, but he was looking to put the ball in the basket, not dish it.) The Magic must alleviate that this time around. Either Young or Sexton would make for a solid choice. They both got to the foul line at a prodigious rate as college freshmen. Sexton isn't the scorer Young is, but he's worlds better defensively and his compete gland maxes out just about every time on the floor. A franchise desperate to regain buzz and sell tickets might be more inclined to go for the offensive pyrotechnics Young can provide right away, though.
Chicago Bulls
First-round picks: No. 7 and No. 22
Needs: Perimeter scoring, defense
Potential Player Group (for No. 7 pick): Young, Bamba, Carter; F Michael Porter, Jr., Missouri; F Mikal Bridges, Villanova
(For No. 22 pick): G Grayson Allen, Duke; G Kevin Huerter, Maryland
The Bulls desperately need wing help. There's just not enough thump from its current small forward combo of Bobby Portis and Denzel Valentine. They are solid role players and good rotation guys, but don't bring enough offensive firepower to adjust opponent scouting reports. And even if Chicago decides to invest long-term in free agent Zach LaVine at the two, his wild inconsistency on defense traveled with him from Minnesota. If the medicals check out on Porter's back after surgery kept him out almost all of last season, he'd be a worthwhile pick here to play alongside Lauri Markkanen. If there's any doubt about Porter physically, Bridges filled a lot of roles for the Wildcats en route to their national championship and would be a safe pick. If Carter's still on the board, there would be nothing wrong with grabbing the heir apparent to Robin Lopez in the middle, either. With its second first-round pick, Chicago could potentially go Draft-and-stash as it did years ago with Nikola Mirotic.
Cleveland Cavaliers
First-round pick: No. 8
Needs: Perimeter defense
Potential Player Group: Mikal Bridges, Porter, Sexton; F Miles Bridges, Michigan State
It's difficult to project what the Cavs do here — even if the Cavs are drafting here — with the 40,000-pound elephant that is Decision 3.0 with James looming. Cleveland is just as likely to move this pick if it can get a veteran that could help James immediately as it is to hold onto it, the remaining jewel from the Kyrie Irving trade last summer. It's hard to see James being excited about any of the Draft possibilities that would, under normal circumstances, be viewed as adding needed youth and depth to a championship roster — the word "roster" here defined as any team that LeBron is on in a given season.
One could see any of playoff-caliber teams in the teens circling this pick as the one they could move up to snag in exchange for a vet who could help James right now. Any of the Denver Nuggets (picking 14th at present), Wizards (15th) or Milwaukee Bucks (17th) could make a plausible offer. But if the Cavs keep the pick, you'd think they'd go for a two-way wing. Cleveland was awful all season keeping the ball out of the paint or getting to shooters — opponents shot a league-best 44.6 percent this season against the Cavs on corner 3-pointers. Either Bridges would make sense as a result, as would Porter; he's not the defensive presence that either Bridges is, but he's got good length (his wingspan at the Combine measured more than 7 feet) and his offensive skills would compliment James. If James is still there. Sexton would give Cleveland a legit young point guard whether James stays or not.
New York Knicks
First-round pick: No. 9
Needs: Wing length/defense, shooting
Potential Player Group: Porter, Mikal Bridges, Miles Bridges
The Knicks like their point guard group and think one of Frank Ntilikna or Emmanuel Mudiay will ultimately take hold of the job, with Trey Burke looking like he's found a niche in New York as a backup. So even if Sexton is available, it's likely New York will pass on him and go for the best perimeter guy left on the board. Either of the two Bridgeses or Porter could step in at the three right away, though each may have to play some four as well, at least at the start of the season, while Kristaps Porzingis continues to rehab his torn ACL.
Philadelphia 76ers
First-round picks: No. 10 and No. 26
Needs: Young two guard/frontcourt depth
Potential Player Group (for No. 10 pick): Mikal Bridges, Miles Bridges, Walker
(For No. 26 pick): G Donte DiVincenzo, Villanova; G/F Jacob Evans, Cincinnati
The Sixers are, uh, in a transition period of sorts this morning, as we all wait to see what happens with GM Bryan Colangelo. In the interim, Philly's hold on this pick is not ironclad, given that the Sixers could clear more than $3.5 million — the first-round guarantee for the 10th pick — by dealing it altogether. Every potential cent this summer for a marquee free agent is precious, after all. But if Philly holds onto the pick, getting a young shooting guard to apprentice under J.J. Redick and/or Marco Bellinelli would be ideal. (It would be a shock if Redick, an unrestricted free agent in a month, wasn't re-signed, but at a rate far less than the $23 million he got this past season.) Mikal Bridges would be a popular local pick, obviously. But if he's gone, a talent like Miami's Walker, who can shoot and has two-way potential, could fit right in.
If the Sixers keep the No. 26 pick, it may be hard not to take local hero
. His explosion into a possible first-round selection was fueled by his record-setting performance in the Wildcats' national championship victory over Michigan (his 31 points off the bench were the most ever by a non-starter in a title game). Plus, he had impressive measurables at the Chicago pre-Draft Combine, boasting the highest standing vertical leap of all participants and tied Georgia Tech's Okogie for the highest max vertical leap — 42 inches).
Charlotte Hornets
First-round pick: No. 11
Needs: Perimeter playmaking/scoring, power forward
Potential Player Group: Mikal Bridges, Miles Bridges, Walker; F/C Robert Williams, Texas A&M
The Hornets have underwhelmed at the 2-4 spots in recent seasons, having spent a lot of money and Draft picks on players that have not played anywhere near elite status (Michael Kidd-Gilchrist, Nicolas Batum, Marvin Williams, Frank Kaminsky, Malik Monk). Upgrades are likely. New GM Mitch Kupchak's Draft history with the Lakers was going for Power 5 players in the first round (among the few exceptions was when the Lakers went for high schooler Andrew Bynum with the 10th pick overall in 2005), so Michigan State's Bridges wouldn't be a shock here. If the Hornets surprise and take a point guard prospect like Shai Gilgeous-Alexander here, that would be a strong indication they're likely to move All-Star Kemba Walker.
LA Clippers
First-round picks: No. 12 and No. 13
Needs: Shooting, athletic length
Potential Player Group: Walker, Brown, Gilgeous-Alexander, Knox, Williams
With Patrick Beverley expected back at the point next season, a two would seem to be in order for the Clips out of the gate. Avery Bradley is an unrestricted free agent whose future in town is up in the air and Austin Rivers entering the last year deal of his deal. That would likely point toward Walker or Brown depending on availability. Knox could play some four in the NBA, though he's thin coming into the league. You keep heaving that DeAndre Jordan wants to stay in L.A. through the Clips' rebuild; if true, that wouldn't preclude taking a young big like Williams just in case Jordan changes his mind (he's never done that, right?).
Denver Nuggets
First-round pick: No. 14
Needs: Defense; small forward
Potential Player Group: Knox, Thomas, Williams; F/G Zhaire Smith, Texas Tech; F Chandler Hutchison, Boise State
The Nuggets were a sieve defensively this season, ranking DFL in opponents' 3-point percentage (.378) and 26th in the league in Defensive Rating (108.8). Thomas' wingspan is longer than Smith's, but Smith is taller; either could help as a backup to incumbent two Gary Harris or as a potential small-ball three. Williams would be able to play alongside Nikola Jokic (I am assuming the Nuggets and "The Joker" figure out a long-term deal at some point in the next calendar year). He would help immediately as a rim-protector and second-unit big who could allow Denver's reserves to engage in pushing tempo just as severely in the Mile High as the Nuggets' starters.
Washington Wizards
First-round pick: No. 15
Needs: Young size, perimeter shooting
Potential Player Group: Williams, Walker, Brown, Knox, Hutchison
With incumbent Marcin Gortat not long for the roster (entering the final year of his contract, and a strong possibility to be dealt anyway), the Wizards need to find a young big who can help get them back to what made them formidable a couple of years ago — turning opponents over and getting John Wall and company out in transition. If that's not available then a 3-and-D wing that could play alongside Otto Porter Jr. would make sense. That would give Washington some flexibility if it needed, potentially, to move Kelly Oubre Jr. as part of a package to acquire said young big man mentioned above.
Milwaukee Bucks
First-round pick: No. 17
Needs: Post defense, point guard
Potential Player Group: Gilgeous-Alexander, Thomas; G Aaron Holiday, UCLA
The Bucks definitely need a young big with rim protection on the resume. Per basketball-reference.com, Milwaukee gave up the highest percentage of opponent field goal attempts this season from three feet in and closer — almost a third (.328). But if there's not an obvious choice there, it wouldn't shock if Milwaukee moved back in the Draft and counted on new coach Mike Budenholzer and his incoming staff to get more D out of the existing bigs on the roster (most notably Thon Maker). The Bucks also have a decision to make on incumbent point Eric Bledsoe, who'll be entering the final year of his contract next season. There should be any number of young, quality point guards available where Milwaukee is picking that won't be nearly as expensive to retain in the next 3-5 years as Bledsoe is likely to be.
San Antonio Spurs
First-round pick: No. 18
Needs: Youth, wings
Potential Player Group: Hutchison, Brown, Bates-Diop, Allen
The Spurs haven't had a Draft pick this high since … taking Tim Duncan first overall in 1997. Let that sink in with your Cheerios. But, of course, there's a lot of "this hasn't happened in a long time in San Antonio" going on these days. Everything obviously rests on what happens first with Kawhi Leonard. If there's an amicable resolution between San Antonio and Leonard and he's full speed ahead going forward, the Spurs can be more selective with the pick. If they're still uncertain about Leonard's intentions on Draft night, they'll have to expand their potential universe of players.
Minnesota Timberwolves
First-round pick: No. 20
Needs: Wing shooting
Potential Player Group: Hutchison, Allen, Huerter
The Wolves have to give Karl-Anthony Towns more room to operate. Incumbents Jimmy Butler and Andrew Wiggins weren't near scary enough from 3-point range (35 and 33 percent, respectively) to make defenses not load up in the paint. And with Jamal Crawford likely to opt out of the second year of his deal, there are no proven floor-spacers on the bench. So, Minnesota is likely to go for need here and take the best guy left on the board. Allen adds playmaking ability that could help Butler and Jeff Teague. Huerter's had a meteoric rise up Draft boards in the last month, shining at the Combine, and kept his name in the Draft once it became clear he was likely to go in the first round.
Utah Jazz
First-round pick: No. 21
Needs: Shooting, frontcourt depth
Potential Player Group: Bates-Diop, Huerter; F Dzanan Musa, Cedevita; F Melvin Frazier, Tulane
With Utah's entire starting five under contract for next season and only Ricky Rubio up after next year (and likely to re-sign), there's no huge need for the Jazz at present. Utah will need to get a big if Derrick Favors leaves in free agency, but there will likely be several veteran free agents on the market and in Utah's price range. Another wing who can fill it up is the way to go. Given that the Jazz maneuvered to Rudy Gobert via trade (he was the 27th pick overall in the first round in 2014), got Joe Ingles off waivers and traded for Donovan Mitchell (13th overall) in last year's Draft, do you have any doubt that GM Dennis Lindsey is going to find someone good here?
Indiana Pacers
First-round pick: No. 23
Needs: Frontcourt depth
Potential Player Group: F Mo Wagner, Indiana; F Omari Spellman, Villanova; C/F Mitchell Robinson, Chalmette (LA) HS
The Pacers will likely be in insurance mode with starting four Thaddeus Young entering the last year of his deal — though Domantas Sabonis certainly appears to be the heir apparent there — or in case they don't pick up Al Jefferson's 2018-19 option ($10 million). With a playoff team looking to go further next year, the least drama-causing young big available will thus be the Pacers' aim. Either Wagner or Spellman, who faced off against one another in the 2018 NCAA title game, would be fine here. Indy could take a flier on Robinson, the talented but mercurial talent who was supposed to play at Western Kentucky, but didn't, and who was supposed to be at the Combine, but withdrew. He's talented, but … geesh.
Portland Trail Blazers
First-round pick: No. 24
Needs: Backcourt depth/perimeter shooting
Potential Player Group: Holiday, Shamet, Brunson, Frazier
One guesses that the Blazers won't be in possession of this pick by Draft time, given their current cap situation — already more than $110 million, and needing to get Jusuf Nurkic signed to a long-term deal (he's got one non-guaranteed year left on his deal) along with re-upping unrestricted free agent Ed Davis. We're figuring Portland doesn't hold onto this pick or uses it to move down into the second round. If by chance that doesn't happen, there should be several quality guards from which to pick who could give either Damian Lillard or C.J. McCollum some rest.
Los Angeles Lakers
First-round pick: No. 25
Needs: Everything outside of point guard
Potential Player Group: Spellman, Thomas, Huerter, DiVincenzo
The Lakers will do their most important work 10 days after the Draft, as we all know, when the free-agent negotiating period officially begins. But this late first-round pick will be important in adding to the team's talent base before it makes its various official pitches. A big to help score and rebound if sixth man Julius Randle leaves via free agency wouldn't hurt, nor would a two that can knock down jumpers and get to the cup playing off of … well, someone of stature.
Boston Celtics
First-round pick: No. 27
Needs: Center
Potential Player Group: Robinson, Spellman; C Brandon McCoy, UNLV
The Celtics are two deep at just about every position going forward other than center. Aron Baynes — who backs up Al Horford — is an unrestricted free agent this summer and fellow big man Greg Monroe is unlikely to be re-signed. So if the Celtics don't use the pick for a Draft-and-stash guy or sell it outright, they'll probably be in the market for a young big. McCoy, the Mountain West Freshman of the Year, had more than 100 NBA types at Joe Abunassar's impact Sports in Vegas last week for his pre-Draft workout. He was wildly inconsistent in his one college season. He's also 7-foot-1 and talented. So … you do the math.
Golden State Warriors
First-round pick: No. 28
Needs: Frontcourt depth
Potential Player Group: Spellman, McCoy; C Udoka Azubuike, Kansas; F/C Chimezie Metu, USC
The Warriors wound up shorthanded in these playoffs with a center-heavy roster whose backup big men couldn't play against small ball opponents. So it's more likely the Warriors will try and find minimum-salaried veterans who can wait for their moment and produce than bring in another kid who needs seasoning. But … you never know. Golden State found a diamond in the rough last year by trading on Draft night for Bulls 2017 second-round pick Jordan Bell.
Brooklyn Nets
First-round pick: No. 29
Needs: Shooting guard, power forward
Potential Player Group: Shamet, DiVincenzo, De'Anthony Melton, USC
The Nets have done an admirable job finding ways to add young talent without having a lot of quality picks, and they'll get fully out of cap jail next year. Adding a quality scoring guard to complement all of Brooklyn's young points — Joe Harris (41.9 percent on 3-pointers last season) is an unrestricted free agent this summer and might be out of the Nets' price range — will help firm up Brooklyn's roster.
* * *
Longtime NBA reporter, columnist and Naismith Memorial Basketball Hall of Famer David Aldridge is an analyst for TNT. You can e-mail him here, find his archive here and follow him on Twitter.
The views on this page do not necessarily reflect the views of the NBA, its clubs or Turner Broadcasting.