Shootaround (Sept. 23) -- New York Knicks keep 'open mind' about Carmelo Anthony's future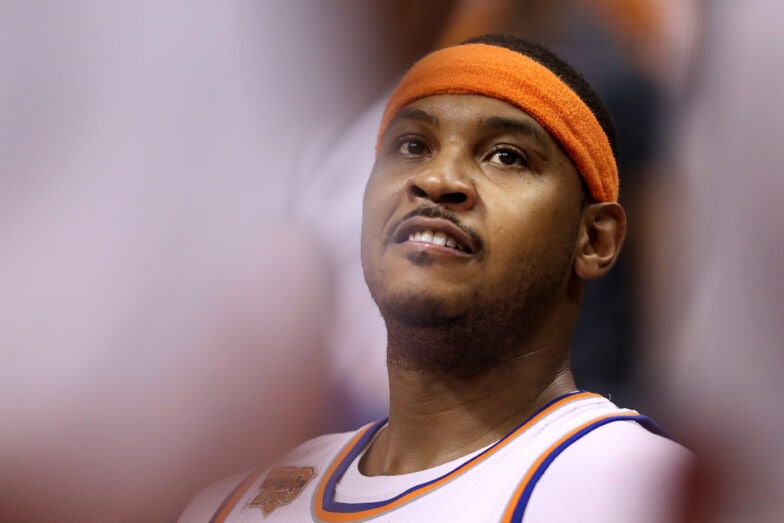 This morning's headlines:
Camp questions — The drama of the NBA season doesn't necessarily begin in mid-October. Given the summer the league just endured, there's plenty of it now, as training camp beckons. The aftermath of major trades, defections and speculation led Michael Lee of the Vertical to pen this piece on the eve of camps:
From the moment the Golden State Warriors completed their five-game annihilation of the Cleveland Cavaliers in the NBA Finals, the league has had no shortage of eye-popping drama and intrigue. The wildest and most fascinating offseason in more than two decades has included unprecedented superstar movement, a shocking trade demand that broke up the champions once removed, and even a head-scratching social media blunder just as training camps are about to get underway.

After so much staggering controversy and upheaval — with organizations deciding whether to challenge or cower to the Warriors — five teams enter their respective media days having to confront some awkward situations. Some won't be easily resolved and others might not be settled until after this season.

New York Knicks

Carmelo Anthony recorded the greatest victory of his Knicks tenure by outlasting former team president Phil Jackson, his heckler-in-chief. But he is now caught up in what amounts to a hostage situation because he clearly wants out. His refusal to be open to any trade destination other than Houston has complicated matters because the Rockets don't have what it takes to consummate a deal – especially after most of their most valuable assets were shipped out to Los Angeles in the Chris Paul trade. The other dilemma for the Knicks, and new general manager Scott Perry, is how to determine Anthony's value when whoever acquires him is guaranteed to receive the worst years of a career that remains All-Star-caliber but has begun to decline. A buyout isn't feasible with two years remaining on Anthony's contract but expecting a massive haul in return is equally nonsensical.

Unless there are some mystical powers attached to the "Hoodie Melo" persona that became a thing this offseason through a series of pickup games that went viral, Anthony won't be able to reverse what has made him more expendable than at any point of his time in New York.

At 33, Anthony desperately wants a return to the Western Conference, where the competition is steeper but also where the first half of his career was filled with annual postseason appearances and a trip to the conference finals. Since his trade from the Nuggets, Anthony has become one of the league's most polarizing figures. He has had to rely on the Olympics to achieve a reprieve from losing. Those gold medals have also provided an argument for his most ardent defenders, who point out how Anthony can adjust his game when surrounded by better personnel, especially at point guard (cough, cough, Chris Paul). The Knicks squandered his prime with questionable supporting casts and Anthony developed some bad habits while trying to compensate.

Cleveland Cavaliers

Is this the end? The Cleveland Cavaliers won't be short on intrigue with Kyrie Irving's surprising departure and the uncertainty surrounding Isaiah Thomas' arrival with a bad hip. That's enough for most teams to navigate as training camp begins. But the question that will hover over the franchise from now until next July is where LeBron James plans to continue his career.

The countdown to The Decision, Part III, began the moment Kevin Durant pulled up over James in Game 3 of the NBA Finals and all but demolished the Cavaliers' repeat bid. Speculation has already started that James will move to Los Angeles to continue the Lakers legacy and expand his burgeoning film and television interests. James sprinkled some gossip dust when he showed up to watch Lonzo Ball play a summer-league game in Las Vegas, wearing a purple shirt. James' wife, Savannah, was also recently spotted exploring the grounds of an elite prep school in Los Angeles.

James and his team are master strategists, savvy enough to avoid potholes while generating plenty of suspense. After keeping fans guessing the previous two times he had the potential to leave, James will easily maneuver through inquiries about his plans and leave it up to leaks and conspiracy theories to avoid boredom. The Cavaliers have already covered themselves in case James decides that keeping his promise to deliver a championship gives him greater leeway to exit again. The Irving trade brought back a coveted draft pick that could potentially serve as a building block for the organization's future. But if James unexpectedly makes up his mind during the season that there really is no place like home, the pick could be used at the deadline to acquire a player who helps him move closer to catching the Warriors.
Wait and see on Carmelo — All of the important people said all the right things Friday when the Knicks held media day, meaning, the head honchos squashed any Carmelo Anthony drama, or tried to, anyway. As of right now, the plans are for Anthony to report to camp and carry himself as business as usual. Of course, the reality is a bit more complicated than that. The Knicks would rather not have Melo around if they can get decent compensation, and Melo is OK with that provided they trade him to the team of his choice (ahem, Houston). With no deal imminent, the two sides must deal with each other until something happens, and there's no guarantee that it will. Ian Begley of ESPN examined the climate surrounding the Knicks and their disgruntled star:
New Knicks general manager Scott Perry says he's keeping an "open mind" about Carmelo Anthony's future with the club, but he expects to have Anthony on the roster next week during training camp.

"Look, Carmelo's going to be back here," Perry said Friday at the team's training facility. "Carmelo has always been a professional.

That's one thing I've always respected about him. I think he can set a good example for the young players. He's been a 10-time All-Star. If he's back here with the New York Knicks, we expect him to be the professional he's always exemplified throughout his career and move forward with him."

Both the Knicks and Anthony remain committed to finding a scenario that ends with Anthony on another team, according to league sources.

"We've just been in constant contact with he and his representatives and I won't get into [the] weeds of the details of how far or how close we were to any type of deal," Perry said. "At the end of the day, what we set out and what we said [in July was], if there was something there that made sense both for him and the Knicks organization, then we would strongly consider it. Obviously we sit here today and that did not happen as of yet."

Perry, Hornacek and Knicks president Steve Mills have recently been in contact with Anthony. Perry said he visited Anthony in Florida over the summer and the two had a "very good meeting."

"Very respectful. He expressed to me his sentiments as did I [to him]," Perry said. "And we both understood at that time there would definitely be a possibility that he could be back here. And we respect each other well enough that if that was the case that we're going to move forward and be the professionals that we both are."
Who's ready to break out? — Every year the preseason is filled with optimism about contenders, developing teams and the like. Also, it gives young players a chance to demonstrate whether they were worthy of the hype they received when they entered the league. On that note, who are the candidates to have a career-changing performance in 2017-18? Kevin O'Connor of the Ringer went crystal-balling and came up with a few reasonable names:
Brandon Ingram

Consider the case of Brandon Ingram, who was selected no. 2 by the Lakers in 2016. Ingram was (over)hyped as the next Kevin Durant, but failed to log a single Rookie of the Year vote after averaging an inefficient 9.4 points per game. All his flaws were apparent under the bright lights of Staples Center in ways that weren't clear for observers who merely glanced at predraft highlight-video packages on YouTube.

A rookie's shine wears off quickly, like how a new car depreciates the second it leaves the lot. ESPN's 2016 redraft had Ingram selected behind the likes of Juan Hernangomez, Skal Labissiere, and Ante Zizic. Just-another-guy types like Taj Gibson and Nikola Mirotic (who is still unsigned) made various summer top-100 player lists over Ingram. So did old heads such as Manu Ginobili and Pau Gasol. I'm not here to argue with my basketball-writing colleagues, who I respect dearly, but aren't we trying to project forward?

It's mind-boggling that so many fans and media members have already soured on him. There are endless instances in which truly great players or role players get off to slow starts in their careers for one reason or another. Remember Dirk Nowitzki's rookie season? Nowitzki stunk in his first year. Dallas fans called him "Irk" since he couldn't play defense. He even thought about going back to Germany. In the book Dirk Nowitzki: German Wunderkind, Nowitzki described his rookie season as "jumping out of an airplane hoping the parachute would somehow open." After James Harden struggled as a rookie, Real GM user sugarscape wrote, "He's a bust. His in-game athleticism is poor and he's not very big or skilled. There is no decisiveness to his game either. His upside is Aaron McKie."

D'Angelo Russell

An NBA executive told me this summer that his studies suggest that "busts" are mostly a result of the teams, whether it be poor coaching or archaic scouting methods in the draft room that overvalue the player in the first place. We can't pick our parents, but some players might've seen better fates had they fallen into a different environment on draft night. Not all players end up with second chances; D'Angelo Russell is fortunate to get his in Brooklyn.

It was less than three years ago when Russell first burst onto the public's NBA draft radar. At the time, I asked a scout about the Ohio State freshman guard's personality. He said Russell was humble, yet driven and confident, and that he learned how to work harder and smarter after being coached at Montverde Academy. Russell was highly recruited by top colleges, but didn't receive national hype until his freshman year. No one could've expected him to go one-and-done.

As the scout explained, even Russell was shocked his life was advancing so quickly. "I didn't plan on it," Russell told Chad Ford months later. "I mean, it was always a dream. But to suddenly have the dream happen so soon. It was kind of scary."

It sure sounded like Russell was a kid who wasn't taking everything happening to him for granted. But the D'Angelo the scout described isn't the D'Angelo we know today. Russell is now the former no. 2 pick who failed to meet expectations with the Lakers and burned a number of bridges along the way. During his two seasons with Los Angeles, the 21-year-old ranked below the 30th percentile in overall scoring efficiency, per Synergy. He's known by many as more of a Snapchat snitch than as an NBA athlete. Both before and after he was fired by the Lakers, former Lakers head coach Byron Scott openly ripped Russell's maturity, and questions continued being peppered at Luke Walton. The Lakers dumped Russell and drafted LaVar Ball's son as his replacement. Russell is still just 21 years old.
* * *
SOME RANDOM HEADLINES: If you're like me, you're wondering why Andrew Wiggins hasn't signed that monster contract extension. It's not like the Wolves can offer him any more than that. Maybe he wants to go elsewhere? Who knows? … Suns might be without Alan Williams for a while; he played well for them in the final few months of last season and sent Alex Len to the bench … Same goes for Noah Vonleh, suffering from a bum shoulder … Coach Frank Vogel went deep on his expectations and desires for the Orlando Magic this season … Folks inside the Pistons organization just don't understand why some folks are down on them … Tom Thibodeau is searching for reasons to be concerned about a team that fortified itself this summer … Victor Oladipo says he's done being Mr. Nice Guy … What's wrong and right about the Raptors?