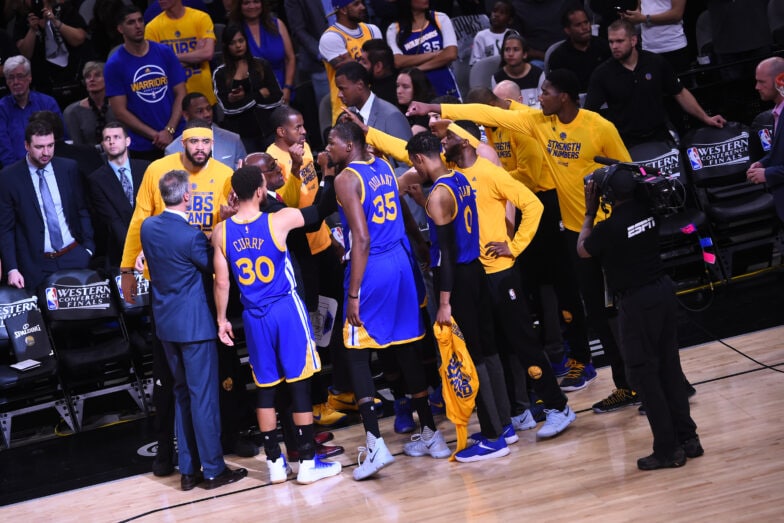 Warriors' owner wants shot at Finals redemption — That Game 7 loss in The 2016 Finals has been on the minds of the Golden State Warriors, their players, team ownership and fans since the final buzzer sounded. A chance to square off against the Cleveland Cavaliers on the NBA's grandest stage has always been on their minds. With a third straight Finals berth assured now, Golden State owner Joe Lacob didn't pull any punches about how he feels about his team being back on the big stage. Anthony Slater of The Mercury News has more:
Lacob took questions on Finals redemption, preferring the Cavaliers, Kevin Durant's integration, the tricky Steve Kerr health/coaching situation and what has been a stress-free postseason. Here's the full Q&A with Lacob.
How much redemption you feel is on the mind?
"A lot. I kind of honestly feel that we're on a mission. We're not done. We got to go back and get some of what kind of feels taken from us last year. I'll just leave it at that."
How much has Kevin meant to this team?
"Fantastic. You saw his game the last two games. He's been amazing. He fits perfectly. That's my greatest happiness is that he gets to go to the Finals now, he loves his teammates and fits so well in the organization. It feels so great that it worked out so well to this point."
When you went to recruit him, did you talk to him about this moment?
"Well, not this moment. Another moment beyond this moment (laughs). Obviously this is the goal. We have a lot of work to do still. But it's a great feeling to get here and have an opportunity to play for the championship."
How is it that he seamlessly fit into the team?
"Tremendous acceptance. And it was really born back in Long Island when we all met last summer. Out other players who are tremendous stars in and of themselves made a pitch that he would totally be integrated and accepted and they were willing to sacrifice whatever to do that and go win championships. Those guys really used honest words and it was exactly what they said and I think it's really worked out."
…
At this point, Cleveland looks like they'll probably be the East champions. Do you want it to be Cleveland?
"Honestly, I don't really care who we play (shoots a sly grin). Ok, maybe a slight preference for Cleveland. Only because I feel we have some unfinished business from last season."
…
At this point is Mike Brown your coach going into the Finals?
"That's up to Steve, honestly. We'll see how he feels. We've got nine days between now and then. I certainly would hope he'd feel better. But if not, we're prepared to go the way we are. Whatever it takes, our players are ready."
Is this team better than last year's?
"I think it is. Honestly. I think we're better. It's hard not to be better when you have a guy as good as Kevin Durant on your team. We were awful good last year. The one difference is Steph was hurt, as we all know. How much we can debate. But he was not what you see out there now. Then of course we had some other issues in the Finals. With Kevin, this is a very, very good team. The opposition is going to be good in the Finals. So not taking anything for granted."
* * *
Celtics hoping for second dose of Smart's energy — The stat sheet shows that Marcus Smart's performance in Game 3 of the Eastern Conference finals was amazing. In terms of his 3-point shooting accuracy, it was also extremely out of character. No matter how you slice it, the Boston Celtics need more of what Smart brought in Game 4 tonight against the Cleveland Cavaliers (8:30 ET, TNT). Mark Murphy of the Boston Herald has more:
However, as Smart took over Isaiah Thomas' job Sunday night and engineered a second-half comeback in a variety of ways, from his 27 points and seven 3-pointers to making all of the right plays down the stretch, he also focused on his composure.
Smart went from grousing to calming.
"I made a big effort on staying calm and keeping my composure. I know those officials are human, just like us," he said. "Definitely had to do that. Especially with Isaiah being out, this team needs someone to really, really, really keep them poised and locked in, because on any team, if you don't have nobody who can do that, you can get in a lot of trouble. I was just trying to be that guy."
The trick was smoothing out his passion without losing his greatest asset — the ability to drive his team through sheer energy, regardless of whether he makes his shots.
"Yeah, he always has. Always has," said Celtics coach Brad Stevens. "A big reason why we brought him off the bench most of the year was because you always knew that no matter how you started a game, you had that coming into the game. That's been a great trait of his."
Smart had to strike a balance, then, down the stretch of Game 3.
"You don't sacrifice your passion," said Smart. "You just turn your passion to a different aspect of the game. It just might not be as aggressive as it usually is, but you keep that same fire."
…
"Man, he's very unique just because of his toughness," said Al Horford. "He can play 1-5, rebounds the ball well, can really pass, and when he gets to scoring the ball like he was (Sunday) night it's just beautiful to see. I don't think there's many players like him in the NBA. He's about as unique as it gets because he's tough, physical, but at the same time he does a lot of little things people don't notice.
"And it's how smart he is about reading the game. He's always talking on the bench and in the locker room about things we need to do."
* * *
Kerr's status up in air as Warriors reach another Finals — When Golden State won it all in 2015, coach Steve Kerr was there to bask in the glorious moment. When Golden State squandered a 3-1 Finals series edge in 2016 and lost in Game 7, he was there to soak in the painful loss. As the Warriors enter a third straight Finals, the status of Kerr's health and ability to coach in The Finals remains unknown, writes Ramona Shelburne of ESPN.com:
Golden State Warriors coach Steve Kerr said he's not sure yet whether he'll be able to coach in the NBA Finals as he continues to deal with complications from back surgery two years ago that have kept him from coaching the past 10 playoff games.
"Just day-by-day," Kerr told The Undefeated's Marc Spears, when asked about his status after the Warriors completed a sweep of the San Antonio Spurs on Monday night in the Western Conference finals.
Kerr was able to travel with the team for the first time since taking an indefinite leave of absence on April 23. However, sources told ESPN that he's still in a significant amount of pain and discomfort and that his return to traveling with the team should not be read as an indication of progress.
Warriors majority owner Joe Lacob told ESPN late Monday night that he has told Kerr to take "as long as he wants" to return to the team.
"He is a fantastic coach and a fantastic human being and a great friend," Lacob said. "I told him the other day, 'I don't even want to talk about or think about anything other than winning this championship. You can contribute in any way you can, and we'll worry about the future in the future.'"
Lacob said that having Kerr around during this series has helped the team in ways that are hard to measure.
* * *
Report: Millsap not intending to opt into deal for 2017-18 — Power forward Paul Millsap has enjoyed his greatest level of individual success as a member of the Atlanta Hawks. In four seasons with Atlanta, he's made four All-Star teams and led the team to a division title and on some solid playoff runs. He is a potential marquee free agent this summer and according to the Atlanta Journal-Constitution's Chris Vivlamore, will likely stick with his choice to opt out of his deal:
Hawks ownership was informed that Paul Millsap does not intend to exercise his player option for the 2017-18 season, according to a person familiar with the situation.
However, the four-time All-Star power forward did not need to inform the team of such an intention and could still exercise the final year of his contract up until June 23.
A player does not opt out of the player option unless there is an early-termination clause in the contract. Millsap's contract is not so structured. The player chooses only to opt in to the player option. Millsap has the deadline of late June to do that.
Millsap will become an unrestricted free agent this summer if he simply does not inform the Hawks to pick up the $21,472,408 salary that he would be owed next season. After June 23, he will be considered an unrestricted free agent.
…
It makes financial sense for Millsap not to opt in to the player option, and it's long been a foregone conclusion that he would decline it. The 32-year-old is eligible to receive a maximum contract that could reach $205 million as a free agent. Millsap is eligible for a projected five-year, $205 million contract from the Hawks. He is eligible for a projected four-year, $152 million contract from another team should he choose to leave the Hawks.
The June 23 date is important because Millsap could get seriously injured between now and the deadline. If his playing career should become in jeopardy, he would certainly want the guarantee of $21 million.
Hawks ownership was informed of Millsap's intent to let the deadline pass and become an unrestricted free agent in a meeting last week, according to a person familiar with the situation.
…
Millsap is about to receive the most significant contract of his 11-year NBA career. He has made just over $72 million over the course of his career. The $19 million he earned last season was nearly $10 million more than his previous career-high annual salary. Millsap is in line to earn an average of $41 million over the course of a new maximum deal with the Hawks.
* * *
SOME RANDOM HEADLINES: Even the Golden State Warriors had nothing but love for Manu Ginobili in what might have been his final NBA game … Recent death threats have Oklahoma City Thunder Enes Kanter thinking about becoming a U.S. citizen … The Orlando Magic have reportedly hired Jeff Weltman as their new GM … The Warriors' NBA Finals hats were too small for center Zaza Pachulia's head … The New York Knicks say they're looking for more players like Courtney Lee in free agency …