Shootaround (Dec. 20) -- Clippers won't rush Blake Griffin back from injury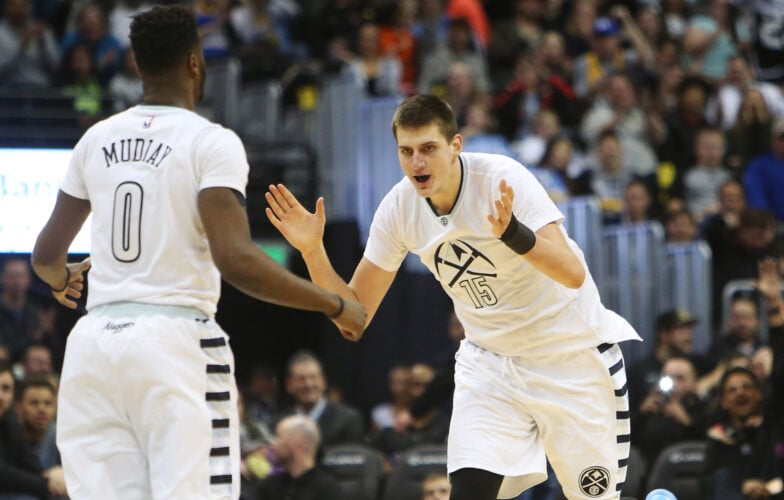 Report: Clippers to be 'very cautious' with Griffin | Van Gundy rips Pistons after loss | Colangelo on Noel: 'Not a benching' | Rose to return tonight vs. Pacers
No. 1: Report: Clippers to be 'very cautious' with Griffin's recovery — The LA Clippers made official what was rumored yesterday, sending out news that star forward Blake Griffin will in fact need a minor knee procedure and will miss three to six weeks. While he mends, the Clippers will once again try to hold down the fort and hope that Griffin's timeline to return will sync up nicely with a Clippers push for a top playoff seed. Broderick Turner of the Los Angeles Times has more on that and the Clippers' plans to bring Griffin along:
The team said the procedure will "remove loose bodies" from Griffin's knee and will be performed by Dr. Neal ElAttrache at the Kerlan-Jobe Orthopaedic Clinic.
A team official, who requested anonymity because he was not authorized to speak publicly, said the Clippers would be "very cautious" with Griffin's recovery.
Griffin, a seventh-year pro who is the team's leading scorer at 21.2 points per game, could miss up to 20 games if he is out for six weeks.
The team official said Griffin could have played the rest of the season with his right knee issues, but it was better for him to get it repaired right away.
"It's not anything serious," the official said. "He can literally play the way he is now, but why play when something is bothering you? Get it fixed now."
…
If Griffin opted not to have the surgery, his knee could have prevented him from playing at full strength the rest of the season and in the postseason, the official said.
…
After a hot start, the Clippers (20-8) have lost six of their last 12 games and dropped to fourth in the Western Conference standings.
Last season Griffin missed 47 regular-season games. He suffered a quadriceps injury during a Christmas Day victory over the Lakers, then broke his hand when he punched a Clippers assistant equipment manager, Matias Testi, at a Toronto restaurant in January.
Griffin returned to the lineup late in the regular season, but he aggravated his quad tendon in Game 4 of the Clippers' first-round series against Portland. Without Griffin and injured point guard Chris Paul, the Clippers were eliminated in six games.
The versatile Luc Mbah a Moute could end up moving from small forward to power forward in place of Griffin. Rivers could also turn to backup center/forward Marreese Speights, Brandon Bass or Wesley Johnson.
When Mbah a Moute missed two games with a bruised right shoulder, guard Austin Rivers started in his place, and he could be an option if the coach wants to go to a small three-guard lineup.
No matter who ends up starting, Doc Rivers knows it will be difficult to replace what Griffin brings to the Clippers.
* * *
No. 2: Van Gundy calls out Pistons after loss — The Detroit Pistons were a playoff team last season, but sit in the No. 10 spot in the Eastern Conference after last night's road loss to the Chicago Bulls. Afterward, Pistons coach Stan Van Gundy laid into his team for their effort and talked of lineup changes in the future. Our Steve Aschburner was there and has more from the scene:
Take your pick, as far as the sound of a frustrated team hitting rock bottom: Andre Drummond's exhale and sigh when asked about the Detroit Pistons' sudden death spiral and, specifically, their shamefully lame performance against the Chicago Bulls Monday night at United Center.
Or coach Stan Van Gundy going trombone sound, a la Charlie Brown's school teacher, on his team after the game.
"Oh team meeting, my a–," Van Gundy said minutes after Chicago's 113-82 laugher over their Central Division rivals. Detroit's players had circled their wagons after a 25-point home loss to Indiana Saturday, which came 24 hours after a 14-point flop at Washington.
Now the swoon had reached three and, well, Van Gundy was no more impressed with whatever yammering went on than he had been beforehand.
"Like I said before, that stuff means nothin'. It's what you do on the court. Talkin's easy," he said.
"Look, I have nothing to say. It was a disgusting performance. By all of us, me included. It was unprofessional, embarrassing, humiliating, whatever you want to say. It's terrible."
…
"Looks to me like a lack of effort and a lack of heart, that's what it looks like to me," Van Gundy said. "And if you don't play hard, you're not going to have any confidence. We looked like we were hoping the game would be easy tonight. And it wasn't, and we just caved."
Van Gundy said he's convinced the team hasn't heard his latest messages to them. And he promised a different look when, in their next game, the Pistons face Memphis at The Palace of Auburn Hills.
"Well, it's just a matter of 'Who now?' he said. "I guarantee you on Wednesday night we're not trotting that five out there."
…
Now the Pistons are on the verge of pulling apart further, which was why Drummond was in such a pensive mood after the loss. The big man finished with nine points and four rebounds in barely 23 minutes.
"It's not acceptable the way we're playing right now," Drummond said after his sigh. "Taking 30-point losses night after night. That is not the team that I know that we are.
"It's tough, man. Tough to be a part of, tough to play the game, tough to watch.
"We're not focused. We're allowing missed shots offensively or whatever it may be personally that's going on with some of the guys affecting us defensively. I can't speak for everybody else but I know for me, I try to play hard. And I can't be everywhere on the floor at once."
The next bus you see, check underneath it for some Pistons unis.
Drummond continued: "Collectively as a group, we're not in sync right now. That's apparent. Everybody sees it. We've just got to figure out how to shake it. And find one common ground for what really matters for our season. Is it an individual season or is it a team season? We've got to figure that out and the sooner we figure that out the better."
Asked about Van Gundy's vow to change the lineup, Drummond did not protest.
"It's [lousy] to say that, maybe we do need a lineup change," he said. "But what other option do we have at this point? We're not trading nobody. We want everybody here. So we're not looking for nobody else. But maybe we need to mix some things up and try to find something different. Shorten guys minutes or put them out there earlier."
Keep in mind, the Bulls a few hours earlier had been precisely where the Pistons are now. Coming off three miserable, soul-rattling defeats in need of something big to stop the bleeding. Chicago got that. Detroit needs that.
"I'm flabbergasted with the stuff that's going on, to be honest," Drummond said.
* * *
No. 3: Colangelo explains Noel's status — Over the weekend, Philadelphia 76ers coach Brett Brown made it clear that forward/center Nerlens Noel will not be in the team's lineup plans going forward. Read into that what you will — especially in the context of Noel's recent discord with the coaching staff over his role — but to many it seemed like a benching. In an interview with reporters yesterday, though, Sixers GM Bryan Colangelo clarified the franchise's view on Noel and what may be next for him. Keith Pompey of The Philadelphia Inquirer has more:
Was it clarification or damage control?
On Sunday evening, 76ers coach Brett Brown said Nerlens Noel was out of the team's rotation for the foreseeable future. But on Monday afternoon, team president Bryan Colangelo seemed to back off from those statements.
"This is not a benching," Colangelo said. "This is just a moment of realization that we've got a lot of talent on this team. Not everybody can play. At some point, you will see him on the court."
The one thing we do know is that the 6-foot-11, 232-pound center remains a player the Sixers are interested in moving. Colangelo said he hasn't had an opportunity to trade Noel. But that's because the 22-year-old has been injured and the return offers have not been what the Sixers deem as equal value.
Colangelo added that Noel's discussing his desire to be traded in September was not the best course of action by the big man.
"I would say it was ill-advised in terms to his whole value," Colangelo said. "Not only for his own value, but probably for our ability to have him involved in a deal. That's never worked, in my estimation, for a player to voice that kind of concern.
"Then people start looking and questioning things outside of health and play and other things."
…
Colangelo did his best on Monday to try to make it seem like Brown's comments were taken a out of context a little. The coach said there was a logjam at the center position with Noel, Embiid, Okafor, and Richaun Holmes.
"At some point, you will see him on the court," Colangelo said of Noel. "When that is, it doesn't need to be black and white in respect to timing and a number of games. Everything changes. Every day presents something different to this team."
However, there was a sense that Noel was being benched for his displeasure with the Sixers' inability to trade a big man this summer.
…
"He is a young, talented prospect [and] we are trying to determine whether or not he's a fit for the roster," said Colangelo, who opted not give Noel a contract extension in October.
Noel has averaged 10.4 points, 8.0 rebounds, 1.8 steals, 1.7 assists, and 1.7 blocks in 144 career games. He was first-team all-rookie selection in the 2014-15 season.
"He does a lot of things defensively at an elite level when healthy and engaged," Colangelo said.
But Colangelo believes that to fairly evaluate Noel, he needs to show that he's healthy and has a healthy, professional attitude.
For now, Noel is watching from the bench as Embiid and Okafor play in the Twin Towers set.
With Noel "spraining his ankle and being gone again, [Brown] said, 'I'm going to go with this for the foreseeable future,'" Colangelo said.
When will he get his opportunity to participate in those sets? And how long will he remain a Sixer?
"I will only make deals that make sense for this organization," Colangelo said. "Hopefully we can make mutual benefit to both the organization and players involved in whichever respective trades between the [February] trade deadline or before the [June] draft, ultimately.
"I'm pretty sure everyone is lined up to criticize whatever deal I make with Nerlens."
* * *
No. 4: Rose expected to return to Knicks' lineup tonight — The New York Knicks have played three of their last four games without starting point guard Derrick Rose, which has had a trickle-down effect on the the lineup. Rose's absence forces Brandon Jennings to start, which leaves the second unit without its point guard has created problems for the offense throughout this recent stretch. Rose should be ready to go tonight against the Indiana Pacers (7:30 ET, NBA LEAGUE PASS), which is just what the Knicks need. Fred Kerber of the New York Post has more:
The Knicks hope a cure-all for much of what ails them lately returns to the lineup Tuesday in Derrick Rose.
"That's the plan," Rose, who has missed two-plus games with back spasms, said Monday after going through a full practice at the Knicks' Tarrytown facility.
"He didn't complain of any back spasms or anything like that. Very hopeful that he'll be able to go [Tuesday]," coach Jeff Hornacek said.
With Rose, the Knicks see expected improvement offensively and defensively. And they envision a possible panacea for their moribund starts as well as a dose of good feeling for the collective psyche after stumbling home with three straight defeats to face the Pacers.
"We hope it makes a difference. We were playing pretty well," Hornacek said. "Unfortunately, right at the beginning of the Phoenix game, Derrick went down with the back spasms. So we were kind of scrambling from that point on. We've got to get back to those winning ways."
…
The Knicks hope their upcoming fortunes also are totally different from recent ways. Their starts have been awful of late. Over their last six games (2-4), they have been outscored in first quarters by an average of 5.7 points, a mark that rises to 8.5 in the four defeats. Rose's absence has a trickle-down effect. Brandon Jennings starts, but then the second unit is weakened.
"Brandon with that second group really runs, so we lose a little bit of that," Hornacek said. "The first group is a team that sets it up more in the half-court offense, which is more conducive to Derrick and his abilities in the half-court to get to the basket and create plays."
And defensively, the Knicks have been taking early hits. In four of the last six games, they have trailed by double-digits in the first quarter so they seek to rectify that.
"Not just in the beginning but throughout the entire game. That effort has to be there where if we're having a hard time scoring they got to have a hard time scoring," Rose said. "It all starts with communication, especially on the defensive end."
So the Knicks (14-13), count on Rose to lead them back to what it was like at four games over .500.
"Obviously, he's very important for us. Just to have another guy that can attack and create for others and be the aggressor. Kind of take the pressure off Melo [Carmelo Anthony] and myself," Kristaps Porzingis said. "Yes, we need him back as soon as possible, but we want to make sure he's healthy."
* * *
SOME RANDOM HEADLINES: Kevin Love has knee stiffness and won't play tonight against the Milwaukee Bucks … Dallas Cowboys owner Jerry Jones says he admires Dallas Mavericks owner Mark Cuban … Was Arron Afflalo slow to enter a game the other night? … Houston Rockets big man Clint Capela could be out several weeks with a leg injury … Damian Lillard gave back in a big way to his high school in California … Do you have Blake Griffin and Nerlens Noel in fantasy basketball? Here's what to do while they mend/find playing time … Ron Baker of the New York Knicks has a game that is very similar to that of his coach, Jeff Hornacek …