Shootaround (April 7) -- Russell Westbrook's hot streak may help his MVP chances
Plus, Brandon Jennings opens up on what went wrong and more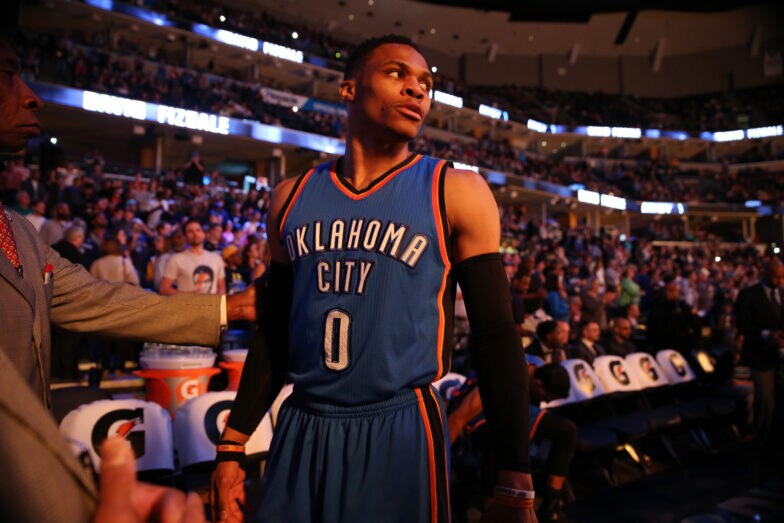 No. 1: Westbrook's run bolstering MVP chase? — The story of the 2016-17 season cannot be written without the triple-double exploits of Oklahoma City Thunder guard Russell Westbrook. Over the last two weeks, Westbrook has been on a tear both in terms of triple-doubles and in overall stats that could be helping his case to win Kia MVP. As the Thunder visit the Phoenix Suns tonight (10:30 ET, NBA TV), Erik Horne of The Oklahoman reflects on Westbrook's play of late:
From converting opposing coaches and players, to the attention of the triple-double chase, Westbrook's work over the last two weeks might give him last word in the MVP race.
It would be presumptuous to think voters would only factor in Westbrook's last 12 days when making their selection. But when the league sent out its voting information Monday — with a deadline of April 14, two days after the last day of the regular season — Westbrook's name had come down heavy on the national conscious after rallies in Dallas and Orlando on March 27 and 29.
…
Win or lose, fans get a taste of history when Westbrook comes to town. Lucky onlookers in Phoenix could see No. 42 and the triple-double average clinched Friday. Both marks will probably come after the first MVP chants of the night, a la in Brooklyn when Westbrook stepped to the free throw line in the first quarter.
"There were a lot of people here to see that," a smiling Westbrook said about getting a triple double in Memphis, one he missed by a single rebound. "It happens like that."
Beyond the triple double, in the last two weeks Westbrook has continued to build the foundation of his MVP case through assassin-like efficiency in the final five minutes of five-point games, also known as "clutch" time.
The Thunder is 3-1 in such games in the last 12 days, with Westbrook shooting 52.2 percent from the field, 50 percent from 3 and 87.5 percent from the free throw line. In those 17 minutes in four games, he's committed just one turnover while leading the NBA in field goals made (12) and attempted (25).
As a result, the last two weeks have strengthened Westbrook's already stout clutch numbers. He's first in the NBA in clutch points, field goals and attempts, fifth in free throws made and attempted.
More importantly, the Thunder has maintained the fifth-best winning percentage in clutch games this season (.615) and is tied for fourth in clutch wins (24).
* * *
No. 2: Jennings: Anthony trade talks 'took a toll' on Knicks — On Dec. 22, the New York Knicks were 16-13 and in good position to make a run for a playoff spot in the Eastern Conference. Just a few weeks later (Jan. 6 to be exact), they were 16-19 and never seriously contended for the postseason again. According to former Knicks guard Brandon Jennings — who was waived earlier this season and signed with the Washington Wizards — the talk of Carmelo Anthony being dealt fractured those playoff hopes. Ian Begley of ESPN.com has more:
If you're looking for reasons why the New York Knicks performed so far below expectations this season, there are plenty to choose from. The roster didn't fit well, they never figured out how to defend as a unit and players never got comfortable running the triangle portions of Jeff Hornacek's offense.
"We were trying to learn an offense that guys didn't really know," ex-Knick Brandon Jennings said Thursday night, after his Wizards handed the Knicks their 49th loss of the season.
Jennings also offered another interesting theory as to why this Knicks team fell so far short of its goals this season: the Carmelo Anthony trade rumors fueled by Phil Jackson in late January and February.
"It definitely took a toll, I think, on the team. Because it wasn't even about basketball anymore, it was more about what was going on with Melo," Jennings said, adding that it was one of the wildest situations he has been in during his eight seasons in the league.
Jennings said it was "cool" playing with Anthony, but noted that Anthony had "a lot of pressure on him dealing with stuff with Phil."
…
"I think it was just a roller coaster, an emotional roller coaster for him this year with everything he had to deal with, which isn't fair," Jennings said. "For a player to wake up every day and you're hearing trade rumors and you might be gone and this and that. It was like a two-week span where everybody was hitting your phone, (reading reports) about Melo leaving."
* * *
No. 3: Jazz fan looking to fund campaign to keep Hayward — The Utah Jazz and their fans have watched as Gordon Hayward has grown from an enticing lottery pick in the 2010 Draft to an All-Star this season. Those same factions are also attempting to read whatever tea leaves they may find about Hayward's future as a free agent this summer. As Brennan Smith of The Salt Lake Tribune reports, one fan is taking it upon himself to help convince Hayward to stay put:
Heber City's Garrett Jones put up a GoFundMe campaign Tuesday to raise $5,000 for a billboard featuring a photo of the Jazz star that would read "Stayward."
"I just wanted to give this passionate fan base a place where we could all come together and say, 'I care about the players on this team and am proud to be a Jazz fan,' Jones said in an email interview. "This was just an idea that could show one of our players that we care."
Jones said he's "shocked" how fast the campaign has taken off, rising to $1,400 of the $5,000 goal by 3 p.m. Wednesday, with 145 contributors.
"I'm not foolish enough to think that a billboard is what is going to convince Hayward to make a decision that so deeply impacts his life, family and career," Jones said. "My hope is that it's just seen as symbol for the passion this fan base has."
Hayward has spent his entire six-year career with the Jazz and has posted career-high averages in points (21.8) and rebounds (5.5) en route to his first All-Star selection this season. He'll hit free agency July 1.
…
He said any excess funds from the campaign will be donated to Hayward's Butler teammate Erik Fromm, who is attempting to raise $100,000 for the Leukemia and Lymphoma Society to honor his late father.
Jones he isn't trying to be a distraction for Hayward ahead of the playoffs, but wanted to make a gesture to show Hayward's importance to the Jazz and in the community.
"There aren't many players who are as great as Hayward is, and who fit the Utah culture, as well as Hayward does," he said.
* * *
No. 4: Pacers' George delivers key win — Indiana Pacers star Paul George is well versed in what it takes to get into the playoffs. He proved that once again last night in the Pacers' 104-89 win against the Milwaukee Bucks that moved Indiana back into No. 8 in the Eastern Conference. Gregg Doyel of the Indianapolis Star has more:
This Paul George, binge scoring on some nights and being cruelly, ruthlessly efficient on others — like Thursday night, when he had 23 points, 10 rebounds and four steals in the Pacers' 104-89 blowout of Milwaukee. He was 9-of-14 from the floor, which means: He could have scored about as many points as he wanted.
…
This is A-game Paul, playoff Paul. This Paul George is electric, Pacers veteran C.J. Miles was telling me afterward.
"Like a dimmer switch," Miles was saying, and before he explains it more, let's rewind this conversation a few minutes.
It starts with me asking C.J. Miles why he thinks George started going off a few weeks ago. Miles is nodding, then leaning forward into his chair and throwing a question back at me.
"It's getting close to that time," he says, "isn't it?"
Now I'm nodding, and Miles continues.
"We're getting to that part of the season, and he knows it — back-against-the-wall time," Miles says. "Playoff Paul has come out a little sooner."
…
Sixty-one games into the season, Paul George wasn't fluorescent. He was fine, decent, averaging 21.7 points, 6.1 rebounds and 3.3 assists. He was shooting 43.7 percent from the floor, and 37.6 percent on 3-pointers. On most NBA players, those numbers would look tremendous. Paul George is better than most NBA players. On him, those numbers looked fine. They looked decent.
Then he lifted the switch.
Going into Thursday night, George followed his first 61 games with these numbers in the next 17 games: 28.5 ppg, 7.7 rpg, 3.5 apg. He was shooting 49.6 percent overall, and 42.6 percent on 3-pointers.
But he keeps lifting that switch higher.
…
Three regular-season games left, just three for the Indiana Pacers. They are eighth in the Eastern Conference, and the odds — like the tiebreakers with Milwaukee (sixth in the East), Chicago (seventh) and Miami (ninth) — are not in their favor.
But the Pacers are playing winning basketball, and they go on the road for winnable games against two teams, Orlando and Philadelphia, that were eliminated from the playoffs around Christmas.
A few days ago, the Pacers' postseason outlook was dark, but playoff Paul is here. He has his hand on the dimmer switch, and he is lifting it ever higher.
* * *
SOME RANDOM HEADLINES: Over the last five games, Trevor Ariza has played pretty well at power forward for the Houston Rockets … Speaking of which, here are six power forwards who may be underrated … Denver Nuggets big man Nikola Jokic knows he's got to get better on defense in the offseason … Utah Jazz GM Dennis Lindsay says he has data to support how officiating has hurt his team … The Memphis Grizzlies are in a state of unrest as the playoffs near … Great look back at what made The Palace of Auburn Hills an arena ahead of its time when it was built …