Shootaround (April 22) -- Chris Paul and Russell Westbrook come up big for their teams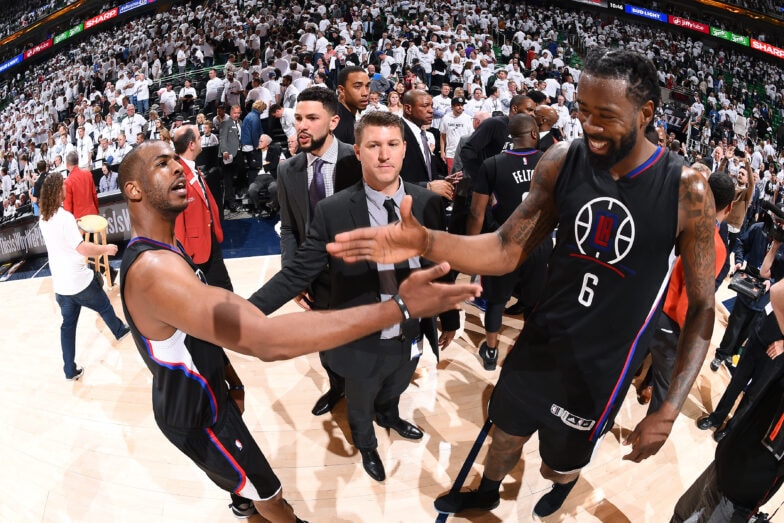 Chris Paul comes up huge | Westbrook shines in Thunder win | Celtics climb back into series | Pacers facing a series of what ifs
No 1: Chris Paul comes up huge — Last night in Salt Lake City, the Jazz hosted their first postseason game in five years (Complete series coverage). And while everyone was fired up for the return of playoff basketball, nobody came up bigger than Chris Paul, the Clippers point guard who stepped up when Blake Griffin went down with a toe injury. As our own Shaun Powell writes, CP3 is putting together a record-setting postseason …
He knows the scorching pain, both the physical and most devastatingly the psychological, from past experience in these situations. Chris Paul and the Clippers don't do injuries very well in the post-season, partly the reason Paul and the Clippers habitually trip in the post-season.
And so, what do you do, if you're Paul, when Blake Griffin once again proves fragile and limps to the locker room for good with bruised right big toe? There's only one option: You play a Game 3 in April like it's a Game 7 in June. You do whatever's needed to avoid putting you and your team in a bind against the Jazz and risk hearing about and dealing with a repeat of playoff failure, easily the scarlet letter on your otherwise Hall-of-a-career.
Therefore, Paul was a man possessed Friday in a vocally-hostile Vivint Smart Home Arena, constantly sucker-punching the wind out of the home team, finally rising in the fourth quarter here in this building like no other playoff villain since — and this is no exaggeration — some guy pushed off on Bryon Russell at the top of the key.
Layups, jumpers, steals, pinpoint passes, it was all there in the clutch from Paul for the Clippers, now up 2-1 in the series after their 111-106 win. It was exhausting yet beautiful how it all unfolded, with Paul scoring 13 points in the final four minutes. And if you thought his energy and lungs were spent by then, think again.
"Yeah!" yelled Paul, as time expired. Then again, only louder: "Yeah!"
The only question now is, can he do it again if needed?
It's a weird situation involving Griffin. He made an innocent-looking move in the second quarter, landed, and then immediately did a wincing bunny-hop, never a good sign. He turned and walked off the court with an injury that sounds harmless, but apparently it isn't.
* * *
No. 2: Westbrook shines in Thunder win — The Thunder/Rockets series shifted to Oklahoma City for Game 3 (Complete series coverage), with the Thunder needing a win to avoid dropping down 3-0. And after a bad fourth quarter in Game 2, when he attempted 18 shots, Russell Westbrook was terrific for all four quarters in Game 3. And even though James Harden had a shot at the buzzer to tie it, as our own Fran Blinebury writes, at least on this night the Westbrook experience was just too much …
When Westbrook threatens to wear out his right shoulder from hoisting 47 field goal attempts, the Thunder are a wild carnival side show that everyone likes to ogle. But when they are more than Russell's Believe It Or Not, OKC can take a 115-113 victory over the Rockets in Game 3 at Chesapeake Energy Arena and give the first round series at least an element of intrigue.
There was Taj Gibson powering his way around the low post, twisting turning and putting in an array of nifty close-in buckets for 20 points. There was Andre Roberson, in the brief moments when he wasn't glued to James Harden's hip, dropping in a pair of 3-pointers out of the corner and relentlessly working to keep the ball alive on the offensive glass.
Victor Oladipo finally did more than run onto the court for the introduction of the starting lineups. Enes Kanter scored. Doug McDermott and Alex Abrines both dropped in a couple of bombs.
As a result, Westbrook didn't need to drop more blue language than the new Smurf movie.
With a handful of teams tanking after the All-Star break and an epidemic of superstar players resting, one night think the league office could have more to worry about, or even appreciate, a player who quite bluntly says that he cares more about winning than his stat line.
* * *
No. 3: Celtics climb back into series — The Chicago Bulls surprised everyone by winning Games 1 and 2 against the top-seeded Boston Celtics in Boston. But with Rajon Rondo out with a broken thumb, the Bulls looked a bit aimless in Game 3 (Complete series coverage). And as our own Steve Aschburner writes, the Celtics took advantage by winning Game 3 and getting back into the series …
There's no equating what happened to Boston Celtics guard Isaiah Thomas' sister Chyna – the 22-year-old was killed in a single-car accident last Saturday near Seattle – with what the Chicago Bulls are going through now with point guard Rajon Rondo, his fractured right thumb and the loss of his services for an indefinite period of time. The former is life and death, big-picture heartache that might seize up on Thomas, his family or his friends when they least expect it for years to come.
Thomas' ability to play in each of the Celtics' three games against Chicago since the tragic blow is some mash-up of professionalism, hardwood therapy, obligation to the living and a way of honoring his younger sibling. But there's no denying it has put Thomas, who squeezed in a trip home to Washington as the series shifted from Boston, through an emotional spin cycle.
His teammates and coaches have grappled with their own reactions and feelings for him, and there's nothing disrespectful in suggesting it all played some role in Boston falling into an 0-2 hole in the best-of-seven series.
The Bulls are now having their own challenge at the point guard position, which could alter the fate of this series.
For the Bulls and Rondo, losing the feisty playmaker and missing out on an opportunity to continue throttling his former team, respectively, qualify as disappointments. But they're almost entirely of the X&O variety, a fistful of on-court challenges, a really, really bad basketball bounce.
As unforgiving as Rondo's prognosis is – the Bulls have thrown out a marker of "seven to 10 days" to re-evaluate his thumb, an injury through which he played at least a portion of the second half in Game 2 – it's not seen as career-altering the way, say, Derrick Rose's blown knee was in the Bulls' 2012 playoff opener.
* * *
No. 4: Pacers facing a series of what ifs — The Indiana Pacers are down 3-0 to the Cleveland Cavaliers, with game 4 looming large on Sunday (Complete series coverage). And while they understand their season may end on Sunday, the Pacers are also aware that for a few breaks, they might be leading this series, 2-1. As our own Lang Whitaker writes, the Pacers now must put disappointment aside and fight for their season …
In some alternate universe, the Indiana Pacers showed up for practice on Friday morning at their identical yet replicate Bankers Life Fieldhouse, and everything was different. In this other world, the Pacers came to work this morning sitting on an improbable 2-1 series lead over the Cleveland Cavaliers after a C.J. Miles buzzer-beater at the end of Game 1 found nothing but net, and after the Pacers managed to hang on to a 26-point lead at home last night in Game 3.
That idealized world may exist out there somewhere, but it's not the reality here in Indianapolis, where the Pacers woke up this morning to find "HISTORIC COLLAPSE" plastered across the front of the Indianapolis Star. And unless Doc Brown zooms in sometime soon with in his flying DeLorean, these Pacers are facing a harsh truth: With the Cavs holding a 3-0 lead in the series, Game 4 on Sunday might be the end of the season for the Indiana Pacers.
"We could be in the driver's seat in this series," said Pacers forward Paul George, "and that's what's frustrating. We didn't take care of the opportunities that we've had. And we're paying for it right now."
Regrets, they've got a few. Still, the Pacers showed up this morning with a mood that wasn't so much disappointed as it was "pissed off," according to Indiana coach Nate McMillan, "because we allowed that game to get away. We should be. We had control of that game."
* * *
SOME RANDOM HEADLINES: The Indiana Pacers are going to make a bid for the 2021 All-Star Game … The Sacramento Kings have added a front office executive … Luol Deng would like to play the 4 more often if he stays with the Lakers … Rajon Rondo said he definitely wasn't trying to trip Jae Crowder from his seat on the bench last night.