Mike D'Antoni says Carmelo Anthony should be 'a lot better fit' with Houston Rockets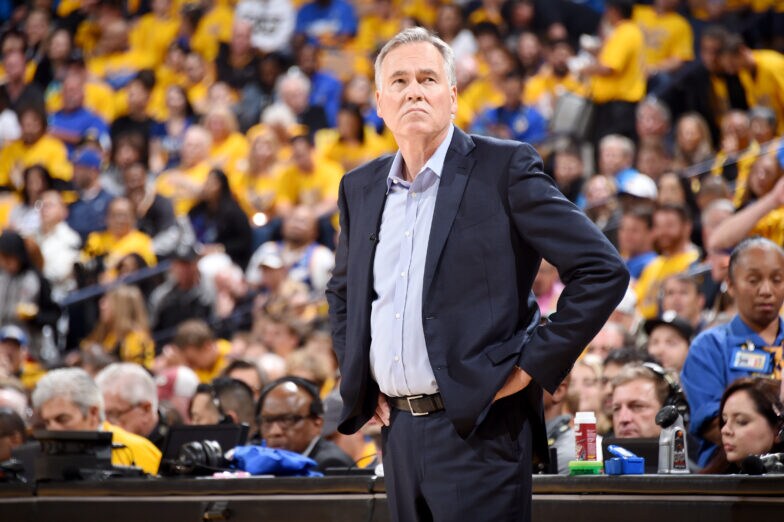 The Houston Rockets and Carmelo Anthony are pairing up for the 2018-19 season in hopes of reaching The Finals. In the course of that new union, Anthony will renew an old relationship as he will be coached by Mike D'Antoni next season. D'Antoni coached Anthony for 27 regular-season games and four playoff games during the 2011-12 season, when Anthony went from the Denver Nuggets to the New York Knicks in a blockbuster swap.
The D'Antoni-Anthony pairing was short-lived overall, though, as D'Antoni and the Knicks parted ways after an 18-24 start to the 2012-13 season. At the time, there was talk of D'Antoni losing touch with the locker room and clashing with Anthony over the style of play the Knicks used.
Now, as D'Antoni and Anthony begin a new chapter in their relationship, D'Antoni is envisioning the best for himself, Anthony and the Rockets at large. In an interview with USA Today's Sam Amick, D'Antoni gave his thoughts on Anthony's addition, the future for the team and more:
Q: You've talked before about how it's water under the bridge between you and 'Melo, but it's a different thing when you're working together again. So what's your perspective here?

A: "Well, at different points of people's careers or lives or circumstances, things are different. … In New York, when they gave away half the team (to Denver in the February 2011 trade that brought Anthony to the Knicks) and everybody expected us to win a championship, it really wasn't realistic. It put a lot of pressure on everybody, and it kind of burst the pipes. I think this is totally different. We've got a team that is a whole bunch of veterans that really, we've got one thing in mind, and that's to win a championship, and we have the possibility. We never had a blow-up before, so it's not he wanted to play a certain way and I kind of wanted to coach another way.

"Back then, there wasn't even analytics. I was going by my gut, and he was going by (his) gut, and it's just, you know, styles clash. And I think now, things have changed and everybody is playing the same way. I think it's a lot better fit and I think we have a really good chance to be really good."

Q: How do you see him fitting in?

A: "The style that we want to play, and we go through that process, it kind of sorts itself out. It's like USA Basketball. If you're committed to doing it, and committed to, 'OK, this is how we're playing, and then when it's your turn it's your turn, but if it isn't then we're still within these guidelines.' Then the more talent you can have, the better the guys are, the better the team is going to be. Look at Golden State, how they had all those guys and you fit in (Kevin) Durant, I mean if you are committed to a certain style, and everybody is committed to the team, it works itself out. …

…

Q: You mentioned Team USA, and his role on the national team has always been the thing people pointed to when they debated the best version of 'Melo. I know he might not like that narrative, but there's obviously some truth there.*

A: "Yeah, and again, it's all relative. And I don't know how it's all going to work out. We've got eight or nine players that fit in, pieces that we're going to try to win a championship (with). I can't tell you today how that's going to look. But again, if we have everybody on board, pulling in the same direction, it'll be better than what we had."
The 34-year-old Anthony joins a team led by reigning Kia MVP James Harden and star point guard Chris Paul. The Rockets hope the addition of Anthony will help them contend for their first title since 1995. They lost to the Golden State Warriors in the Western Conference finals last season.
Anthony will get a fresh start in Houston after spending last season with the Thunder, with whom he averaged a career-low 16.2 points in 78 games. The third overall pick in the 2003 draft has averaged 24.1 points, 6.5 rebounds and 3 assists in a 15-year career that also included stints with the Denver Nuggets and the New York Knicks.
The 6-foot-8 Anthony is a 10-time All-Star and has won three gold medals in the Olympics. He is USA Basketball's all-time leading scorer and rebounder.
Anthony has averaged more than 20 points every year of his career except last season and led the NBA in scoring in 2012-13, when he averaged 28.7 points a game.
Information from The Associated Press was used in this report.