LOS ANGELES — Sundown in Compton, on a busy boulevard, where the beat is thumping from cars passing by, windows open. It's typical for these streets, basically, especially after 6 p.m. Working class folks are unwinding and headed home, except for those at M&M Star Car Wash and Detailing, where a dozen weary employees have just enough energy left to shoot a collective eye-roll in the direction of their otherwise beloved boss.
They just overheard his brief phone conversation with someone running late: "Man, we're 'bout to close, but bring it real quick," a common response from a businessman who kept the cash register and the customer happy. Whenever the workers are ready to punch the clock there's always someone driving in trying to beat it, and that's when Mark Leonard — they called him by his nickname, "Mick" — tells his staff: "We'll do one more."
And they answer: "Mick, you always say one more."
As the small and soiled pickup truck arrived and received a scrubbing, Leonard and his wife, Jacquelyne, who worked in the back office handling the books, stood on the lot at 413 North Wilmington, ready to lock up for the night, yet still caught up in the afterglow from the day before. That's when she told him he was going to be a father again; each had children from previous relationships but this was their first together as a couple after trying for years. He was thrilled. That night, he broke the news to relatives and then fetched her favorite fruits from the grocery. He wanted her to eat healthy the next nine months.
"With the kids, he was a teddy bear," she said, "and with me, he gave me everything."
One of Leonard's other children, a son, would be playing a high school basketball tournament in about an hour and Leonard feared the evening rush on the 405 Freeway.
And just then: Someone else appeared on the lot and approached quickly, not by car, but by footstep, and with a strut.
"Who in the hell?" Jacquelyne remembers saying.
Mark Leonard came from the South Side of Chicago, then was raised and lived most of his entire adult life in and around Compton. People with that geographical bloodline usually carry a gene for detecting danger. His sixth sense did not betray him this day; indeed, the man reached for a handgun under his shirt and aimed.
The first shot sent Leonard stumbling and the employees scattering. He told his wife to run and pushed her toward the office. She did not fall; she stayed steady on her feet, actually, and did as she was told. Her husband was right behind her. Until he wasn't.
"I ran into the building and when I realized he wasn't with me, I ran back and stood at the window and watched, and the guy was standing over him and shooting him," she says.
When the pistol emptied, the gunman turned to her, then turned away and disappeared down the block. At 43, Mark Leonard was a husky man, 6-foot-3 and pushing 300 pounds by his wife's estimation, a body built from playing football at nearby Banning High School and layered by her tacos. But he couldn't survive multiple gunshot wounds, not that the punctures discouraged a shaken wife from reacting reflexively after rushing out the building. She collapsed on him, tears mixing with blood, then begged him.
"Get up," she said. "You got to get up."
And:
"What about the baby?"
* * *
There are over 18,000 murder cases cramming the digital library at the Los Angeles County Sheriff's Department and roughly half are unsolved. When a case stalls, it sits until detectives receive what's known in investigative parlance as "the magic phone call," meaning, a tipster who helps blow the dust off that particular whodunit. But that could be weeks, months, years, even decades — if ever.
In Compton, glorified as the birthplace of gangsta rap, a South-Central township of 100,000 proud residents who grapple with an exhausting history of crime and gang violence, the unsolved rate is among California's highest. Recent studies show 59% of killers get away with murder. Compton is home to Adams Mortuary, believed to be the country's only drive-thru funeral home, with a bullet-proof glass partition, which became necessary because a rise in cemetery shootouts made gang members skittish about paying their respects.
One particular case is now 11 years old and stayed untouched until this summer. There is renewed interest and buzz in the Mark Leonard case and partly because the son whose high school game the father never made on Jan. 18, 2008 is a two-time NBA Finals MVP and now with the LA Clippers.
In a quirky twist, Kawhi Leonard could be a factor in his father's case all because he became superb at basketball, and as a free agent last summer signed with one of L.A.'s hometown teams, citing a desire to be closer to friends and family as a reason.
"Just to be able to have them drive to the games and watch me play and see them afterward is going to be great," he said the day he was officially introduced as a Clipper.
Kawhi was 16 and a high school junior when Mark Leonard was slain and seemingly not on the path to beating LeBron James and Steph Curry for championships back then; all he had in common with his current self was his now-trademark cornrows. Although Kawhi was a late-rising star among Southern California prep players, the chatter he generated was strictly regional and he eventually signed with San Diego State, not one of the nation's basketball powerhouse schools.
But now, as an NBA superstar, savior of the Clippers and future Hall of Famer?
"Kawhi's popularity can help," says Shaun McCarthy, a detective in the Unsolved Unit. "He wasn't famous when his dad died. But even some of the baddest criminals may be sympathetic to Kawhi, who is beginning to do good things in the community. Maybe someone out there says, `I didn't know that was Kawhi's dad' and tells us something. This happens often in high profile cases. Look, it's all `what-ifs' and `maybes'. Maybe someone in trouble with the law knows about this murder and may be more willing to provide that now, knowing it will give him consideration in his case. They may benefit by giving up information."
McCarthy said the process of interviewing witnesses and exploring new angles has already begun for other reasons he hesitates to divulge, citing the ongoing nature of the case.
"I've decided, `Let's investigate these things,'" he said. "We can either put it to bed or maybe solve these things. It's a long shot, but I'm optimistic we can identify some people."
Mark made an honest living. He built this car wash from the ground up in 2006 and took pride in it. He paved the lot with his bare hands. … Business was booming. … The community came out and supported us. It was a beautiful thing."

Jacquelyne Leonard, on her husband, Mark
Mark Leonard's murder was not caused by attempted robbery. When victims are shot multiple times — 10 in this case — that reflects a revenge hit. Investigators are retracing the curious events in the hours leading up to the shooting.
Mark Leonard was paid a visit that morning by someone authorities identified and described as a local gang member with a criminal history for interstate drug transportation, seeking his advice about a recent botched deal with another gang. The two knew each other, although Jacquelyne Leonard said her husband was not in that business.
"Mark had changed his life totally when I married him because I couldn't live like that," she said. "My mom was a retired judge and my dad was a cop. Mark made an honest living. He built this car wash from the ground up in 2006 and took pride in it. He paved the lot with his bare hands. Put in wide-screen TVs and installed flood lights so we could wash cars at night. Business was booming. We were black-owned. The community came out and supported us. It was a beautiful thing. The customers all knew and liked him because although he was big and intimidating and you couldn't come to him with no BS, he was a nice guy."
McCarthy said: "Mark would've never been in this situation if this guy, who was an associate, hadn't crossed him and used his name."
Hours after that meeting, three other men arrived and spoke to Leonard outside the building. There was a heated discussion that involved shouting, loud enough to bring his wife from the office.
"When I came out and turned the corner, Mark had pushed this (Latino) guy," she said. "Come to find out he was in a gang, and you can't do that. That was a deal breaker from my understanding. Mark went to hit him. I said, 'Mark don't do that.' He didn't hit him and they jumped into the car and left."
… Even some of the baddest criminals may be sympathetic to Kawhi, who is beginning to do good things in the community. Maybe someone out there says, 'I didn't know that was Kawhi's dad' and tells us something. This happens often in high profile cases."

Shaun McCarthy, Los Angeles County Sheriff's Department
The L.A. County Sheriff's Department detective originally assigned to the case was Frank Salerno, now two years retired from the force. Salerno is the son of Frank Sr., a legend in the department for cracking some of L.A.'s most notorious serial killer cases, chief among them the Hillside Strangler, where victims were stashed in the hills surrounding Los Angeles; and the "Night Stalker" Richard Ramirez, who received 13 death sentences for particularly heinous murders.
The Leonard case frustrated Frank Jr., who followed his father into the department and worked in homicide and also the gang unit as a lead detective for 34 years. Getting information at the car wash then proved to be futile.
"You kind of get numb to it and used to it after you do it for a while," he said recently. "This was a typical case we would handle all the time. And the level of cooperation from witnesses was standard for that area. It's very rare when we get to a scene where people want to tell us exactly what happened. It's not like people didn't talk to us here; we think they didn't tell us everything they saw because of fear of gang retaliation. Some cases, people won't even talk, period. You go to a party and everybody was in the bathroom at the time. It's amazing how many people can fit into a bathroom. The standard answer is, 'I was in the bathroom and didn't see anything.' "
That's changing. While Leonard ran errands after the argument, Jacquelyne and the employees noticed a car circling the block multiple times. When Leonard returned, it was business as usual right up until the late customer drove on the lot at closing time. Police believe one of the three men who confronted Leonard earlier that day was the shooter and connected to a Latino gang.
As detectives began reconnecting the dots, they phoned the widow out of the blue; she has lived without closure for more than a decade. A resolution, however challenging that may be, would give her the answers to the whom and the why.
"It would be great," she said. "I have prayed 11 years. My life changed drastically in one night."
* * *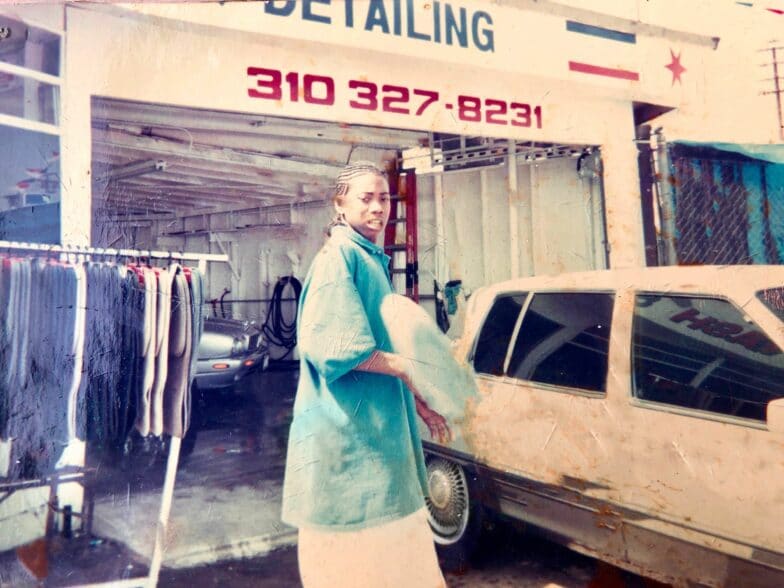 The car wash did much labor by hand, and this is where Mark Leonard helped seed Kawhi's way to NBA stardom, by injecting a work ethic in his son that's perhaps unsurpassed in the league. Kawhi lived with his mother, Kim Robertson, in Moreno Valley after his parents split when he was five. But he spent some weekends and parts of his summers in Compton with his father on the job, where he washed cars as a teenager — his hands were unusually large even then — alongside his two half-brothers, Cameron and Marcus, when he didn't have a game.
"Mark told them if they wanted to wear the new tennis shoes, they had to work for them, that he can't keep buying them stuff," Jacquelyne Leonard said. "Kawhi never complained. He was a prankster at times but a very quiet child and a great kid who listened to his father and respected him."
Kawhi was better at football initially; he played tight end at Canyon Springs High School and was already 6-foot-3, bruising and breaking through tacklers. But his love for basketball grew as he blossomed. His father was heartbroken when the son dropped football after his freshman year. Eventually Mark Leonard made peace and helped train him.
By then Kawhi transferred to King High School in Riverside County, and after one practice, the coach at King, Tim Sweeney, called his dad, a legendary prep coach in Riverside, and said: "I've got a kid who's gonna be an NBA All-Star."
Sweeney adds today: "I told other people that same thing, and they all laughed."
Kawhi's jump shot was flat when he arrived at King; however, the instincts that allow him to roam the floor and make snap decisions on both ends were evident then. His basketball IQ soared. Mostly, the wood-chopping energy was already rooted, a byproduct of the example his father set.
"Absolute crazy" is how Sweeney describes it. "To be at the level he is now, you have to have the talent but also the work ethic and mindset that's harder than everybody else's. I can't tell you how many times I'd close the doors to our gym so I can go home and see my family, and when I turn the alarm on, the doors are open again. He was always finding a way to get into the gym to play, even at night when he wasn't supposed to be there."
Sweeney was at dinner when he learned about Kawhi's father. King had just finished a league game that Mark Leonard never made. At Sweeney's request, Marvin Lea, a former King star and Kawhi's AAU coach, opened his home to Kawhi that night and consoled him.
"He really didn't show no emotions about it," Lea said, "and if you didn't know the boy, you wouldn't know what just happened. If you were around him enough, you know he's a little different. Kawhi is a private person, then and now. Kawhi handled it through basketball."
The next night, King played the city high school heavyweight, Dominguez, at UCLA's Pauley Pavilion. Sweeney spoke with Kawhi earlier that day, told him it was his choice to play and would support him if he sat the rest of that season.
"Lo and behold," Sweeney said, "he shows up with his mom, his uncle Dennis Robertson, all the family is there. I told the people running the event not to have a moment of silence. This kid is holding it together barely, I thought, and to do that, we're going to lose him. The idiots didn't listen."
Leonard did remain remarkably composed, scored 17 points in a game King lost, 68-60, but rushed into his mother's arms right after the buzzer and sobbed as he squeezed her. Friends had never seen Kawhi shed tears before.
"He was playing for the love of his father and it was the first time he really felt the pain and the loss," said Sweeney. "His father was just a very hard-working man who came to as many games as he could; living in Compton, that's a good hour and a half drive in traffic away from King. He was always very cordial and respectful. He did a good job helping to raise Kawhi."
He really didn't show no emotions about it, and if you didn't know the boy, you wouldn't know what just happened. If you were around him enough, you know he's a little different. Kawhi is a private person, then and now. Kawhi handled it through basketball."

Marvin Lea, on how Kawhi Leonard reacted after hearing about his father's death
It was apparent to everyone who knew Kawhi that the court became his sanctuary. In his senior year, he went next-level as a player. With a more polished and airy jump shot, combined with blue-collar energy, he averaged 22.6 points with 13.1 rebounds, 3.9 assists and three blocks and was named Player of the Year in California. Along with Tony Snell, now with the Pistons, Leonard led King to a 30-3 record and the state championship over top-ranked Mater Dei.
Thus, the unexpected launch of an NBA superstar began: He played two years at San Diego State, was acquired by the Spurs via a Draft night trade in 2011. He won an NBA championship and Finals MVP there, then repeated the feat last summer with the Raptors. He now has the Clippers — abysmal for much of their existence – looking like a championship favorite for 2019-20.
"When I moved into my current house," says Jacquelyne Leonard, "I was unpacking and found an old Bible. I opened it and Mark had a prayer in it. He had made a list of things he wanted to happen in his life, as I asked him to do. One said, `Watch my boy go to the pros.' If Mark was sitting here right now, he'd say, `I told y'all.' Unfortunately he's not around to see this."
* * *
The car wash once run by Mark Leonard has twice changed hands and operates today as HB Tires and Wheels. Business is brisk because this is a car city. The signage is different. The old employees are long gone and rusty cars fill the lot. There are, however, three holes near the bottom of the facade, right by the front door, which the manager says were made by bullets. If only walls could talk.
He says every once in a while, an old customer will mention the shooting and excitedly ask him if he knew whose dad it was, and the manager nods respectfully before Kawhi Leonard's name is mentioned.
Jacquelyne Leonard kept the business open after the murder, but that spring she was shot in a drive-by from a truck, almost in the exact same spot in the parking lot. That, too, became an unresolved case, and detectives aren't sure if the shootings were related.
She said she nearly lost her legs: "The doctors told me they were going to amputate, they were so damaged. I had eight surgeries just to help me walk again."
She was also three months pregnant, but soon delivered Mark Leonard's last child, and some of Mark's old high school football teammates and employees helped raise the boy. Today, a decade later, mother and son are healthy and happy, she reports. Zion Mark Anthony Leonard is 11 and plays basketball. Not as reserved as his famous half-brother, he is asking his mother what happened to his father.
Three months ago Kawhi Leonard held his Clippers' jersey for the first time, at a team news conference where they formally introduced him and Paul George, another star making a return to Los Angeles-area roots. True to his nature, Leonard was mostly reserved at the ceremony, even on a day made for enthusiasm.
Seizing the chance to crown themselves a team for all of Los Angeles, the Clippers held the event at Green Meadows Recreation Center in South L.A., their way of giving light to a community that rarely if ever sees rich and famous athletes. It was perhaps only a coincidence that, just a few stoplights away, on the other side of the 105 Freeway, on a lot that once was a car wash, is where Leonard first learned the value of hard work. Perhaps soon, he'll learn who stole the life of the man who taught him that.
* * *
Shaun Powell has covered the NBA for more than 25 years. You can e-mail him here , find his archive here and follow him on Twitter .
The views on this page do not necessarily reflect the views of the NBA, its clubs or Turner Broadcasting.