2019 FIBA Basketball World Cup
Live coverage: USA vs. Canada from Australia
From NBA Twitter and media reports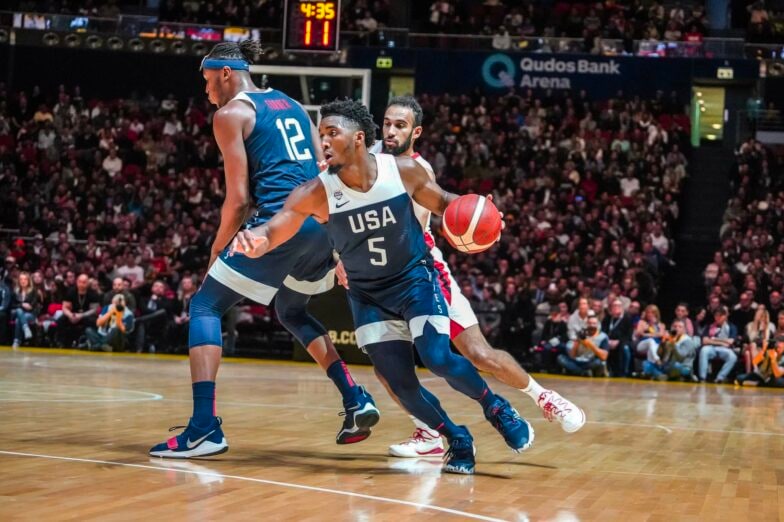 With its 12-member roster finalized and one week until it opens preliminary group play at the 2019 FIBA World Cup in China, the USA Men's World Cup Team has another opportunity to continue to fine-tune its Xs and Os. Its final exhibition game wrapped up this morning as USA defeated Canada, 84-68 at Qudos Bank Arena in Sydney, Australia.
The U.S. team had little problem against Canada on Monday, using strong performances from Jaylen Brown (19 points) and Donovan Mitchell (12 points) to build a 20-9 first-quarter lead and 46-31 advantage by halftime. Mitchell delighted the crowd at Qudos Bank Arena in Sydney, Australia with a buzzer-beating alley-oop slam to close out the first half.
* Live box score: USA vs. Canada
In the second half, Brown got hot and helped the United States build a sizable lead on Canada with a variety of jump shots and driving dunks. Center Khem Birch and forward Kyle Wiltjer were the bright spots for Canada, with Birch logging 13 points and six rebounds and Wiltjer adding 21 points off the bench.
In exhibition play, the USA defeated Spain 90-81 on Aug. 16 in Anaheim, California, and then at Marvel Stadium in Melbourne, beat Australia 102-86 on Aug. 22 before falling to the host team 98-94 on Aug. 24. That last loss was one of the more shocking in recent USA Basketball history as it marked the first time in 13 years the U.S. lost a major international tournament or exhibition game.
American basketball fans most likely recognized Canada's Khem Birch (Orlando Magic), Oshae Brissett (Toronto Raptors), Andrew Nembhard (University of Florida) and Duane Notice (G-League Raptors 905), because they play in the United States, but the eight other Canadians that rounded out the roster were experienced, international professionals as well.
A USA national squad last faced Canada in an exhibition game prior to the 2008 Beijing Olympic Gamess, a contest the Americans won 120-65 on July 25 in Las Vegas.
After a rest day on Aug. 27 and practice on Aug. 28, the USA will depart Sydney for Shanghai, China, where it will first play Czech Republic at 8:30 a.m. EDT on Sept. 1, followed by Turkey at 8:30 a.m. on Sept. 3 and Japan at 8:30 a.m. EDT on Sept. 5.
Following three preliminary round games for each team, the top two teams from each group advance to second round groups and will play two more games. The top two teams from each of the four second round groups earn a berth into the quarterfinals on Sept. 10 or 11.
Here's the buzz from the game as it took place early Monday morning on the East coast.
Twitter collection of latest from USA-Canada exhibition game: