Underappreciated? LeBron James calls Damian Lillard 'a superstar in our league'
From NBA Twitter and media reports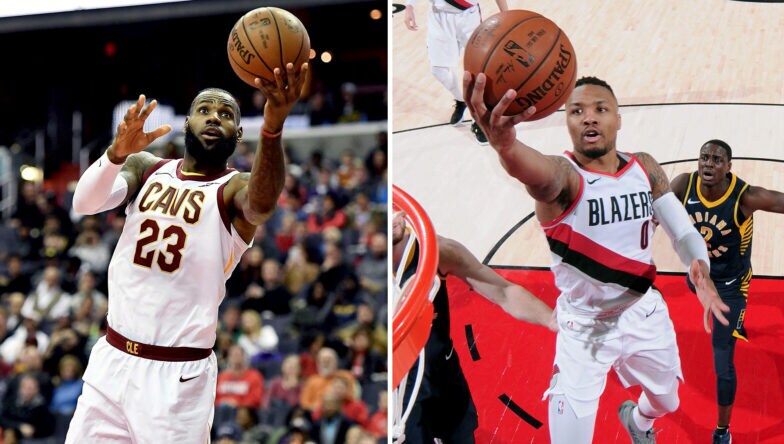 Prior to Thursday night's marquee matchup between the Cleveland Cavaliers and Portland Trail Blazers (On NBA League Pass, 10 ET), LeBron James had high praise for Damian Lillard.
"That guy's a superstar in our league and he's showing it right now, James told reporters after Thursday's shootaround. "He's leading the team obviously where I don't think a lot of people thought they'd be at the beginning of the season. But him as the leader of the team he has them in position to fight in the West."
How hot is Lillard right now? He's averaged 32.5 points and 6.4 assists during Portland's 10-game winning streak. Since Feb. 1, Lillard ranks second with 31.6 points per game, behind only Anthony Davis (32.6).
Asked if Lillard is underappreciated or underestimated, James strongly disgreed but recognized Lillard's penchant for using any sign of disrespect as motivation.
"No, I don't think so. I don't think so, but he definitely uses that. I like how he uses that. If you're a true basketball [mind] — there's not a lot of true basketball minds and people that understand the game — but for me, I understand it. I know," James said. Give me Damian Lillard. I'll show you how appreciated he'll be."
"Give me Damian Lillard. I'll show you how appreciated he'll be."@KingJames on if Damian Lillard is appreciated enough 👀 (Via @cavs) pic.twitter.com/q5lhy0vMXp

— NBA on TNT (@NBAonTNT) March 15, 2018
The Blazers have won four consecutive home games against the Cavs. In those four games, Portland has averaged 104.0 points while holding the Cavs to 85.0.