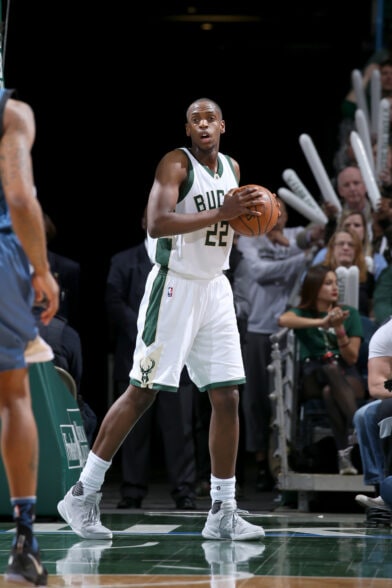 Khris Middleton had been looking forward to this night for months. Even before he knew specifically which night it would be, against whom and where, the Milwaukee Bucks' wing player knew he someday would get back on the court after surgery to repair a brutal hamstring tear.
That he could salvage some portion of this season was going to be one of Milddleton's 2016-17 season highlights.
So when Middleton subbed in for Giannis Antetokounmpo at 7:27 of the first quarter against Miami on Feb. 8, he officially was back. Checking out the other Milwaukee players to his right, to his left — Jabari Parker, Greg Monroe, Tony Snell, Matthew Dellavedova — he exhaled and just played. Played for the first time since he tore the hamstring in his left thigh completely away from the bone in a pick-up game back in September.
It was a severe enough injury that some Bucks insiders wondered if Middleton, the team's leading scorer (18.2 ppg) and 3-point threat (39.6 percent) in 2015-16, would even make it back this season. Middleton himself had toyed with the idea of March, or maybe a bit earlier after the All-Star break. So here he was beating that timetable by more than two full weeks.
"Once I realized there was a chance for me to come back, I set that as my goal," he said. "I wanted to be smart with it, first off, but I was definitely excited when I was working toward it."
By halftime, Middleton had taken only one shot against the Heat and missed it. Didn't matter. All that rehab, all the rebuilding of his game, one fundamental stacked atop another, was going to pay off. The Bucks believed it, Middleton knew it.
He was sitting on the sidelines midway through the third quarter when their world, so recently righted, went topsy-turvy again. Parker attacked the rim and crumpled in a heap. His left ACL, surgically repaired once after the Bucks forward ruptured it in December 2015, had blown again.
Parker was helped off the court and literally, a second later, Middleton subbed back in for a vastly different team. It was as if a baton being passed in the Bucks' 51st game had been passed — and dropped.
"A tough night," Middleton recalled. "I was so excited to play with everybody, one through 15. Then Jabari goes down with the injury he had? It was tough."
If ever a team was going to have an excuse for losing its oomph and tipping into a death spiral, this was it. Visibly rattled even before the full extent of Parker's injury was revealed by an MRI exam the next day, the Bucks lost that night. They lost again two nights later, falling to 11th place in the East at 22-30.
And then … the clouds parted. The Bucks began the best stretch of their season, a 15-6 run through Sunday built around a six-game winning streak in early March followed by a 4-2 trip through the West.
"Just the character of those guys in the locker room," coach Jason Kidd said Sunday before facing Chicago at the BMO Harris Bradley Center. "The mentality of 'the next guy up.' Understanding that we were still in it, as far as the playoffs, and that was one of our goals. And I think the biggest thing was becoming a team. Sometimes as a coach, you want them to come together in training camp or at the start of the year. Sometimes the process takes a little longer.
"There's no better time to become a team than the month of March and playing your best basketball going into the playoffs."
The Bucks' loss to the Bulls Sunday was a misstep, their most toothless performance in weeks. And Middleton was down there with them, missing 11 of his 17 shots.
Most of his impact has been positive, on the floor and in the seams. After making his initial appearances in reserve, Middleton has started 15 times, with the Bucks going 12-3. In his starts, he is averaging 16.1 points, 4.1 rebounds and 3.4 assists, while hitting 41 percent on 3-pointers.
He hasn't exactly replaced Parker's production — Parker was averaging 20.1 points, 6.2 rebounds and 2.8 assists — but he's a greater threat from distance, opening space for Antetokounmpo, Monroe and the others. And Middleton's offensive/defensive ratings as a starter, per NBA.com/Stats, are 108.5/103.5 for a team that was 107/106.6 without him.
"One of the best assets you can have is availability," Bucks GM John Hammond said. "To have Khris available to us has made us a different team."
Middleton stayed close to the team through his rehab, did the physical stuff on the side while taking part in film sessions and other meetings. That allowed him to ramp-up quickly upon return — and to look forward to an extended season, should Milwaukee snag a playoff berth. They face a pivotal back-to-back at Charlotte Tuesday (7 p.m. ET, NBA LEAGUE PASS) and at Boston Wednesday (7:30 ET, NBA LEAGUE PASS).
"Me being around made for a smooth transition," said Middleton, who said his left leg feels fine. Missing the first 50 games means the rest of him is fresh, too. "It helped me out and I think my teammates."
Said Kidd: "That just shows his ability, how he's underrated by most media. He can play at a high level because of high basketball IQ, and he fits with what we're trying to achieve. You could see that last year. Unfortunately the injury showed how much we missed him throughout [this] season as our closer, and also just the fabric of calming everybody down on the court, kind of like that security blanket."
The Bucks' bottom line is that they are 15-8 since Middleton returned. Which means they are 15-8 since Parker went down. Their obvious preference would be "c) both," but that will have to wait. This beats the heck out of "d) neither."
"If we didn't have both of them, it would be a bigger problem," Monroe said. "To have Khris back with Jabari, we'd be even more scarier right now."
Steve Aschburner has written about the NBA since 1980. You can e-mail him here, find his archive here and follow him on Twitter.
The views on this page do not necessarily reflect the views of the NBA, its clubs or Turner Broadcasting.