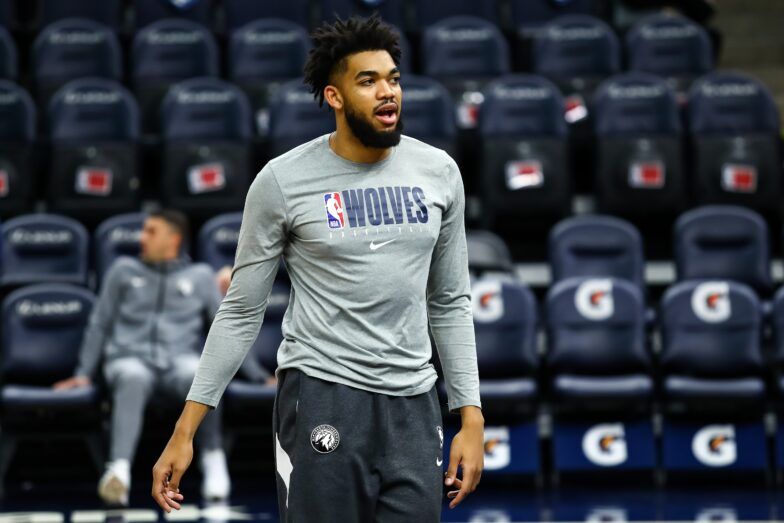 The Minnesota Timberwolves struggled to find energy on Wednesday night against Atlanta, suffering their 13th straight loss. That defeat came hours after the Wolves officially dealt their best defensive player, Robert Covington, to the Houston Rockets.
A somewhat promising 5-3 start has since given way to two separate losing streaks of 11 games or more and has Minnesota a mere four games ahead of Golden State for the Western Conference's worst record. While the trade brought Malik Beasley, Juan Hernangomez and Jarred Vanderbilt (from Denver) and Evan Turner (from Atlanta), it may take a while for those new faces to impact the Wolves.
For Wolves star Karl-Anthony Towns, losing again (and seeing his close friend in Covington dealt) has made for rough times, writes Chris Hine of the Star Tribune.
The Timberwolves traded Karl-Anthony Towns' "best friend" on the team Tuesday in Robert Covington. On Towns' reaction, what that could mean going forward, and his frustration as this latest losing streak builds to 13 games: https://t.co/QT4l51Ksjk

— Chris Hine (@ChristopherHine) February 6, 2020
"It was difficult," Towns said, per Hines. "… I've been part of so much change here in Minnesota, I'm kind of desensitized to it. Obviously, there's ones that hurt a little bit more. Zach [LaVine] hurt a lot, Cov is up there. So the last 24 hours, I haven't slept much. I think I fell asleep [Tuesday] at like 5:30, 6 a.m.
"I've been losing for a long time. I'm not trying to do that anymore. Every possession means a lot. You obviously see my patience running low with a lot of things, so there's no excuses, we've got to get it done."
Besides their losing skid, the Wolves were also reeling from the loss of locker-room personalities. Aside from Covington and Jordan Bell, the Wolves also parted ways with Shabazz Napier, Keita Bates-Diop and Noah Vonleh in the trade.
"Those guys are big parts of the locker room and for us to lose all of them, obviously it changes a lot," Towns said. "It changes the vibe up here because we're missing four amazing guys first off, and four guys that we all count on for energy."
Against the Hawks, the Wolves never led and struggled to recover from an early 14-4 run at the end of the first quarter that had them playing catch up the rest of the way. Atlanta led by as many as 21 points. They certainly missed Covington, one of their better defenders since arriving last season.
Towns completed a three-point play with 1:25 remaining to cut Atlanta's lead to seven and Okogie's dunk with 48.4 to play made it 122-117. Vince Carter hit a 3-pointer, Okogie missed a 3, and the Hawks shot free throws the rest of the way.
Overall, Towns tried to be professional about Covington's departure and take a longer view of things.
"You can't take it personal," Towns said, per the Star Tribune. "Can't think of it any other way. It's a business. I hope this is a great learning experience for [the young players] because this is what it is. You could be very close and you could be with someone you cherish a lot and they could be gone the next day."
Information from The Associated Press was used in this report.