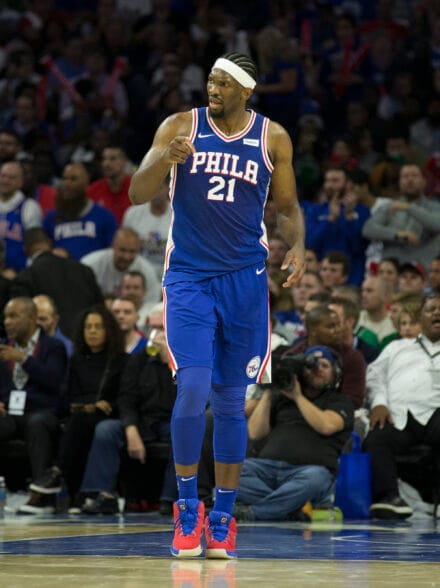 When this season got started, talk of minutes restrictions regarding Philadelphia 76ers center Joel Embiid became a sore spot for both he and the team. As time has passed, both parties have found a way to better communicate playing time issues and Embiid is off to a solid start to 2017-18. However, it appears the Sixers aren't about to be reckless with Embiid's workload and are giving him some rest.
Embiid will not play in tomorrow night's game against the Utah Jazz (9 ET, NBA League Pass) due to "load management." Keith Pompey of the Philadelphia Inquirer has more:
Joel Embiid is out for Tuesday's game The team is calling it load management and said he would be available for Thursday's game in Sacramento.

…

Embiid was a limited participant in Monday's practice.

"He (Embiid) looked OK, but trying to grow his base and handle the practice that we just had accordingly where it sort of spread out amongst a few people, some for Joel's concerns and some because we don't want to wear Ben Simmons down," coach Brett Simmons said afterwards.

Simmons did practice, but got a breather when the media was in watching the team going full court.

As for Embiid, Brown was limited in what he could say about his time off.

"I follow the instruction of our medical people and there is completely a thought-out plan why this plan has been recommended," Brown said. "If it requires more information, they will be the ones to explain why they decided to make this recommendation."
That means Embiid will miss out on facing off against one of the best defensive centers in the NBA, the Jazz's Rudy Gobert. To date, Embiid is one of four players in the league averaging 20 or more points and 10 or more rebounds a game (Karl-Anthony Towns, DeMarcus Cousins and Anthony Davis are the others).