Andre Iguodala in a Houston Rockets' uniform? It almost happened for Golden State Warriors' swingman last summer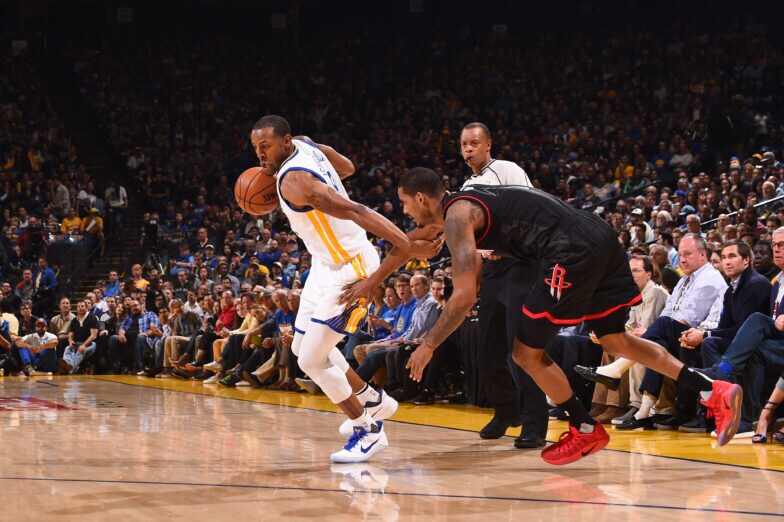 Andre Iguodala is a former Finals MVP and a valued reserve for the Warriors who is often cited for his defense and overall court smarts. And he was almost a member of the Rockets last summer; Iguodala was an unrestricted free agent and met with the Rockets, who will face the Warriors in the Western Conference Finals starting Monday.
One of the reasons for Houston's interest was to steal him from Golden State and then use him against the Warriors in a potential postseason matchup. It didn't go according to plan, however, and Iguodala is back with the club where he has gained his biggest respect.
Ron Kroichick of the San Francisco Chronicle spoke with Iguodala about last summer and the big decision he faced:
Houston made the biggest push and came close to signing Iguodala, according to an ESPN.com story in September. The Rockets didn't have adequate salary-cap space (they could offer only $32 million over four years), but they convinced Iguodala he would be a great fit — and general manager Daryl Morey impressed him with several lucrative sign-and-trade possibilities, according to the story.

It reached the point where Iguodala subsequently met with Warriors general manager Bob Myers and head coach Steve Kerr, planning to personally say goodbye. Myers instead persuaded owner Joe Lacob to increase the team's offer, and before long Iguodala was back in the fold.

He played coy Friday when asked how close he came to bolting to the Rockets.

"I don't remember (any) of that from last summer," Iguodala said. "At the end of the day, it's all business. I don't know, man. I can't get too deep. … I'm just really excited to play basketball in America, and to be free and all that."

"A lot of teams want Andre for what he brings — his intensity, his smarts, his quick hands, his athleticism," Durant said. "Everybody wants that if they're trying to build a championship team. I'm glad he stuck around."
* * *