Family, basketball go hand in hand for rising star Giannis Antetokounmpo
On-court success forever a reminder to Milwaukee Bucks' standout of lessons departed father taught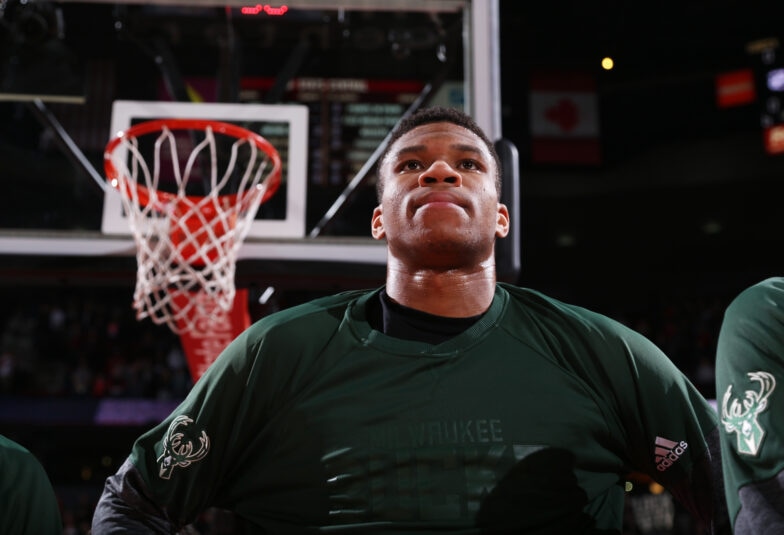 MILWAUKEE — Charles Antetokounmpo was a soccer player, same as his father, who wound up teaching some of his slick footwork to his sons for another sport altogether. He had grown up in Lagos, Nigeria, a contemporary of Hakeem Olajuwon, whose soccer moves became part of a dreamy repertoire that helped Olajuwon earn two NBA championships and eventually a spot in the Naismith Memorial Basketball Hall of Fame.
Charles and his wife, Veronica, moved in 1991 from Lagos to Athens, Greece, as part of a wave of immigrants seeking better lives. They left their son, Francis, with his grandparents, then gave birth to and raised four more boys: Thanasis, Giannis, Kostas and Alexandros.
Times were tough in Sepolia, the neighborhood where the family lived, and as the economy grew worse, Greek citizens looked for somebody to blame. First up, the immigrants. Charles and Veronica struggled to find steady work, which made it tough to put food on the table and tougher still to keep a roof over their heads.
The couple labored where they could, picking oranges, selling beads and purses on street corners, some babysitting for her, random handyman jobs for him.
"He just wanted us to be happy. That's it, that's it, to be honest with you," said Giannis Antetokounmpo, the Milwaukee Bucks' young star. "He never cared about nothing else. No material stuff. I tried to buy my parents a car last year. He told me, 'No, I don't want one.' He never asked for nothing. He was just happy seeing me at All-Star, seeing my older brother [Thanasis] play for the Euro championship, seeing my younger brothers growing up. He was just full of joy."
There was never a day in my life that I called him and he wasn't there for me."

Giannis Antetokounmpo, on his departed father, Charles
Basketball fans want to know more every day about Giannis Antetokounmpo, Milwaukee's lanky, do-everything forward and a trendy pick for this season's Kia Most Valuable Player award.
But Giannis wants you to know about Charles, who died suddenly of a heart attack Sept. 29 at the family home in Milwaukee. He was only 54 years old.
"There was never a day in my life that I called him and he wasn't there for me," said Giannis, 22. "I could be sitting on the couch being lazy and then I'd ask him to get me some food. And he'd always be, 'Yeah. Yeah, I'll do it for you.' Always at the game, never missed a game since the day that he came here. And he was happy. Really happy. For all of the kids."
Grief of losing father remains for Giannis
Eight months after the Bucks' then-general manager John Hammond selected Antetokounmpo with the No. 15 pick in the 2013 NBA Draft — he'd likely go No. 1 now within that class — Charles and Veronica moved to Milwaukee with their two youngest sons (Alex still is a student-athlete at a Milwaukee high school, while Kostas was a redshirt freshman at the University of Dayton recovering from a summer leg injury) to be with Giannis.
Barely two years later, when he signed a four-year, $100 million contract extension in September 2016, he talked of the security it assured them all, how free they were from worry. "The way we started and where we are right now, it's great," he said.
One year after that, their father and Veronica's husband was gone.
"It's tough. Losing someone you love is tough," Giannis said, staying late as the Bucks' locker room emptied after a preseason victory over Detroit just two weeks after Charles' death. "Losing someone who's been there since Day 1. Especially for our family, because we're so close."
The Bucks cut him loose immediately, giving Antetokounmpo all the time he needed to deal with the loss. He missed the team's first preseason game, but unbeknownst to the public, actually was showing up at their new practice facility, getting work in, staying close.
"Day by day, we're getting better," he said. "It's OK to be sad. We loved our dad. My mom loved her husband. But at the end of the day, I think, he did what he was supposed to do in this world. He had five kids and raised us right. That's the most important thing.
"I hope one day when I leave this world too that I can leave to my kids the impact that my dad is leaving now."
From rangy prospect to NBA superstar
Antetokounmpo would settle for that, yet he has a chance to touch lives and inspire strangers well beyond his father's reach. Beginning his fifth NBA season, he has gone from "the Greek Freak" whose improbable bundle of length and skills produced one or two "did-you-see-that?" highlights each game to a franchise player who unofficially looms as the league's Next Big Thing.
His rapid development from an 18-year-old rookie who averaged 6.8 points on 41.4 percent shooting in 2013-14 turned him last season into the first player in NBA history to rank in the top 20 in total points, rebounds, assists, blocks and steals.
He joined just four others who ever led their teams, over a full season, in those five categories on a per-game basis. Antetokounmpo was voted an All-Star starter, was named to the all-NBA and all-defensive second teams and earned the 2016-17 Kia Most Improved Player Award.
No longer the skinny 6-foot-9 teen with pipe-cleaner arms, Antetokounmpo stands a skosh under 7-feet, with a barrel chest and a ripped upper body. He has added strength, too, to his base, though he still looks coltish zig-zagging downcourt in long, frenetic strides. At full tilt, he can spring from midcourt to either baseline in about five steps.
"Right now he's gotten better at everything," teammate Malcolm Brogdon said. "Shooting. His passing's improved. His ball handling. His finishing at the rim – instead of dunking everything, he's finishing high off the glass. … When you're running next to a guy who's about to lay it up in transition, you just get out of the way because you know Giannis is coming to block it."
Antetokounmpo's length, wingspan and vertical leap produce plays that appear to defy physics. He can soar like Julius Erving and, with massive hands to manipulate the ball, he throws down drive-by dunks reminiscent of Hall of Famer Connie Hawkins.
The book on Antetokounmpo, for those unfortunates charged with defending him, has focused on his strength and his shooting. But he addressed the former again this summer, while improving little by little at the latter (his effective field-goal percentage has ticked up from 46.3 as a rookie to 54.1 last season, thanks mostly to his 2-point accuracy).
"There wasn't something specific I worked on," Antetokounmpo said. "I got a little bit stronger. I changed my diet. No sugar. No fast food. Just eating five times a day, every two to three hours. High protein. A lot of nasty food that doesn't taste good but I've just got to eat it because it's good for my body. Yogurts. Coconut milk."
'MVP will take care of itself'
It's one thing for fans and media folks to drool over Antetokounmpo's remarkable feats and vast potential but quite another for coaches and especially fellow players to do the same. Yet there was Lakers legend Kobe Bryant over the summer, challenging the Bucks player to become MVP. And only a few days ago, Golden State's Kevin Durant chimed in with the stunning suggestion that this kid could become the best player (gulp) in NBA history.
"The Greek Freak, I think, is a force. I've never seen anything like him," Durant said on his YouTube channel. "He could end up being the best player to ever play if he really wanted to. That's pretty scary to think about. He's by far my most favorite player to watch."
When that outrageous notion was relayed to Antetokounmpo, the enormity of it hit him hard.
"Ooof! Ooof!" he said, bringing a hand up to his mouth and looking a bit embarrassed. "It's a big compliment. But I've got a long way to go. The only thing I can do is keep working hard. But listening to that, a compliment from a great player as KD, what can I say? It's big-time."
Now the component for him that's huge, just like any young player, is how do you establish yourself within your team that coincides with winning?"

Bucks assistant coach Sean Sweeney
Antetokounmpo wasn't inclined to delve too deeply into the front end of that suggestion. But the "if he really wanted to" qualifier was unnecessary, he said.
"If I didn't want to be, I wouldn't even talk about it. I wouldn't even try," he said. "I'd probably hide behind the scenes. To e one of the best to ever play the game? I think I have the ability to do that. But I've got to work hard. If I just keep talking and don't put some work in, it's not going to happen."
So much goes into Greatest of All Time status, from All-Star selections and annual awards to stats titles, with championships weighing especially heavy in the NBA. It's hardly worth discussing, given Antetokounmpo's absence of individual hardware and team accolades.
Then again, he has discussed requirements he'll face if he wants to be the league's best player this season. And next. And the one after that.
"It definitely can happen," Antetokounmpo said. "But the most important thing is, I'll try to help my team win. I think MVP will take care of itself. It might not be this year, it might not be next year, but I know eventually we're going to be a winning team as we get older and get better. It's gonna come."
Leadership skills on the rise
In Antetokounmpo's time in Milwaukee, the Bucks went 15-67 when he was a rookie. Over the next three seasons, they went 116-130 with first-round exits against the Chicago Bulls (2015) and Toronto Raptors (2017). Against the Raptors, he averaged 24.8 points, 9.5 rebounds, 4.0 assists, 2.2 steals, 1.7 blocks and 40.5 minutes in six games.
"Just got to be mentally tough and do whatever it takes for a team to win," Antetokounmpo said. "You've got to act like [winners] when you're out there playing. It doesn't matter how you're playing, you've got to be vocal, you've got to be aggressive, if you really want to be one of the best in this league."
Sean Sweeney, the Bucks' youthful assistant coach who has taken on a mentor/confidante role with Antetokounmpo, works individually with him all season long. Each summer, he travels to Greece, California and back to Wisconsin for sessions both physical and mental.
Sweeney has become, in the player's words, "like having a big brother on the team."
"I've talked to him about greatness and what that means. Why not? Why wouldn't you go for that if you were him?" Sweeney said. "Now the component for him that's huge, just like any young player, is how do you establish yourself within your team that coincides with winning? That's a huge step."
The Bucks' and Antetokounmpo's agendas synched up nicely in their opener in Boston Wednesday, when he got 37 points with 13 rebounds in Milwaukee's 108-10o victory.
Said Celtics coach Brad Stevens: "You saw the way Giannis played. … You thought, 'That's an MVP candidate, for sure.'"
The Bucks are going to want to hit the "V" in that hard and wring every bit of value out of their versatile young star. With Jabari Parker again on rehab island, working back from his second ACL surgery, and with a limited number of reliable perimeter shooters, Antetokounmpo's ability to attack the rim and either finish or kick to Khris Middleton, Tony Snell or Matthew Dellavedova in space is essential.
So, too, the Bucks need Giannis to transition from "leading by example" to leading in more overt, intentional ways. He's the closest thing to a constant now in Milwaukee, second in tenure to backup big man John Henson not just in the locker room but in the coaches' offices and in the executive suites. No fan of change, Antetokounmpo at least is grateful the Bucks top the league in percentage of players returned from last season. That should make him comfortable speaking up more.
"He's taking more of a leadership role," said Bucks point guard Malcolm Brogdon, the 2017 Kia Rookie of the Year. "And I think he's taking his craft even more seriously now. There's a new level of focus. His dedication has always been there, his focus has been there. But his confidence has gone to another level this year."
Out to make his family proud
Leading his team might be just a variation on leading his family, a task that has grown with his father's passing but one Antetokounmpo initially embraced at an early age. As a boy, he and Thanasis sold sunglasses and tote bags on the streets of Athens. They hustled to bring home cash to supplement Charles' and Veronica's spotty paychecks.
"I've been a leader since I was 12 for my family," Giannis said. "So it's nothing new. It's not hard if you want to do it. I had to take care of my mom and take care of my brothers since I can remember. It's easy for me. They know that I love being there for them, and whatever they need, I'm there. They know that."
The family was there for each other late last month when Charles died, "there" being the practice courts of the Bucks' new facility in downtown Milwaukee. That evening, racked by grief, the Antetokounmpos sought refuge there. They came together to lean on the game that had carried them this far, asking it to take them a little further.
"The day my dad passed away, I … came to the court," Giannis said. "Me and my whole family. We shot hoops. Even my mom. She is strong. She's a beast.
"Basketball has been that way since I've been a little kid, y'know. Something that makes me happy. That made my dad proud."
Steve Aschburner has written about the NBA since 1980. You can e-mail him here, find his archive here and follow him on Twitter.
The views on this page do not necessarily reflect the views of the NBA, its clubs or Turner Broadcasting.