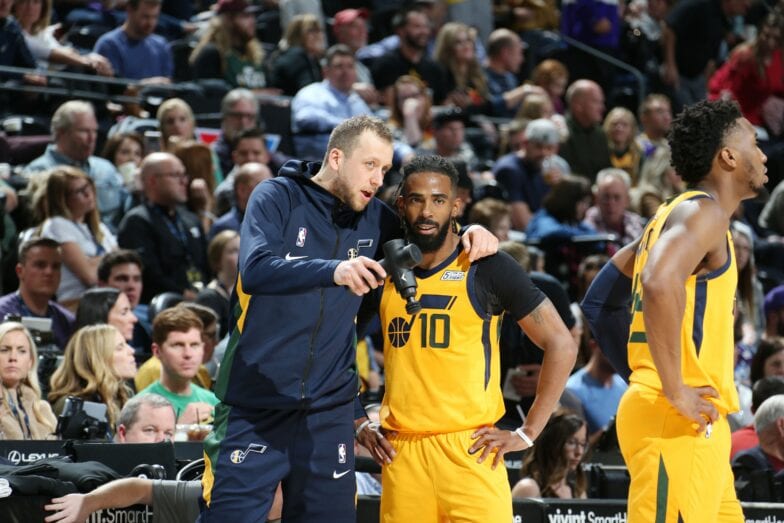 Thursday marked the midway point of the 2019-20 NBA season. With only 612 games to go, here are some things of note as we head into the Week 13 weekend …
* * *
1. Not the same Jazz for Conley
The Utah Jazz's 10-game winning streak came to an end in New Orleans on Thursday in what was, statistically, their third-worst defensive game of the season (138 points allowed on 112 defensive possessions). Brandon Ingram went off for a career-high 49 points, and the Jazz allowed the Pelicans to register 23 fast break points and 64 points in the paint (their second-highest total of the season).
One would think that a 15-2 stretch for the Jazz would come with elite defense. But over those 17 games, the Jazz have ranked just 11th defensively, allowing 109.0 points per 100 possessions (after allowing 105.0 through their first 24 games). Thursday wasn't the first time this month that the Jazz struggled to defend Ingram.
Actually, the offense has fueled Utah's run. Through their first 24 games, the Jazz ranked 24th offensively, scoring just 105.1 points per 100 possessions. Over the last 17, they've scored a league-best 118.7.
The improved offense has started with Joe Ingles, who has averaged 16.5 points on an effective field goal percentage of 68.3% over the last 17 games (after averaging just 7.5 on 47.3% through the first 24). The start of the run came in Ingles' fourth straight start in place of the injured Mike Conley.
And that's the one complication with how well the Jazz have been playing. All this success has come without Conley, who's like the much-less-talked-about (or talkative) Kyrie Irving of the Western Conference this season. The 32-year-old point guard struggled (shooting 37%) in his first six weeks with his new team before suffering a hamstring injury in early December. He appears close to a return and you have to wonder how his reintegration will affect both Ingles and the Utah offense as a whole.
In their 285 minutes on the floor together, Conley and Ingles have combined to shoot 38% (though 39% from 3-point range) and the Jazz have scored less than a point per possession. Ingles has clearly been more comfortable in the starting lineup than he was coming off the bench.
When Conley did come back for one game (before suffering a setback with his hamstring), Ingles stayed in the starting lineup, and it was Royce O'Neale who came off the bench. Thus far, the Jazz's five-best-players lineup — Conley, Donovan Mitchell, Bojan Bogdanovic, Ingles and Rudy Gobert — has played 117 total minutes together, with sub-par offensive numbers.
Jazz coach Quin Snyder doesn't want to hear the narrative that Conley's injury had something to do with Ingles finding his groove, though he does say that Ingles has been better with more touches.
"I think one of the biggest things for Joe is he's had the ball in his hands and making decisions in pick-and-roll," Snyder said earlier this week. "He's also not worrying about whether the ball goes in. He's just playing with a lot of freedom. He's just more definitive when he's shooting the ball.
"Joe's a really good player. Sometimes when you start the year at a level that you haven't been at, it's more noticeable. So we're happy the way Joe's playing. We'll be happy when we get Mike back."
Ingles is unconcerned about what may happen when Conley returns.
"I think we'll be fine," Ingles said. "I haven't thought too much about it, because I think it'll just happen naturally. He's played so long and he has such a high basketball IQ that he'll come in and fit in right away. We'll obviously try to get him involved and try to speed up the process for him so he feels comfortable."
Certainly, staggering minutes can allow for all three of the Jazz's ball-handlers to have some time running the offense. And even if there's an adjustment period with Conley back in the rotation, they still have a long time to figure things out. With a 15-2 record over the last 5 1/2 weeks, they've given themselves some room for error.
Maybe the right perspective is to say that, if the Jazz are playing this well without one of their best players, they're a championship contender when they're fully operational.
"I think he'll make us more dangerous than we are now," Ingles said of Conley. "There's going to be ups and downs and we'll figure it out along the way, but we'll be excited to get him back."
After a 2-1 trip, the Jazz are back home for their next two games. They'll host the Kings on Saturday (9 p.m. ET, League Pass) and the Pacers on Monday. At this point, the Jazz haven't provided any kind of timeline for Conley's return.
2. Rough starts for the Celtics
The Celtics almost erased a 27-point deficit in Milwaukee on Thursday. Kemba Walker got hot late in the second quarter, the Celtics hit some late 3-pointers, and they came just a couple possessions short of a miraculous comeback against the NBA's best team.
Of course, the Celtics wouldn't have had to come back from 27 if they didn't put themselves in that hole. The Bucks led 22-8 to start the game and also had a 22-11 run to start the second period.
The Bucks are a particularly tough opponent, but a slow start was a familiar issue for the Celtics. Boston has the league's fifth-best point differential, but has been its third-worst team in the first six minutes of the first quarter.
Over their 40 games, the Celtics have been outscored by 68 points in the first six minutes. That may not seem like a lot, but it translates to 13.6 points per 48. Only the Wizards (-20.6 per 48) and the Warriors (-17.5 per 48) have been worse in the first six minutes of games.
Slow starts weren't an issue early in the season, but the Celtics have trailed after the first six minutes in 11 of their last 14 games. That stretch includes an early deficit (in a game in which the Celtics never led) against the aforementioned Wizards.
Most of the deficits haven't been big. And it's better to be bad at the start of games than at the end. The Celtics rank as the 14th best first-quarter team overall (+0.8 points per 100 possessions), because they've generally been terrific (+70, +14 per 48 minutes) in the second half of the opening period.
But Thursday was the fourth time in their last nine games that the Celtics have trailed by double-digits with six minutes to go in the first quarter. The issues in the first six minutes have mostly been on offense, where Gordon Hayward (effective field goal percentage of 46%), Marcus Smart (30%), Jayson Tatum (41%) and Kemba Walker (47%) have all shot much less effectively than they have after the first six minutes.
Smart has the biggest differential of the group (though with the smallest sample size – just 35 shots), and when everybody's healthy, he's the one coming off the bench. The Celtics have had all five of their top perimeter players healthy for just 10 of their 40 games, and maybe that's a factor in their slow starts.
The Celtics have lost five of their last seven games. They'll try to put an end to that slide when they host the Phoenix Suns on Saturday (7 ET, League Pass). They'll then face the Lakers for the first time this season on Monday (7:30 ET, TNT).
3. A major drop-off
The Hawks-Timberwolves trade that went down on Thursday didn't exactly shake up the league. It involved the last-place team in the East, the 13th-place team in the West, and three players on expiring contracts that have been coming off the bench for most of the last five weeks.
It's difficult to see how the trade helps the Wolves, unless they have definitive plans for the open roster spot that the trade has created. With a brutal-shooting set of wings, they rank 29th in 3-point percentage, a category in which Crabbe once ranked second among individuals. But that was three years ago and Teague has been the better shooter of the two this season.
The trade more clearly addresses a need for the team – the Hawks – that has far less of a chance of competing for a playoff spot (the Wolves are just three games in the loss column out of eighth place in the West). No team was in need of another point guard more than Atlanta.
The Hawks have the league's 29th-ranked offense, having scored just 103.4 points per 100 possessions through the first half of the season. But they've scored 108.2 per 100 (a little less than the league average) with Trae Young on the floor and just 90.7 with Young off the floor.
That's the largest on-off differential in regard to points scored per 100 possessions among the 276 players who have logged at least 500 minutes this season.
Biggest on-off-court OffRtg differential
Player
Min.
On Court
Off Court
Diff.
Trae Young
1,303
108.2
90.7
17.5
Spencer Dinwiddie
1,242
110.0
94.1
15.9
Karl-Anthony Towns
779
113.7
98.9
14.8
Danilo Gallinari
1,065
114.4
99.9
14.5
Bojan Bogdanovic
1,334
113.9
99.6
14.3
Devin Booker
1,362
113.4
99.6
13.8
Taurean Prince
1,214
109.5
95.9
13.6
Jarrett Allen
1,064
110.5
97.4
13.1
Chris Paul
1,306
111.6
98.8
12.8
S. Gilgeous-Alexander
1,451
111.3
98.6
12.7
OffRtg = Team's points scored per 100 possessions w/ player on or off floor; Minimum 500 minutes on the floor w/ one team (276 players)

Through Jan. 16, 2020
Teague will not be available to provide some relief when the Hawks visit San Antonio on Friday (8:30 p.m. ET, League Pass). He could make his Atlanta re-debut when they host the Pistons on Saturday.
4. DPsOY making an impact
On the other end of the floor, the biggest differentials belong to a bunch of reserves, Gorgui Dieng (whose defense has kept the Wolves somewhat afloat without Karl-Anthony Towns), Joel Embiid and Paul Millsap.
Biggest on-off-court DefRtg differential
Player
Min.
On Court
Off Court
Diff.
Dennis Schroder
1,229
101.6
113.6
-12.0
De'Anthony Melton
520
103.0
113.4
-10.4
Alex Caruso
729
97.6
107.3
-9.7
Rudy Gay
879
105.3
114.6
-9.3
Gorgui Dieng
656
101.7
110.8
-9.1
Mikal Bridges
944
104.3
113.0
-8.7
Joel Embiid
963
99.5
107.9
-8.4
Isaac Bonga
591
108.6
116.9
-8.3
Paul Millsap
798
100.9
109.1
-8.2
Shabazz Napier
589
102.1
110.3
-8.2
DefRtg = Team's points scored per 100 possessions w/ player on or off floor; Minimum 500 minutes on the floor w/ one team (276 players)

Through Jan. 16, 2020
Reserves get to defend other reserves, so they will, in general, have lower marks in regard to the number of points their team allows per 100 possessions while they're on the floor. After Embiid and Millsap, the next full-time starters on the list are Marc Gasol (-6.5), Kawhi Leonard (-5.2) and Rudy Gobert (-4.8). That trio has won five of the last seven Defensive Player of the Year awards.
5. Another efficient season
The league hit the midway point of the season on Thursday, putting 618 of 1,230 games in the books.
Through those 618 games, the league has scored 108.9 points per 100 possessions. With each month, we've seen pace slow down and efficiency go up.
League-wide pace & efficiency, 2019-20
Month
GP
OffRtg
Pace
October
68
105.8
103.4
November
215
108.8
101.1
December
220
109.1
100.1
January
115
110.9
100.0
TOTAL
618
108.9
100.8
OffRtg = Points scored per 100 possessions; Pace = Possessions (per team) per 48 minutes

Through Jan. 16, 2020
The 108.9 points per 100 possessions is slightly higher than the 108.7 that the league had scored at the midway point last season (through Jan. 9, when 616 games had been played). Last season turned out to be the most efficient (109.7 per 100 over the full year) of the 23 full seasons for which we have play-by-play data (and likely the most efficient season in NBA history).
Slightly ahead at the midway point, 2019-20 could bump '18-19 down the list.
* * *
John Schuhmann is a senior stats analyst for NBA.com. You can e-mail him here, find his archive here and follow him on Twitter.
The views on this page do not necessarily reflect the views of the NBA, its clubs or Turner Broadcasting.