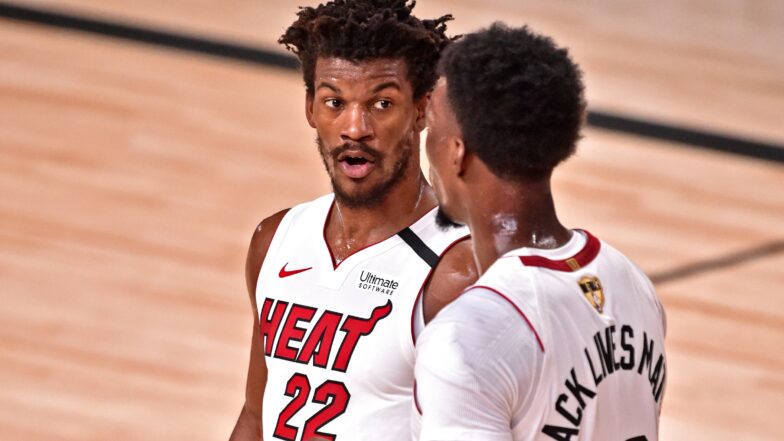 ORLANDO, Fla. — Normally, you get a feel for a closeout game from the way a city reacts, the way the people buzz around town on game day.
There's a vibe to it, an energy when one team smells that first opportunity to get their hands on that coveted Larry O'Brien Trophy and ascend to that special place only the championship teams can.
But as we've been over so many times here already, there is nothing normal about this NBA season, nothing familiar.
> Finals Game 6: Lakers vs. Heat, Sunday at 7:30 ET on ABC
Not one thing.
Hunting for clues in the lead up to Friday night's Game 5 between the Los Angeles Lakers and Miami Heat proved futile in the bubble.
The absence of the usual markers made it impossible to get a read on what the Lakers would do with the 3-1 lead they earned heading into Friday night's festivities at AdventHealth Arena. The Heat, backs against the wall and their season on the line, were equally difficult to figure on the most critical night of the season for both teams.
No reminders were needed. The first all-or-nothing game of this or any Finals has a rhythm of its own.
No fear — from either side. Just the most highly competitive game of the season
***
24 — OK AD, calling his shot with the Larry O'Brien edition Kobes. A lot of symbolism in the approach to this night, this game and what the Lakers hope is a huge moment for them tonight. LeBron showed up with some smoke, too!
https://twitter.com/DanWoikeSports/status/1314732908012359684/photo/1
https://twitter.com/NickDePaula/status/1314738682331492353/photo/1
23 — That didn't take long. Dwight Howard and Bam get tangled up on one end. Jimmy Butler is not having any of it and gets tangled up with Dwight on the other end. Double T's on Jimmy and Dwight. Tone set. Let's get it on!
Here we go! Dwight Howard and Bam Adebayo locked up on the baseline with 7:32 ro play and double technicals on Jimmy Butler and Dwight. Game 5 off to an intense start. Clearly no one backing down. #NBAFinals

— Sekou Smith (@SekouSmithNBA) October 10, 2020
https://twitter.com/search?q=Dwight&src=trend_click&vertical=trends
22 — Put this Duncan Robinson put-back on top of the list of things I didn't expect to see tonight. Michigan Man making an impact early with 8 points on 3-for-5 shooting to pace the Heat to a 25-24 first quarter lead.
Dunkin' Robinson pic.twitter.com/OnndcJtFWU

— BBALLBREAKDOWN (@bballbreakdown) October 10, 2020
21 — Absolute silence from the Lakers' bench and family section as AD has to be helped to his feet and then to the bench. Not clear what happened or what was injured. But I already know what the AD watchers are thinking … (The official word? An aggravated right heel contusion and he'll be able to return.)
Discussing this w a friend: Davis may the most "injury prone" player ever without ever had a single memorable injury that took him out of commission for considerable time. More injury scares than anyone I can remember

— Chris Herring (@Herring_NBA) October 10, 2020
20 — Prayers worked. He's back. But the Lakers are still off balance under the constant attack from the Heat (42-33 with 6:33 to play before halftime.)
https://twitter.com/TheNBPA/status/1314745354697478144
But Davis doesn't look right …
Great sign AD is back but if he's doesn't get mean and aggressive we might as well just go to Game 6

— Richard Jefferson (@Rjeff24) October 10, 2020
And let the foolishness begin …
The Lakers say Anthony Davis got kicked and aggravated a bruised heel.

This conflicts with Twitter reports of a Achilles, ankle, knee, calf, concussion, toothache and subdural hematoma.

— Tim Reynolds (@ByTimReynolds) October 10, 2020
19 — LeBron is keeping the Lakers in this game right now with his shooting. Three-time Finals MVP needs some serious help if he's going to get a fourth tonight.
LeBron has almost half of the Lakers' 36 points with 17. He's 7-for-9 from the field, 3-for-4 from three-point range.

— Brad Turner (@BA_Turner) October 10, 2020
18 — Heat can't hold the lead. LeBron and the are Lakers pressing and fighting their way back into this game the hard way.
LBJ in transition ♨️

He's up to 21 in the 2nd QTR. #NBAFinals pic.twitter.com/6MrXIWuiYh

— NBA TV (@NBATV) October 10, 2020
17 — Second quarter was a blur. The kind of back-and-forth you'd expect from a game of this magnitude. Heat lead but have plenty to clean up if the bubble is going to stay open for business this weekend.
Miami has to adjust to the Rondo/Anthony Davis P&R. Hurt them late last game, hurting them right now. Has to be an under if you're not going to switch. Giving up easy ones to Rondo and AD.

— Steve Jones Jr. (@stevejones20) October 10, 2020
16 — That said, Gary Payton's words for The Players' Tribune proved prophetic through the first half …
15 — LeBron was a monster. Hit the 3s to settle the Lakers and keep them within striking distance, at 60-56.
LeBron James made 9 of his first 11 shots and scored 21 points in the first half. James now has 21 career 20-point halves in the Finals, most over the last 50 seasons per Elias Sports Bureau. pic.twitter.com/WexieI4USG

— Ohm Youngmisuk (@NotoriousOHM) October 10, 2020
14 — Heat leading behind Butler's 22 points and solid support from Kendrick Nunn (11) off the bench, Robinson (10) and Herro (8). Doing it with Bam (5 points, 3 rebounds and 2 assists) yet to put a real mark on this game. He and or Jae Crowder (4) have to crank it up in the second half if the Heat want to spend a couple more days here.
13 — Kentavious Caldwell-Pope gets us back to even at 70 with 7 minutes to play in the third with a huge 3-pointer. It's on from this point on. Anybody's game. Should be clear by now to the Lakers that they will not get that trophy without a furious fight. Love the way the Heat are competing. Playing without any fear or pressure. Butler is leveling up in a major way in this series. Time to elevate his status?
12 — The hoop and the harm for Butler. Dwight with the Flagrant 1 or 2 here?
Dwight's flagrant foul on Butler pic.twitter.com/df2MJxUUSz

— Ballislife.com (@Ballislife) October 10, 2020
11 — This has not been Dwight's finest hour in this series. Not by a long stretch. Lakers are more effective and much more sound (none of the shenanigans) with AD at the 5 and Markieff Morris on the floor.
Wow – a six-point possession after Butler makes the flagrant and-one FT, and then Duncan Robinson makes a 3. Tyler Herro then follows with a drive and score, and Miami is now up by 8.

— Tim Bontemps (@TimBontemps) October 10, 2020
10 — This duel between Butler and LeBron has been everything it was advertised to be and then some. They're going at it, doing it all on both ends and leading the way you'd expect alphas to on this stage. Heat up 88-82 after three. Butler with 27 points, nine rebounds and 10 assists on 9/13 shooting in 35 minutes. LeBron with 28 points, 6 rebounds, 5 assists on 11/14 shooting (5/7 from deep) in 30 minutes.
9 — That Heat math is no joke! (just add, subtract, multiply and divide whatever is by 3)!
The Heat have scored on 8 possessions in the 3rd.

Those 8 possessions have produced 26 points.

— John Schuhmann (@johnschuhmann) October 10, 2020
8 — Robinson showing up in a major way in this one. He's up to 23 points (6-for-11 from deep) with the Heat up 93-85 with 9:23 to play in the game.
Duncan Robinson scored more points on hand offs this season than the Lakers, Rockets, and Raptors.

— Synergy Basketball (@SynergySST) October 10, 2020
7 — Sweet feed from LeBron to KCP for the corner 3 and the Lakers take the 97-96 lead with 6:18 to play. Not sure how anyone disputes the fact that LeBron is the ultimate hybrid star for this or any generation: Passes like a point guard, big as a power forward and tonight shooting it like a Splash Brother from deep (6-8 3Ps). He's up to 33, 10 and 7, making it impossible for anyone else to get Finals MVP in this series.
KCP CLUTCH 3

(via @NBATV)pic.twitter.com/w3iLujPDiI

— Bleacher Report (@BleacherReport) October 10, 2020
6 — Can he get an Amen!
Anyone that said Butler wasn't that dude needs to apologize.

— Nate Jones (@JonesOnTheNBA) October 10, 2020
5 — AD with a huge putback with 21.8 seconds left gives the Lakers a 108-107 lead. Unbelievable finish to this game. Butler and LeBron dueling before AD interrupted with this one. The Heat missed that box out. Will haunt them if they can't find a way to win this game.
ANTHONY DAVIS WITH THE CLUTCH PUTBACK LAYUP TO PUT THE LAKERS AHEAD!@MiamiHEAT 107@Lakers 108

21.8 to play in Game 5 on ABC pic.twitter.com/amlgk9Jsg3

— NBA (@NBA) October 10, 2020
4 — Final three minutes was off the chains drama. Folks in the building still trying to catch their breath.
The Final 3 Minutes…

LeBron: 2 FT's
Jimmy: Pull-Up Jumper
LeBron: And-One
Jimmy: Fadeaway Jumper
LeBron: Putback
Jimmy: 2 FT's
Davis: Putback
Jimmy: 2 FT's
Herro: 2 FT's

No lead greater than two until Herro's final free-throws.

— Couper Moorhead (@CoupNBA) October 10, 2020
3 — It was these two battling all the way to the end. Instant classic. All-time great Finals battle between two cats who refused to give up an inch.
If you've never seen Hagler-Hearns, this was the closest. If only that fight went the full meal, LeBron and Jimmy put on a historic equivalent

— Vincent Goodwill (@VinceGoodwill) October 10, 2020
2 — Erik Spoelstra goes with the 7-man rotation and squeezes every ounce out of his guys. Duncan Robinson goes off. AD limps to the finish and we get to debate LeBron's decision to kick it out to Danny Green and the fallout (Morris with the pass to no one) endlessly, or at least until Game 6 tips off Sunday night.
Yall got me weak 🤣 he DG could've made that shot. He could've swung the ball etc etc. But in reality. If lakers guard the man with the ratchet and hold him to his average they win this game going away.

— CJ McCollum (@CJMcCollum) October 10, 2020
Please don't start that narrative about LeBron shooting to end the game. At this point we all know he makes the right play regardless of the moment.

And look at how open this dude was… pic.twitter.com/IS0U9yuTbt

— DeAntae Prince (@DeAntae) October 10, 2020
Textbook read by LeBron. Pass not as accurate as you'd like, but Heat scrambling defense had a little to do with that. STILL … Danny Green had pleeeeenty of time to corral the low pass and get off a lightly contested shot. And it had no chance of going in.

— Jerry Brewer (@JerryBrewer) October 10, 2020
1 — Pat Riley was smiling from behind that glass. He wouldn't have it any other way. Butler and the Heat youngsters (Robinson, Herro and Nunn) come up huge! Unreal finish! The bubble lives on!
https://twitter.com/korkedbats/status/1314780507431997446
* * *
Sekou Smith is a veteran NBA reporter and NBA TV analyst. You can e-mail him here, find his archive here and follow him on Twitter.
The views on this page do not necessarily reflect the views of the NBA, its clubs or Turner Broadcasting.