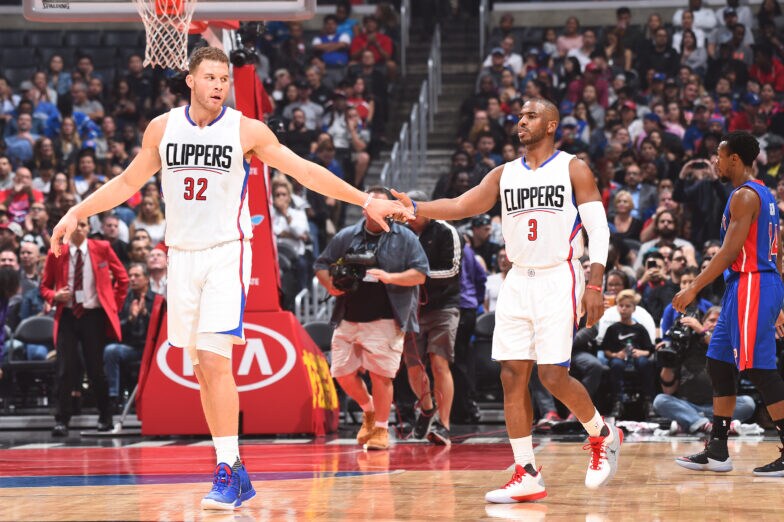 Back in the summer of 1977, just months after they'd blown a 2-0 lead and lost to the Portland Trail Blazers in the NBA Finals, the Philadelphia 76ers organization came back with a bold TV campaign and motto for the next season.
In the spot, Julius "Dr. J" Erving closed a locker door, turned toward the camera, raised a long index finger and said: "We owe you one."
It was daring, memorable and haunting, if for no other reason than by the time the Sixers finally delivered on the promise in 1983, the debt was being counted on the fingers of another hand.
That brings us to the modern-day L.A. Clippers, who at the rate they're going, figured to eventually have to pull off those high-tops and to get to their toes.
Until, maybe, now?
Yes, here we are, being dared to buy in. Again.
To the team with the best record (7-1) in the league and the look of a monster and real championship contender. Again.
The Clippers are not only off to their best start in franchise history as they roll into Oklahoma City Friday (8 ET, NBA TV), but also lead the NBA in point differential (+16.9). For a change, it's not all about their offense, which ranks just inside the top 10. L.A. is holding opponents to a league-low 39.6 percent shooting and has the No. 1-rated defense, giving up just 89.3 points per 100 possessions, according to NBA.com/Stats.
The Clippers are 3-0 on the road and coming off consecutive thumping of the Spurs (24), Pistons (32) and Trail Blazers (31) in the past week.
All of which means that instead of following every rocket-launched 3-pointer by the Warriors and dribble by LeBron's Cavaliers, we should have our eyeballs glued to that tantalizing trio of Chris Paul, Blake Griffin and DeAndre Jordan. Again.
Except for all the baggage that could fill up the cargo hold of a 747.
Everybody knows the tale. The painfully condensed version is four straight seasons of 56, 57, 56 and 53 regular-season wins followed by just two playoff series victories, not more than one in any single season.
It's why each of the past three summers has had coach and team president Doc Rivers listening to the clamoring to break up the heart of his team. But to what end, trading pieces simply to trade them?
Paul is the most senior member of the core, and the fact is he's only 31. Jordan is 28 and Griffin is 27, and the reality is that — just like the conversation that's always swirled around OKC's Russell Westbrook — the minute you deal a player of that caliber, you begin the search for somebody just like him.
So Rivers has annually busied himself by nibbling around the edges of the roster, hoping to add to his bench and provide that extra something that's been missing in the playoffs. So it takes him from Danny Granger to Matt Barnes to Jordan Farmar to Glen Davis to Josh Smith and Lance Stephenson.
And year after year just seems to bring untimely late-season and playoff injuries to the star-crossed franchise. We're not even going to try to explain or excuse Game 6 against the Rockets in 2015, because, well, you simply can't.
Now Rivers has shuffled the deck again to come up with a bench of Austin Rivers, Jamal Crawford, Marreese Speights, Raymond Felton, Wesley Johnson, Paul Pierce and Brandon Bass that has been amply effective.
The Clippers can roll over the Spurs in San Antonio on a night when Paul has a subtly deadly line of nine points, 10 assists, eight rebounds. In the first two months of last season before he was sidelined with a quad injury and then broke his hand in the typically comical Clipper way of punching out an assistant equipment manager, Griffin was working on expand his skills and his game. Now he's come back just as strong and athletic and ever with a combination of talent that can make him uniquely unstoppable. Jordan has grown more capable, more reliable, more consistent with each passing season and anchors the defense with his rim protection.
The noise is out there again. With Griffin set to become a free agent next summer, this is the last chance for the Clippers as we know them. Can they really go to the well and max-out Griffin with a new deal if they still haven't delivered?
They're why for all those years in the Peanuts comic strip, good ol' Charlie Brown keeps trying to kick that football before Lucy yanks it away. They're why you plop a few bucks down on the counter for the fantasy of a lottery ticket when Slim Jims and a cold one would provide more immediate gratification.
The Clippers owe us — and themselves — far more than one. But the fun is still in the believing.
Fran Blinebury has covered the NBA since 1977. You can e-mail him here, find his archive here and follow him on Twitter.
The views on this page do not necessarily reflect the views of the NBA, its clubs or Turner Broadcasting.