Playoffs 2017: West First Round -- Warriors (1) vs. Blazers (8)
Draymond Green walking the fine line to redemption for Golden State Warriors
After fallout from last year's NBA Finals, Warriors' emotional leader is critical piece for team's quest to re-claim championship
He has a habit of putting his foot where it belongs: Often in a teammate's behind, occasionally in a hornet's nest and yes, on a few occasions that you may recall, in the sweet spot of the guy in the other uniform. Obviously, most would vehemently argue whether kicking that last target was necessary, until you understand that Draymond Green desperately wants to win, and possessed people sometimes do stuff, you know, by accident.
The foot fetish of one of the NBA's most uniquely-gifted players actually began years ago in East Lansing, soon after he arrived at Michigan State to play for Tom Izzo. Suddenly, basketballs were being punted, some with serious hang time. Whenever this happened, when Green began spraying the practice gym with rubber Wilsons launched from a mighty ker-THUMP of his sneaker, there were usually two reactions: Players in the line of fire would duck, and the coach, who's in the Hall of Fame and won a national championship and went to seven Final Fours, he would … go retrieve the balls.
You see, the feisty desire of Green has roots right there, and would flare up when things went wrong in practice — not a game, not a game (Allen Iverson voice) — but practice. Ever the perfectionist and always the competitor, Green would get angry and aim his kick right to the balls.
"He'd miss a shot and he'd kick the ball halfway down the court," said Izzo, "and at first I said, `What an idiot. What's he doing? These practices last four hours because I gotta go fetch the damn ball every time.' And then I realized he was that upset because he missed the shot. What was cool about it was that it bothered him. So I looked at it the other way.
"But I also said, 'Draymond, be mad, and yell, but don't kick the ball because we gotta spend time going to get it."
These are heightened alert days for the Golden State Warriors for a few reasons. They're about to embark on the playoffs, where a year ago around this time, they'd just gift-wrapped an NBA-record 73-win regular season and were overwhelming favorites to repeat as champions, especially after leading Cleveland 3-1 in the NBA Finals. This time they're upping the stakes by bringing former MVP and ex-Thunder forward Kevin Durant after much Twitter and talk-show fanfare about great players switching sides and dividing fan bases. Overall, they're an intoxicating mix of offensive weaponry, taking deadly aim at the rim.
And they have Green, who deservedly sits at pole position for the NBA's Defensive Player of the Year award, and who once again is locked into that state of mind about winning, which of course never left him. But will the Possessed Winner once again walk the emotional tightrope and maybe teeter on the other side and off the rails, as he did last summer when he earned a costly one-game suspension with Golden State on the verge of greatness? Will jawing with referees and baiting opposing players overwhelm and outnumber his celebratory bicep flexes?
The Kicking Incident certainly haunted Green, and definitely the Warriors, all summer and as the new season approached. What began as a high-leg action that caught Oklahoma City center Steven Adams in the wrong place during the Western finals, then was amped late in Game 4 when he responded to being stepped over by LeBron James with a swing of his arm, also to the groin area.
The Adams kick was a flagrant-2 technical foul and the swing a flagrant-1. That was three points against Green in the post-season; four means an automatic one-game suspension. Both were preceded by a more unforgiving technical, which happened in the final meaningless second of Game 3 in the first round against the Rockets. Green's perplexing body-slam of Michael Beasley is what put him in a no-room-for-error situation in the Finals that ultimately sweetened his reputation for being out of control.
What will also follow Green into this post-season is his other reputation, also enhanced: Being an all-around defensive ace without peer or comparison; and a smart player with a basketball IQ higher than the Warriors' scoring average; and the team's resident butt-kicker who takes it upon himself to roust the troops. These are the qualities that make Green an unlikely premier talent who isn't the Warriors' best player, only their most important.
The catch: He can't be Draymond unless he's covered in the whole Draymond persona. The ferocity and fire is unable, for now, to burn in only one direction. This is the complete package, warts and all, the Warriors have learned to live with, and the package they're prepared to deal with again, even embrace at times while holding their collective breaths.
Let Warriors general manager Bob Myers, who helped build this team into a potential dynasty, explain why:
"There needs to be someone on each team who has an edge, a non-stop pursuit to win. Those people are some of the most successful people in sports. Sometimes they wear you out a little bit because it's a constant drive. But you want more guys like that than those with the nonchalant attitude. Give me the guy that has too much passion and pride any day of the week. Draymond doesn't know any other way to play basketball, except full throttle.
"Do those people sometimes exhaust you? Yeah, but again I have a great affinity for Draymond, to know he's out there every night, giving what he has. That's more than most people do every day at work. Most people show up and they do, well, whatever, it doesn't matter. The rare breed shows up with that kind of effort Draymond brings every time. The guy wins."
"There needs to be someone on each team who has an edge, a non-stop pursuit to win. Those people are some of the most successful people in sports."

Warriors general manager Bob Myers
The essence of what Myers said is on display on the court whenever the Warriors don't have the ball. It's time to play defense, time for Draymond. Most of his troubles with his temper, and triumphs against other teams, lie here. Defense is where he shows how he can be bigger and better against bigger and better players. Or smaller players.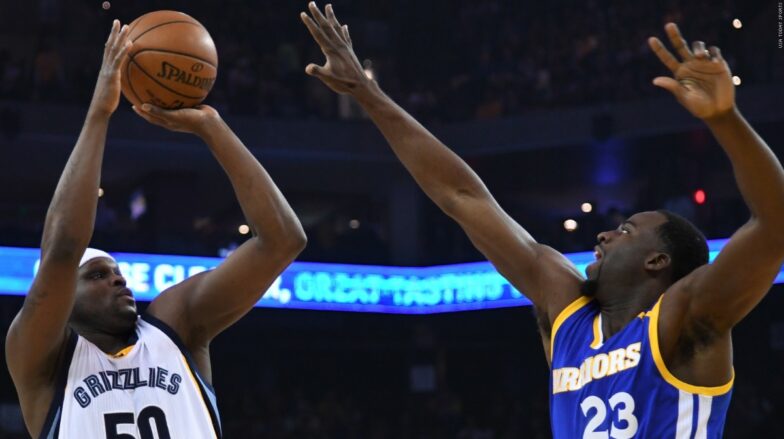 He can switch off 7-foot DeAndre Jordan to 6-foot Chris Paul against the Clippers. He did the same against Memphis with quick Mike Conley to rugged Zach Randolph (he also recorded the first non-scoring NBA triple double in history in rebounds, steals and assists, and came five blocks from a quad in that game). His hyper-anticipation and fingerprints are everywhere; he was second in the the league in total deflections, which rarely receive applause for the damage they often do. Yet if the traditional stats truly matter, Green also averaged two steals with 1.4 blocks, ranking among the league leaders in both (it's been 10 years since the last non-guard led the league in steals) and the Warriors finished second in defensive efficiency.
That alone doesn't describe the full picture. Green's defense bailed out the Warriors in several close games this year, most vividly against the Pelicans in the final seconds that truly defined his genius. New Orleans threw inside to Anthony Davis, who began posting up Green, only to have the ball poked away and the victory sealed for the Warriors.
Again, that's plenty to ask of a 6-7 player who simply defies logic defensively. Where's the long arms for shot-blocking, the shifty lateral speed for point guards, the bulk needed against heftier players? Green brings none of that; his brain is his main muscle. In these playoffs, here's a diverse list of players likely to get painted in Green, if the Warriors see them: Jordan, Paul, Jusuf Nurkic, Blake Griffin, LaMarcus Aldridge, James Harden.
After finishing runner-up the last two years (2015 and 2016) Green badly wants the league's top defensive award, and he says: "I think I've shown what I'm capable of doing, and what I like to do. This is what helps win championships."
Jordan, Kawhi Leonard, Tony Allen, Rudy Gobert and other prideful defenders all have their calling cards yet all have certain limitations that Green does not. Green guards big and small and strong and quick. Green studies and memorizes the scouting report. Green reduces the comfort zone of the man he's guarding.
"He's able to read what is necessary to defend," said Myers. "It's kind of like a middle linebacker asked to drop back in the pass, or guard the tight end, or sometimes he has to rush the quarterback. That's Draymond, switching on a point guard, switching on the passing lane or taking his man. He's really intuitive defender; he doesn't get credit for the mental part. People know the effort but maybe forget his intelligence. You feel his presence when he's on the court and even when he's off. That's a great compliment for any player."
That ability to read also gets transferred to the other end, where Green knows his teammates well. With the ball in the high post, Green is a lighthouse, able to spot cutting teammates or others sprung open on the wing. His passes are usually money and rarely go to the wrong guy, i.e., JaVale McGee from 20 feet (if McGee is standing that far from the rim, he'll likely get a glare, not a pass, from Green). He averaged seven assists, and what's more, Green is an expert at setting picks, thus freeing up teammates for even better shots. Essentially, Green is a playmaker who isn't blessed with the usual playmaking skills.
"He's a couple of plays ahead of everyone else on both ends of the floor," said teammate David West.
All of this is fueled by energy, and the price for this gasoline can sometimes get steep.
"Well," said West, "he plays as close to the legal limit as possible."
Green collects technical fouls, ever since he became an A-list player. The last three years he's ranked top-six in the league for naughtiness. This year, supposedly his reform year, he racked up a high of 15. For someone deservedly hailed as a smart player, Green can't stay completely focused in the heat of the moment. Rarely does a whistle against him go without a pout or complaint or lecture.
Right after the All-Star break, Steve Kerr said he and his players needed to tone down their reaction to calls. Of course, against the Clippers in the very next game, a whistle went against Green and he went nuclear at referee Scott Foster, getting his 10th tech of the season. As he was pulled to the bench by teammates, Green began yelling at Kerr while trying to explain himself.
At one point in their relationship, an exasperated Kerr, the target of Green's anger at times, placed a call to the person who knows Green best.
"How do you deal with this?" Kerr asked Izzo.
There was laughter on the other end of the phone.
"Hey, when he was here, he'd yell at me too," Izzo said he told Kerr.
Upon reflection of those tender moments between coach and student, Izzo said this:
"Does he go overboard? Well, you got to rope him and bring him in and tell him why. He'd be the first to tell you he had some growing up to do. Draymond is intelligent enough that you can talk to him. And I think Steve Kerr in all honesty has done an unbelievable job dealing with those days when the passion gets to be too much. I think Draymond understands him now, like it took a while to understand me. He and I went at it a lot of times, you know? Still do once in a while."
"Leadership, basketball IQ and toughness are hard to evaluate but that's what separates Draymond. His toughness makes him guard people he shouldn't guard."

Michigan State coach Tom Izzo
Green was a pudgy prospect from Saginaw when Izzo signed him. Green's playing time was slow at first and suddenly, Izzo found himself using Green in big moments in the NCAA tourney because Green made plays. Izzo said Green would pester him to get back into blowout games because he wanted more — not points, but rebounds. By Green's last years at Michigan State he was the premier player in the Big Ten. When Green wasn't drafted until the 35th pick in 2012, the only person more annoyed than Green was Izzo.
Don't get the coach started on why this happened.
"We're in the analytics world which I don't like," he said. "I think they suck personally. They're a tool, not the end-all. What I do like is at the end of the day, what matters most, not necessarily to players all the time, but definitely to management and owners and coaches, is winning. How do you measure winning? That's what I try to say about Draymond. He has three intangibles that make it difficult for a person to measure. Huge basketball IQ. Off the charts. The second is toughness. Does lifting 400 pounds make you tough? No. And it's not just physically, but mentally. The other is leadership. Sometimes it rubs people the wrong way. Do you think anybody in a leadership position, whether it's the 5-star general or Gregg Popovich or Pat Riley to Bill Belichick, is gonna be loved? Draymond's successful because he'll tell you what you don't want to hear.
"Leadership, basketball IQ and toughness are hard to evaluate but that's what separates Draymond. His toughness makes him guard people he shouldn't guard. His basketball IQ makes him make plays. His leadership makes him a pain in the ass sometimes but every coach would die to have him. I will go to a maternity ward today to find the next Draymond Green because I'd take him right now and wait 18 years."
Green adores his college coach because Izzo let Green be Green. He stays close to the program and last season had the cell number of every Spartan player, some of whom would receive an unexpected call or text from Green the night before a big game.
"I don't like him for that," said Izzo. "I love him for that."
Green also found out what financial gifts that Steve Smith and Magic Johnson, famous former Spartans, lavished on the school. When he landed his big contract from the Warriors, Green beat both of those contributions.
"He challenged everybody, including Magic and Dan Gilbert (the Cavs billionaire owner and ex-Spartan)," said Izzo. "Gave well over $3 million. Who does that? He's a weirdo. If I needed him, he'd fly here during the NBA Finals."
Green's inferno gives balance to the Warriors' locker room; all would agree to that. Steph Curry, Klay Thompson and Andre Iguodala — and now Kevin Durant — are all fairly mild mannered, non-vocal types. They whisper, Green bullhorns.
"Not a whole lot of voices in that locker room," said David Lee, the ex-Warrior who was replaced by Green. "It was good timing and a good fit when we got him. In the championship year, he was a good contrast from Steph. It was a dynamic that worked well and continues to work well. He helped complete that group. A great teammate."
Izzo said: "Everybody was making a big deal recently about Draymond getting after Kevin Durant, yelling at him. And I'm laughing. Like, what's wrong with that? There had to be a reason. If Durant didn't like it, he can tell him to kiss his ass. But that's not what happened."
Here's what happened: Late in an overtime loss against the Kings in February, Green was seen chastising Durant, the newbie, during a timeout huddle for roughly 30 seconds. Never mind that it was Green who actively recruited Durant to sign with the Warriors last summer, and the two often eat and socialize together. The scene, which happened almost exactly a year after Green had a locker room tirade in Oklahoma City, gave the public another Green-goes-nuts moment.
"I didn't have an issue with it and I don't think Kevin did either," said Myers. "None of Draymond's commentary privately or publicly comes from anything other than wanting to win. The worst crime is if Draymond had come to me or coach and said he wanted to say something to Kevin but didn't feel right. Then I think you have a problem. Holding things in is a greater issue than expressing yourself honestly and moving on. That's how you build relationships and strength, to demand things from each other. There are going to be times when you make a mistake and hear from your teammates because they want to win. The alternative is you don't hear anything and they don't care."
It was Myers who was with Green during the suspended Game 5, sitting together in a suite along with Marshawn Lynch and a few friends that night at an Oakland A's game. The baseball stadium is connected by tunnel to Oracle Arena, where Green was banished from appearing, per NBA rules.
"To be absent from a moment, I think he felt a lot of things," said Myers. "When you grow up loving something your whole life and are denied the chance, you feel that. You should. Anyone should. To be put in a position where you have to face the consequences, you learn, you get stronger and you develop a motivation. We're all human, make mistakes. You just sit with those people and tell someone you love them and support them. People remember that, that when things are tough, who calls, who thinks of you, who's there for you."
The Warriors are there for Green. There are no outward signs that the players are holding the "lost" championship against him; on the contrary, he and Curry remain close — a ying-and-yang relationship if there ever was one. They know what Green brings, and besides, anything is tolerable when you win.
"The bonds on our team are real and authentic," said Myers.
The bond is further strengthened by sipping champagne and laughing hysterically together. The Warriors missed out on that last summer, which must be heavy on Green's mind heading into this spring. This could mean the Warriors will get the very best a motivated man bent on redemption can offer. Therefore: More smart screens, steals, blocked layups, muscle poses, three-pointers from above the key, passes through the needle hole, and rebounds. Yes. Draymond Green is locked in. This could be good for the Warriors. Or frightening. Or both.
Veteran NBA writer Shaun Powell has worked for newspapers and other publications for more than 25 years. You can e-mail him here, find his archive here and follow him on Twitter.
The views on this page do not necessarily reflect the views of the NBA, its clubs or Turner Broadcasting.