ATLANTA — One by one they stepped into the void, providing whatever energy, effort and plays that were needed.
So what if their contributions up to this point had been spotty, at best, in this series.
The Atlanta Hawks needed Game 4 against the Washington Wizards Monday night at Philips Arena, by any means necessary. A win guaranteed at least one more home game, Friday's Game 6, and a chance to continue to fight for their playoff lives.
Dwight Howard, Kent Bazemore and Jose Calderon all chipped in with huge efforts, making sure that Dennis Schroder, Tim Hardaway Jr., Taurean Prince and Paul Millsap wouldn't have to do it alone.
The result was the Hawks' most complete effort yet in this series, a gritty 111-101 win that sends this series back to Washington for Game 5 with the Wizards needing to find themselves on home turf, the same task the Hawks faced before Saturday's Game 3 when they entered the building in a 2-0 hole.
"This game was very important for us and I think we came out with the right mentality from the beginning to the end," Howard said. "This is something we needed. The first two games, we felt like we were right there. A couple of mistakes cost us. These last two games, we stayed together, played as hard as we could and got a (couple of) good wins."
Playoff series have a way of rewriting themselves based on the ebb and flow of the games. The Hawks didn't look like a team ready for prime time after those first two games. They got pushed around and overwhelmed by Wall's relentlessness and the Wizards rode that wave at Verizon Center.
The tables turned here, though. Schroder settled in and Millsap bowed up. Hardaway Jr. and Prince dug in on tough defensive assignments. But it wasn't until Howard, Bazemore and Calderon showed up Monday night, that the full scope of what the Hawks might be capable of was on display.
They owned the second quarter, when the Hawks took control of the game and outscored the Wizards 31-16.
Howard went to work, scoring 10 points and grabbing six rebounds. Calderon and Bazemore combined for 13 points and seven assists, taking turns facilitating the offense with Schroder on the bench with three fouls after John Wall toasted him for eight points and five assists in the first quarter.
"These two guys (Bazemore and Calderon) and the rest of the team, they found me in some great spots to score," Howard said. "I'm thankful for those two. We just have to keep it going. It's not about me. It's about our team and what we're trying to accomplish. Tonight we were clicking on all cylinders playing against a really good team. For us to win, we had to do it together."
That's exactly what the Hawks did. Their collective defensive effort in the second and fourth quarters was outstanding.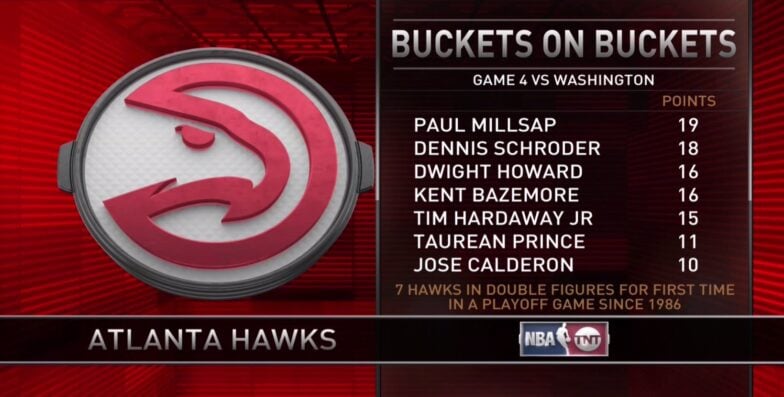 And all five Hawks starters, plus Calderon and Bazemore, scored in double figures. Howard finished with 16 points, 15 rebounds and even made four of his five free throws. Millsap roasted Morris for a near-triple-double (19 points, nine rebounds and seven assists), continuing his assault on the Wizards' power forward since Morris called him out during and after Games 2 and 3.
It was Millsap, with 4:58 to play and the Hawks up 97-93, who snagged an offensive rebound and scored on a putback as he was falling to the ground. He was fouled on the play and sank the free throw for a 100-93 lead.
Schroder's 24-footer from the top of the arc 30 seconds later served as the dagger for the Hawks, pushing the lead to 10 as they continued to tighten up defensively down the stretch to keep the Wizards from mounting a comeback.
"It was a good shot," said Wizards guard Bradley Beal, who led the Wizards with 30 points. "It didn't sway us one way or another. When teams go on runs, we don't get bothered by it. That's part of the game. Teams go on runs. It's just a matter of how we retaliate and how we bounce back from it. It was just too up and down. Again, we're playing catch up in the fourth quarter and just trying to take the lead again. You spend all of your time and energy playing catch up, it kind of wears on you down the stretch."
The Hawks' depth seemed to wear the Wizards out a bit down the stretch, as Hardaway Jr., Millsap and Schroder combined for 27 of the Hawks' final 34 points.
Squeezing critical minutes out of a player like Calderon earlier on, however, serves as proof that quality depth can be a game-changer this time of year. And given the way he was acquired, it makes it all the most surprising for the Hawks.
Calderon was waived by the Los Angeles Lakers after the trade deadline and signed with the Golden State Warriors, only to be waived again when the Warriors lost Kevin Durant to a knee injury on Feb. 28.
The Hawks claimed the 35-year-old off waivers and signed him for $250,000 as veteran insurance at point guard, what with youngsters Schroder and rookie Malcolm Delaney having handled those duties all season.
Budenholzer raved about the move at the time, insisting that the Hawks were "fortunate to be able to add a player of Jose's caliber at this point in the season. His unselfish nature and ability to shoot with range fits our style of play and his experience will add to our locker room."
His words were prophetic Monday night, with Calderon living up to the hype and then some alongside Bazemore, Howard and the rest of a deep Hawks roster that finally seems up to the task of battling the Wizards in whatever manner this series dictates.
"We need to send a little thank-you note to the Warriors," Budenholzer said. "Obviously, they were classy. They had an injury come up and they had to go in a different direction. We feel fortunate Jose considered us and obviously chose us. Sports are like that. You have to be fortuitous, you have to be a little bit lucky, whether it's in a game, whether it's picking up a veteran like Jose or different things that happen throughout the course of a year. No doubt, Jose has infected us with his spirit. He's been great."
Sekou Smith is a veteran NBA reporter and NBA TV analyst. You can e-mail him here, find his archive here and follow him on Twitter.
The views on this page do not necessarily reflect the views of the NBA, its clubs or Turner Broadcasting.